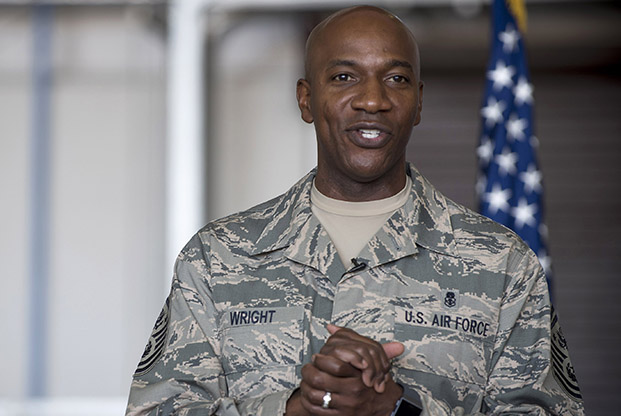 Photo: USAF
Kaleth O. Wright is the Chief Master Sergeant of the US Air Force, the most senior enlisted member of the force, and the personal adviser to the Chief of Staff and the Secretary of the Air Force on issues regarding the welfare, readiness, morale, and development of the enlisted force. In this companion to the Air Force Chief of Staff Gen. David L. Goldfein's reading list, Wright recommends six books he thinks every airman should read—officers, enlisted, and civilians.

CMSAF Kaleth O. Wright's picks are shown above. Graphic: Mike Tsukamoto/staff
EXECUTION: THE DISCIPLINE OF GETTING THINGS DONE
by Larry Bossidy & Ram Charan
In the Air Force, success is underpinned by leaders who can execute—those men and women who stay laser-focused on the goal, pull the best from those around them, and simply get the job done. We need airmen with vision, who put plans into action and boldly take risks when required. This book offers insight into successful execution in high-paced, high-threat environments—those that airmen thrive in every day.
THE ONE THING
by Gary Keller
The demands on an airman's time ­—from work to family to friends and beyond—are insatiable and only grow by the day. This book helps you cut through the noise to focus on the things that matter most in your lives, allowing you to prioritize and gain more satisfaction with the things you need to do, and choose to do, with your time.
GRIT: THE POWER OF PASSION AND PERSEVERANCE
by Angela Duckworth
True grit is something most of us think we have in abundance, but quickly find that may not be the case when we need it most. However, in our business, grit may make the difference between success and failure or, more importantly, life and death. This book is a resource for helping airmen understand what grit is, and how they can deliberately grow perseverance over time, so they'll have it when it counts.
THE GO-GIVER
by Bob Burg & John David Mann
This book tells the story of an ambitious young man named Joe who yearns for success. Joe is a true go-getter, though sometimes he feels as if the harder and faster he works, the further away his goals seem to be.
THE CULTURE CODE
by Daniel Coyle
The New York Times bestselling author of "The Talent Code" unlocks the secrets of highly successful groups and provides tomorrow's leaders with the tools to build a cohesive, motivated culture. Where does great culture come from? How do you build and sustain it in your group, or strengthen a culture that needs fixing
HELPING PEOPLE WIN AT WORK
by Ken Blanchard & Garry Ridge
Blanchard and WD-40 Company leader Garry Ridge reveal how WD-40 has used Blanchard's techniques of partnering for performance with every employee—achieving levels of engagement and commitment that have fortified the bottom line.