Pilots listen to Chief of Staff of the Air Force Gen. David L. Goldfein at the Air Force Association Summit: The Future Air Force Pilot Force on March 7. Staff photo by Mike Tsukamoto
The Air Force is nearly 2,000 pilots short of requirements, which impacts readiness, operating tempo, and long-range planning—not to mention individual airmen's careers.
Meanwhile, the pilot force is overwhelmingly white and male—not reflective of America, and not reflective of USAF as a whole. Attracting a wider pilot cohort will not only help solve the shortage, it will create a stronger Air Force.
Now is the time for change. The Air Force needs to close its pilot shortage and reposition itself to meet the nation's long-term strategic needs. Creativity and innovation are needed to outthink Russia and China. This will be easier if USAF can better draw upon the diverse backgrounds of its airmen by having more women and minorities in operations and key leadership positions.
To begin addressing this, a wide range of military, industry, nonprofit, and academic representatives met at the Air Force Association's headquarters March 7 for a full-day summit to discuss the future Air Force pilot force. A series of presenters and working groups discussed the shortage, recruiting, retention, the merits of increased women and minority representation in aviation, and the hurdles the service must overcome to diversify its pilot force. At the end of the day, Gen. David L. Goldfein, Chief of Staff, was briefed on the many observations and recommendations.
Goldfein noted the US again faces "great power competition" and "existential threats," but USAF has an opportunity to carefully position itself for the future. This is a "warfighting imperative," he noted.
_Read this story in our digital issue:
Obtaining the benefits of a more diverse pilot force will require institutional commitment.
Starting at the beginning, many girls and poor or minority children are never exposed to the Air Force or flying careers, and even if they are, they probably won't see any pilots that look like them. This sends a psychological message that "Air Force pilot" is something white men do, not women, or blacks, or Hispanics. Kids who can't see themselves in a role tend to look elsewhere, so the Air Force needs to get pilots from untapped communities into positions where kids see them, such as at airshows and in the Thunderbirds. One interaction is sometimes all it takes to light a spark of interest that will pay off for the Air Force years later.
At the high school level, Junior ROTC is an untapped resource. JROTC participants are 58 percent minority, 40 percent female, show dedication, and already have exposure to the Air Force's ideals. To maintain local support and access to schools USAF must be careful to not use JROTC as a recruiting tool. Careful outreach can, however, provide underrepresented cadets with a roadmap to an Air Force pilot career.
Changes are needed in USAF itself. Several pilots at AFA's summit lamented the lack of interest they saw from Air Force recruiters, who don't seem interested in leading potential airmen toward careers as pilots.
Other problems arise even after underrepresented Americans clear the hurdles. Monochromatism creates unintended consequences, such as the fact that black pilots are often unwilling to mentor younger black pilots—for fear of showing favoritism. Until the numbers begin to rise, the Air Force needs to consider what steps it can take so minorities don't struggle as one-of-a-kind airmen.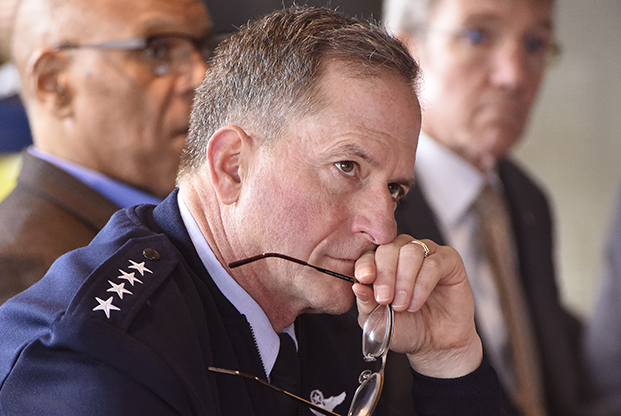 Gen. David L. Goldfein listens to a presentation at the summit. The Chief is committed to making sustained progress in the task of fielding a future pilot force. Staff photo by Mike Tsukamoto
Finally, for USAF to get the most out of its female pilots, it needs to improve how it treats them. Summit participants noted that women's prime childbearing years are also key years in their Air Force careers, but the service effectively penalizes women for getting pregnant by taking them out of cockpits, making them less competitive for key assignments. The service should allow pregnant women to keep flying for as long as it makes sense to do so, then move them to staff assignments or schooling when they can no longer fly.
USAF does not realize its full potential if minorities are seriously underrepresented in the Air Force's pilot ranks—the dominant route to leadership in the service. Diverse backgrounds lead to competitive ideas and innovative thinking—essential for long-term success. Making the force more diverse requires change, commitment, and for somebody to be responsible and accountable for success.
"My commitment to you is to ensure the next time we gather together we've actually made some sustained progress that will last," Goldfein pledged.This is an important first step, but the results won't be known for two, 10, or perhaps 20 years.