Gen. James "Mike" Holmes, Air Combat Command boss, pilots a virtual reality simulator at Vance AFB, Okla. VR training, pioneered by AFWERX, is part of the Pilot Training Next curriculum at Vance. Photo: A1C Zachary Heal
AFWERX, one of the newest additions to the Air Force's technology innovation ecosystem, aimed to hold its biggest event to date in July. It almost didn't happen.
With hubs in Las Vegas, Washington, D.C., and Austin, Texas, the two-year-old AFWERX is designed to seek out interesting ideas and invest seed money to try to help get them from the laboratory into production. But the unique format of its 2019 "Fusion Xperience," where about 120 businesses vied to move on in a Las Vegas competition for innovative, multi-domain tech, raised red flags for Air Force lawyers.
More than 1,000 people had signed up to attend, meaning the competition didn't neatly fit into the service's idea of what an event of that type should be or how the military should scout new products. Their advice: shut it down.
"We had to make some last-minute changes," said Lt. Gen. Jerry D. Harris Jr., the Air Force's deputy chief of staff for plans and programs. "I had counsel—it was good counsel—that recommended I cancel the event."
The show did go on—but the bumpy ride illustrates just how hard it is to change business practices in the well-established military bureaucracy.
"The exchange of information, the ability to change the way we go out and do this, that's what's really important to us," Harris said. "That's why we continued on with the event." AFWERX leaders see their role as catching the wave of commercial technology development and helping to adapt it to Air Force needs. AFWERX hosts technology competitions to attract business interest; issues exploratory small business contracts to fund initial development, and matches startups with venture capital investors to cultivate industrial innovation. Sister organizations follow similar models, including DEFENSEWERX and its SOFWERX and MGMWERX, which respectively work with the special operations community and Air University at Maxwell AFB, Ala.
To identify needs within the service, AFWERX supports local Spark Cells throughout the Air Force. Their role is to find technology applications to solve wing- or squadron-level problems. Spark Tank, an annual Air Force competition where airmen pitch innovations to senior leaders in hopes of getting the Air Force to fund their ideas, is also sponsored by AFWERX. The organization is now teaching staff at major commands how to pursue new ideas, too.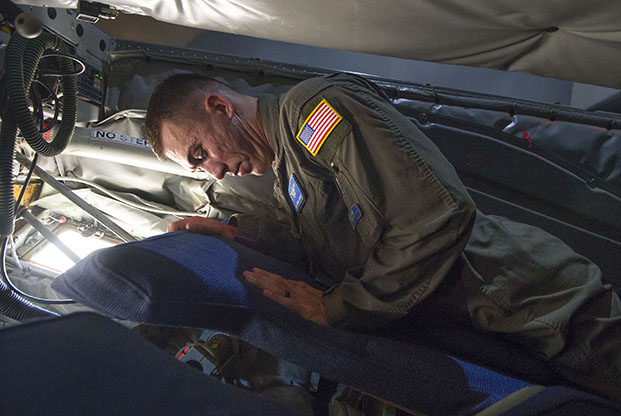 MSgt. Christopher Joyce, a 56th Air Refueling Squadron boom operator, inspects a new boom pod bed designed to help with neck and back issues. All KC-135 Stratotankers will soon be equipped with the bed, which was the winning idea from the Air Force Spark Tank competition in 2018. Photo: USAF
'LET THE BEST TECHNOLOGY WIN'
AFWERX wants to change small- and medium-sized businesses' perceptions of what it's like to work with the Air Force. The organization has worked with more than 4,000 companies so far and is cutting up to three years from conventional processes, officials claim. It has awarded more than $250 million across more than 1,000 contracts so far.
Companies may learn about AFWERX by word of mouth, through referrals from other organizations, such as DOD's Defense Innovation Unit, or from solicitations online. AFWERX was created specifically to help nontraditional suppliers connect with military customers and shorten the program development cycle that can stretch out to a decade.
Capt. Steven D. Lauver, AFWERX's technology accelerator director, said his agency is starting to attract higher-quality participants to its events and seeing more return on its investments in technologies with dual military/commercial applications. That can range from cybersecurity measures and communications equipment, to virtual reality inventions and more.
He added that in the past year, the Air Force has started turning around its reputation as a tough, slow customer.
Kevin Montgomery, chief executive officer of IoT/AI (Internet of Things/Artificial Intelligence), said AFWERX is accomplishing what others in the military have long sought to do: buy products based on the technology's merit, regardless of how large or long-standing a company is. Montgomery runs a small, California-based company that offers a data-collecting and data-processing sensor system.
"Let the best technology win," Montgomery said.
David Knight runs Terbine, a Nevada-based company that indexes piles of data generated by the IoT. He argues AFWERX is normalizing fair competition between very large companies and startups like his.
"When somebody walks up who is a potential customer, they're not dazzled by a 50-foot booth that's two stories tall by one of the big aerospace contractors," Knight said.
Government contracting is still a "ponderous process at times," said Michael Hodge, vice president of federal sales at Avocado Systems. His company makes software that identifies cyber threats to cloud infrastructure.
"Since we have a product that does not have any federal certifications," he said, "we've got to go down a road where we get development money. Unless, of course, we want to spend [$200,000] or $300,000 to go get the certifications, which, as a startup, that's not really a feasible business answer."
On top of connecting companies to a unique funding pot, events like Fusion make matchmaking easier—both for pairing businesses and customers, as well as fostering partnerships between businesses.
A company may have the resources to develop a few prototypes through AFWERX, but not to produce thousands of its product if the Air Force wants to go all in. That's where large companies can come in, whether by working with smaller contractors or by purchasing them.
Small companies are "looking to plug their technology into a bigger system," said Steve du Plessis, head of engineering at Hexagon US Federal. "You need the combination of the big Lockheeds and the Raytheons but you [also] need the innovation and the ideas from the small companies."
There's more AFWERX could do to fuel possible relationships, Hodge said. In the earliest stage of small business contracting, for example, AFWERX could offer retired officers as "sherpas" or mentors to help startups understand the Air Force and to help USAF customers connect with innovative companies.
AFWERX's approach aims to get innovative technology into the field faster, but the turnaround times are still far from immediate. Lauver said it takes three to five years to go from idea development to operations.
At least one product is now in full production: an ergonomic platform developed to reduce neck and back injuries among KC-135 boom operator instructors. The idea was selected as the first "Spark Tank" winner in 2018, it is now in production. A new helmet for airmen and crews is also nearing a production contract. Accelerating that piece of the puzzle is still a work in progress.
"AFWERX is great for creating technologies, prototyping it, doing the whole field test," Montgomery said. "But there is a valley of death between that and being in production mode."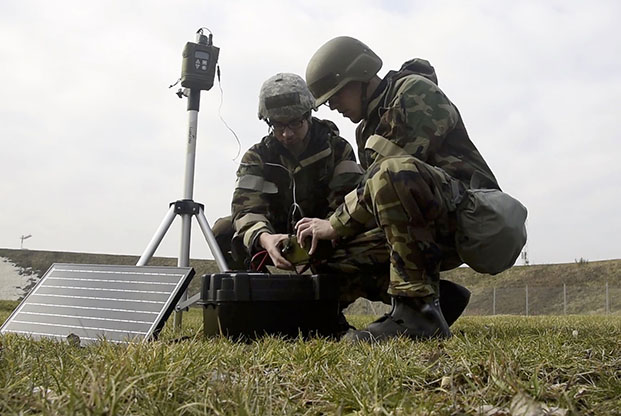 The Joint Chemical Agent Detector (JCAD) Solar Power Supply, a 2019 submission to the Innovation Madness Spark Tank, provides continuous uninterrupted power. Photo: TSgt. Anthony Plyler
CHANGE FROM WITHIN
AFWERX also bets it can change Air Force culture from the inside out and from bottom to top by putting more trust in airmen. As a result, the number of Spark Cells across the service has boomed from two in 2017 to about 50 so far in 2019. The two Spark Tank winners so far—the KC-135 boom operator bed and a solar-powered chemical agent detector —promise to save $100 million a year in costs and thousands of hours of work.
Spark Cells start with a question: What gets in your way? Then, team members partner with local businesses and schools, or with Air Force small business contract recipients, to develop solutions. Cells can offer dedicated workspace as well as tablets, laptops, TVs, microphones, and "smart boards" to foster collaboration.
Among the products developed so far: 3D-printed dental implants, a color-coded, flashlight-like gadget for MC-130J loadmasters, and drones that airmen can use for counter-unmanned systems training.
"I love the opportunity to be able to connect what we're doing on a base to what is happening in the greater mission and find the way to 'yes,'" said Maj. Kinsley Jordan, a T-6 instructor pilot who runs the Spark Cell at Vance AFB, Okla. He also coordinates innovation efforts across Air Education and Training Command.
In the past year, Vance's Spark Cell came up with a kit that turns an iPad into a secure, portable computer so airmen can access email and other government tools on the go instead of being chained to a desktop. Airmen can also access training videos when they need them, as well as virtual reality courses and 360-degree videos with added animation. Training bases are increasing the number of classroom VR headsets from 20 to 25.
"When a student actually gets time with an instructor, they've had time in the VR [simulator], they've had time with the 360 [-degree] video headsets, they've had time to be able to watch the video-recorded academics, and their knowledge base is a lot deeper than it previously would have been," Jordan said.
Another project on the horizon involves asking airmen about their passions when they first arrive at a base. That way, they can be matched up with projects where they can truly shine, boosting that project's chance of success as well as encouraging the airman to stay in the service, Jordan said. Other ideas, like buying augmented reality glasses for training, have fallen flat.
Encouraging people to brainstorm together helps generate better ideas than telling people what needs to happen, Jordan said.
"Success has nothing to do with what the outcome is," he said. "Success has everything to do with the process of finding out what is it you're trying to accomplish, what are the goods and bads, and [then] as a team, you say, can we make this happen or not? The only way it fails is if you continue down a project that you know you should have abandoned a long time ago."
To get ideas across the finish line, though, airmen have to work through the proverbial "frozen middle:" program offices and others who resist change.
Jordan said that when managers say no, it's often because their ideas were also turned down in the past. But sometimes getting past that hurdle is as easy as getting rid of an old form or tweaking a solicitation, he added. Then those naysayers can become the biggest cheerleaders.
AFWERX CEO Brian Maue argues the problem isn't so much a frozen middle as it is a "fearful middle," where managers feel uncomfortable when asked to "play in the gray."
"I think there's a fear factor," he said. "I could apply that to almost anything that we've tried to do. I don't know what percentage of the culture that represents, but we've definitely encountered that difference in philosophy."
To spread its doctrine among middle managers, AFWERX convened representatives from most of the major commands for a three-month course earlier this year. Participants learned about small business outreach and discussed challenges and how to pool resources to address them. Major command representatives now hold periodic calls and meetings on common priorities and command-level initiatives as commands figure out their roles and engage with businesses.
"We as a Majcom have no ability to procure at a large scale and sustain at a large scale—you have to have [the] Life Cycle Management Center for that," said an AETC technology official who also works with AFWERX, Lt. Col. Eric Frahm. "AFWERX brings some tools to the table for the development phase, AETC brings that broad evaluation, DIU [the Defense Innovation Unit] brings a prototype, LCMC brings acquisition and sustainment. Everybody has a niche, and I think we all fit together if we can get everybody lined up, working together."
At the AFWERX Fusion Xperience held in Las Vegas in July, judges of the Multi-Domain Operations Challenge assess submissions aimed at improving the efficiency and effectiveness of operations in real time. Photo: Bridget Bennett/USAF
WHERE IT'S HEADED
Watch for AFWERX-backed products to start rolling out to airmen in the next two years. In July, Maue said the organization had about 70 products in the pipeline. Lauver, the technology accelerator director, said the Air Force awarded nearly 400 small business contracts worth about $90 million between the summers of 2018 and 2019—small in the scheme of DOD funding, but potentially transformative in his eyes.
Word about Spark Cells is also spreading through everyday conversations, networking events, podcasts, and social media. But Spark Cells can do more to collaborate with their counterparts at other bases to avoid duplicating efforts and could use a database that shows airmen what others are working on, Jordan said.
He added that bases should deliberately choose airmen to work for cells instead of letting them grow organically. Instead of seeing that as shortchanging other career fields to build Spark Cells, Jordan said, "what you're actually doing is investing in future innovation and creation and efficiency."
AFWERX headquarters intends to keep its $10 million operations small to avoid bureaucratic bloat.
"We have the ability to expand, should a [demand] surge be that strong, but we have a very light and lean budget, which I think makes us very frugal and a little more picky," Maue stated. "At the moment, no, we have no intention to grow our physical hub presence. We have full capacity for our virtual presence to continue to grow."
Col. Randy Gordon, AFWERX test and evaluation lead, spoke to a sold-out crowd of 1,200 registered innovators at this year's annual event. USAF only expected around 600 people to participate. Photo: SSgt. Jordyn Fetter
AFWERX concepts are spreading outside the Air Force as well. The Navy is learning from the group's Las Vegas hub and mining its events for new products. "We're very conscious about wanting to make this a joint integrated effort over the years, but we're still a little too young," Maue said.
Perhaps AFWERX's closest joint relationship so far is with Army Futures Command, with which it shares a building in Austin, Texas. Army and Air Force staff are on a first-name basis, Frahm said, and share best practices, seek ways for projects to dovetail, and plan to partner on future industry events.
"We've handed them our small business playbook, we've handed them the challenge playbook, and I think we need to be ready for the Army to zip right past us," Frahm said. "They came to town with a four-star and, basically, Life Cycle Management Center's equivalent already right there, baked in. It's going to be fun to watch what happens."