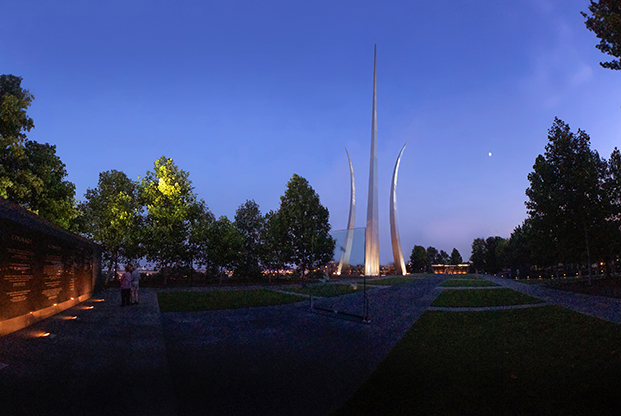 The spires of the Air Force Memorial, adjacent to Arlington National Cemetery, soar into the evening sky as visitors study a black granite wall inscribed with Air Force core values such as valor, integrity, and service. Photo: Mike Tsukamoto/staff
The day after Virginia voted to secede from the union in 1861, US Army troops crossed the Potomac and took a strategic hill overlooking Washington, D.C. From a hilltop mansion built by President George Washington's adopted grandson, they had a commanding view of the White House and Capitol, and they quickly settled in on the property. Almost exactly three years later, the first American soldier was buried there.
There would be many more. The estate belonged to Mary Custis Lee, wife of Gen. Robert E. Lee, and both she and her children had been raised there. Lee, who had declined President Abraham Lincoln's offer to command the Union Army in a fight against the South, had hoped to preserve the property, but Union Gen. Montgomery C. Meigs had other ideas. In his view, Lee was a traitor, and his punishment deserved to be severe, personal, and lasting.
"I recommend," Meigs wrote in June 1864 to Secretary of War Edwin M. Stanton, that "the land surrounding the Arlington Mansion, now understood to be the property of the United States, be appropriated as a National Military Cemetery."
Flash forward 155 years. Meigs never imagined more than 200 acres would be needed, even in the midst of the bloodiest war in American history. He certainly couldn't have envisioned that Arlington National Cemetery would still be operating today, the final resting place for 375,000 men and women, sprawling out into 624 acres of rolling hills, dotted with row after row of white marble headstones. And at the present rate of activity, Arlington will run out of its remaining 67,000 burial sites in about 12 years.
With more than 20 million living veterans today, nearly 2 million currently serving members in the Active, Guard, and Reserve components, and tens of thousands of new veterans becoming eligible for burial at Arlington every year, change is in the wind.
"It's a tough reality," Karen Durham-Aguilera, the executive director of Army National Military Cemeteries, told lawmakers in March 2018. "We cannot serve that population."
CHANGES COMING
For Arlington National Cemetery to remain an active burial ground, something has to give. Two sets of changes are coming: First is a major expansion, the first since the Millennium Project begun in 2007—which was the first expansion in almost 40 years. Surrounded by highways, parks, the Pentagon, and other military facilities, space is limited. But there is room on the south side of the cemetery, where the former Navy Annex once stood, up the hill from the Pentagon, and where the Air Force Memorial soars into the sky, its dramatic contribution to the area's skyline perpetually changing as the sun sets and rises.
A five-year construction plan aims to add up to 60,000 new burial plots and an additional columbarium to hold the ashes of thousands more. The plan would turn the Air Force Memorial into the centerpiece of a new southern entrance to the facility, potentially bringing thousands more people to the memorial each year.
The change will alter the landscape, traffic flow, and even the way people experience the memorial, which today is accessible 24 hours a day, but under the new plan, it would be contained within the cemetery's perimeter and only accessible during daylight hours. The memorial entrance would have a multilevel parking facility and an anticipated five-fold increase in visitors, said Maj. Gen. James A. Jacobson, commander of the Air Force District of Washington.
"This will further enshrine the Air Force Memorial as the history and heroism location for our service," he said. "Tying it in with the cemetery does what it can't do standing alone."
But adding another 60,000 burial sites only forestalls the inevitable. At the present pace, the cemetery will run out of space in just 25 years. The second forecasted change will help the Pentagon and Congress keep it operating far longer than that, which is why they're committing to modifying the rules that say who can be buried at the cemetery.
In November 2018, the Advisory Committee on Arlington National Cemetery recommended that interment at Arlington limit in-ground burial to service members who were:
Killed in action
Wounded in action and awarded the Purple Heart Medal
Awarded a Silver Star, or higher, decoration
Held as prisoners of war
Or who died on Active Duty
Additionally, the panel recommended above-ground inurnment for remaining World War II and Korean War veterans who do not otherwise qualify.
Under the change, military retirees who served during the Vietnam and later eras would no longer be eligible for burial at Arlington unless they had been a POW, wounded in action, or awarded an eligible medal.
Today, any Active Duty member or veteran with at least one day of active service is eligible for burial at Arlington.

The spires of the Air Force Memorial can be seen from a nearby parking area in Arlington Va., on July 7, 2017. Photo by SMSgt. Adrian Cadiz.
A MATTER OF SCALE
The United States has 300 National Military Cemeteries, Veterans Affairs cemeteries, and state cemeteries available to veterans. Yet of all of these, Arlington is by far the most requested final resting place.
Each weekday, Arlington hosts 25 to 30 services, plus another 10 on Saturday. In 2018, almost 6,500 service members were buried at Arlington, many of them veterans of World War II, Korea, and conflicts in Southeast Asia.
"We have a very high demand of veterans and their families that want to come in to Arlington National Cemetery," Durham-Aguilera said. "The demand far exceeds our capability to meet them. So what that means is that we have families that could wait anywhere from two weeks to several months—nine months—for that date."
In September 2018, there were 3,471 burial requests in process, including 3,259 for cremation service and 212 for casketed service, according to a report released in May by the Defense Department inspector general. The number of requests, coupled with documentation requirements, is what drives delays from five to 49 weeks from the date of an initial burial request.
The cemetery's $81.7 million Millennium Project included new burial sections, including one for in-ground burial of ashes. That project added 27 acres and some 25,000 new burial spots, and it extended the cemetery's life by eight years, Durham-Aguilera told lawmakers. Even that was only a small start, however.
Expanding to the south (project "Southern Expansion"), as proposed by the cemetery and the Army Corps of Engineers, will add about 37 acres and up to 60,000 additional plots, extending the life of the cemetery to the 2050s. To accommodate that, roads must be rerouted and masses of dirt moved, beginning in 2020 and running through 2022. The 2019 National Defense Authorization Act provides $60 million of an anticipated $350 million to pay for the project; in all, $219.1 million is already authorized. Air Force and Army officials have begun discussing the plan and sharing the vision with stakeholders.
Once the roadwork is done, cemetery construction and earthmoving can begin in earnest to better accommodate more burial plots. That work is expected to be finished in 2025.
MEMORIAL RISING
Smack in the center of the planned expansion stand the three curved spires of the Air Force Memorial, which represent the contrails and flight path of three jet fighters flying a signature aerial maneuver in which they converge on a central point and then pull straight up and climb skyward before peeling away from one another.
The memorial was initiated by the Air Force Association through a Memorial Foundation, and in 2017 AFA transferred ownership responsibility to Air Force District of Washington.
"I think that will bring such prominence to the memorial and encapsulate it in a way that integrates it further in the Washington, D.C., psyche," Jacobson said.
As such, it will change the way it is seen and experienced. A summer evening concert, as in the past, won't be possible once the site is part of Arlington. On the other hand, the new situation will better suggest the solemnity of the site, which is framed by granite walls bearing the names of Air Force Medal of Honor recipients.
"It is about retaining the memory of the history, heritage, and heroism of service," Jacobson said. "It's alone. Now, it will be encapsulated in a venue that does that for the entire nation."
The Air Force District of Washington has worked side by side with Arlington National Cemetery to plan for the project, and the cemetery's leadership has responded to all of the Air Force's concerns throughout the process, Jacobson said, and he updates Air Force Chief of Staff Gen. David L. Goldfein monthly, a sign of the Chief's focus and concern.
As part of the project, the cemetery and Air Force District of Washington are evaluating the site for inclusion in the National Register of Historic Places, an unusual step for such a new structure. But while most facilities must wait at least 50 years before they may be considered, there are cases where newer facilities can be listed. Doing so would be a "testament to the design and the memorial's place in the architecture of the city," Jacobson said.
Public support is high. A July 2017 survey conducted by the Army and the cemetery polled 28,000 people, 94 percent of whom supported keeping the cemetery remain active well into the future, according to the Army.
CRITERIA CHANGES
Changing eligibility for burial at Arlington will be more controversial, however. Barely 50 percent of respondents recognized a need to alter eligibility rules as a necessary means of extending the operational life of the cemetery. On the other hand, 70 percent said the criteria would have to change if no expansion is completed.
Today, with more than 21 million living veterans and dependents eligible for burial at Arlington, space is running out and time is short to find a solution. The Army Secretary faces a Sept. 30 deadline to determine what changes should be made.
Cremated remains of any veteran with at least one day of active service other than training and an honorable discharge are eligible for above ground inurnment. Likewise, spouses, widows, widowers, minor children, and permanently dependent children of eligible veterans are also eligible for above-ground interment. In-ground burial is limited to service members killed in action, killed on Active Duty, awarded qualifying medals, or who have retired from the armed forces.
The Military Officers Association of America sharply criticized the plan in a letter to then-Army Secretary Mark T. Esper in April: The recommendations "break faith with those who are eligible today," the letter said. "No one can predict how Arlington will be perceived or appreciated a century from now, nor can we sacrifice the benefit of the living population of veterans to preserve burial space for those not yet born."
The Advisory Committee acknowledged the challenge in outlining its plan. "The committee makes these recommendations fully aware that these are difficult choices and respects that there are differing views on this sensitive issue and that there are currently eligible populations that will be excluded from ANC."
In congressional testimony, the Air Force Association and others opposed curtailing eligibility for Arlington. "We strongly believe that our nation's decision-makers should explore an 'all of the above' strategy, to include land expansion and land optimization before reducing or curtailing eligibility," said AFA's Director of Government Relations Keith Zuegel in testimony before the House Armed Services Military Personnel Subcommittee in 2018. "It is important to keep the cemetery viable as long as possible for future Medal of Honor recipients, those killed in combat, and top medal awardees."
Having earned a Silver Star during the first Gulf War, Zuegel, a retired colonel, would be eligible for burial regardless of whether eligibility for Arlington burials changes. Others who might be even more famous, however, would not be so fortunate. "If the proposed rules were in place today, World War II hero Lt. Col. Dick Cole would not be allowed to be buried in Arlington," Zuegel said, referring to the last surviving member of the Doolittle Raiders. Cole, who died April 1, will be buried at Arlington. "He didn't meet the new eligibility criteria." Meanwhile, he added, an Active Duty airman killed in a car accident on their way home from basic training could be buried in Arlington.
For now, though, the focus should be on answering the existing need, Zuegel said. More can be done to develop land adjacent to the cemetery and make it part of Arlington. "If the Air Force Memorial can be brought inside the boundary," he added, "why not the Marine Corps Memorial" depicting the raising of the flag on Iwo Jima. That property is adjacent to Arlington land, but is outside its jurisdiction.
AFA issued a joint statement last fall with the Association of the US Army, the Association of the US Navy, and the Marine Corps League, arguing there is still room to further expand Arlington National Cemetery. "Although the cemetery's majestic serenity should be largely preserved, there are avenues to increase burial locations without losing the cemetery's solemn presence," the organizations said. "In addition to exploring expansion possibilities, more above-ground inurnments should be considered."
This story has been updated with corrected details regarding retired Lt. Col. Dick Cole's upcoming burial.