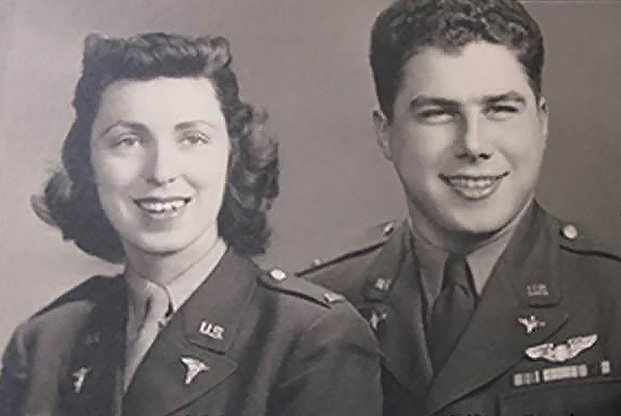 Capt. Vito Pedone (pilot) and his wife, 1st. Lt. Geraldine Pedone (flight nurse), were both participants in D-Day's Operation Overlord. Photo courtesy of the Pedone family
As the United States geared up for Operation Overlord and the D-Day invasion of Normandy in the months leading up to June 1944, more than 2.8 million American troops gathered on British soil in anticipation of the Allied assault on Nazi Germany and occupied Europe.
Among them was a married couple, Capt. Vito Pedone, a C-47 pilot, and 1st Lt. Geraldine (Jerry) Curis-Pedone, a flight nurse, who met and married in the midst of the military buildup. When D-Day arrived, Vito co-piloted the lead Ninth Air Force Pathfinder Troop Carrier C-47 and air-dropped the first stick of 101st Airborne Pathfinder Paratroopers into Drop Zone A. Four days later, Jerry's Medical Air Evacuation missions began. Flying in on unarmed C-47s and landing on dirt fields near the combat zone, the planes picked up the wounded, and flight nurses provided in-flight medical care as they ferried the wounded back to England.
Now, 75 years later, their son, Lt. Col. (Ret.) Stephen Pedone, is returning to the scenes of their historic youth. Pedone, a member of the Air Force Association's Miami-Homestead (Fla.) Chapter, will travel with his wife, Ximena, to D-Day commemorations in the UK and France. To learn more about the D-Day pilot and the flight nurse, visit the D-Day Squadron website at http://www.ddaysquadron.org/the-d-day-pilot-and-flight-nurse.

In February, CAP students fly a HALO Board drone in UAS class at Danville Community College in Virginia. The class will help students earn their remote pilot certifications. Photo courtesy of Roanoke Chapter
ROANOKE CHAPTER (VA.) CAP FUNDS UAS FAMILIARIZATION/PILOT PROGRAM
The Roanoke Chapter (Va.) worked with their local Civil Air Patrol Squadrons in the Danville area to procure an Unmanned Aircraft System (UAS) for their cadets. An AFA Chapter Aerospace Education Grant, along with a Virginia State AFA Aerospace Education Grant, allowed the CAP Danville Squadron to acquire a HALO Board UAS.
This UAS fulfills the need of providing the CAP Danville Squadron cadets interesting, as well as hands-on, aerospace education learning experiences that teach flight principles, real-world maintenance, and the realities of adherence to FAA and CAP regulations and policies. The aircraft is flown under the instruction of Capt. David Hutcheson, the CAP Danville Squadron's public affairs officer. He completed his Professional UAS Pilot Course at Danville Community College where the program was first launched. The cadets really enjoyed flying the UAS as a part of the Civil Air Patrol's requirement for monthly aerospace education.