The AFA Texoma Region organized a gathering in Linden, Tex., on Feb. 4 to commemorate the 50th anniversary of the Vietnam War's end. Hundreds, mostly Vietnam-era veterans and their families, traveled to Linden for the ceremony which honored their service during the war while specially memorializing one local Airman who made the ultimate sacrifice 50 years ago.
Linden is the hometown of the last enlisted American service member killed in action during the war, Staff Sgt. John O'Neal Rucker. Rucker was an aircraft crew chief assigned to the 18th Special Operations Squadron at Nakhon Phanom Royal Thai Air Force Base and Da Nang Air Base, Vietnam. On Jan. 27, 1973—just 11 hours before the cease-fire went into effect—Rucker was off-duty and asleep on his cot when his barrack was struck by a rocket. He was 21 years old.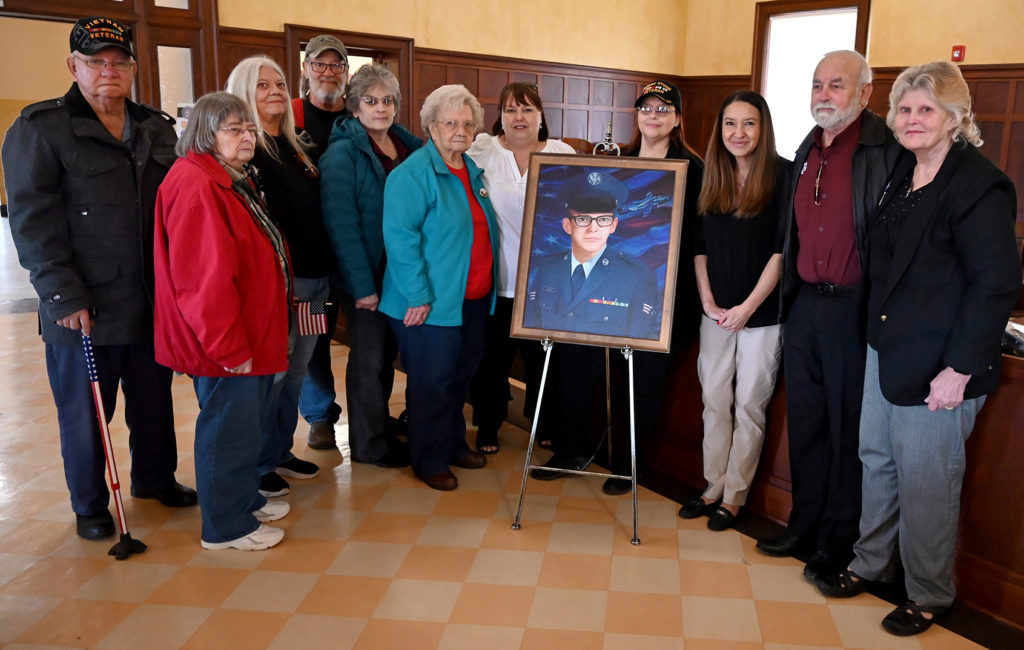 Fifty years later, his family and fellow service members still mourn his loss. The gathering in his hometown began with a wreath-laying ceremony at Rucker's grave in Linden before moving to the Cass County courthouse in downtown Linden, where the AFA Texoma Region unveiled a painting of Rucker that now hangs in the courthouse's hall. The assembly then listened to speakers and presentations in memory of Rucker, his family, and all who served in Vietnam.
In addition to several members of the Rucker family, several key delegates from AFA National attended the event, including Chairman of the Board Bernie Skoch, retired CMSAF #14 and former AFA Chairman Gerald Murray, National Chaplain Maj. Gen. Steven Schaik (Ret.), and more. AFA Texoma Region also welcomed elected county officials, members of the AC-119 Gunship Association, and Civil Air Patrol Cadets from local area units.
"Our nation owes a debt to Staff Sgt. Rucker and to his family, as well as to every Vietnam veteran. It is gratifying to see a community come together in such a dignified ceremony to honor them all," Skoch said. "AFA is proud to have partnered with the AC-119 Gunship Association, Cass County, and the City of Linden, Tex., to honor an American who risked, and lost, his life in service to his country."
The event also marked 50 years since the surviving veterans of the war returned home to face national disrespect, resentment, and hostility rather than a hero's welcome. By sharing stories like Rucker's and by commemorating Vietnam-era service members at events like the one in Linden, AFA's Texoma Region and its partners have moved the needle in showing all veterans the gratitude they deserve.
"Today, and in following events and activities throughout this year, AFA wants to ensure all Americans are aware and pay proper respect for those who served in Vietnam," Murray said in his speech at the ceremony. "We honor all veterans of the Vietnam War era, especially those who were held as prisoners of war, listed as missing in action, and gave their lives in service and sacrifice on behalf of the United States."