An AC-130 gunship approaches a tanker for aerial refueling during a combat mission over Afghanistan in April 2017.
Photo: Courtesy
It was just another day for the gunship crew in Afghanistan supporting Operation Freedom's Sentinel.
Except that it wasn't. Guns overheated and jammed. The crew ran out of ammo.
The crew then had to race back to base and hustle over to an already-prepped and running second gunship, going from wheels down to wheels up in under 20 minutes.
Combat gunship missions are never really routine, but they do have some things in common. One key tactic: fly at night. Slow-moving and tracing predictable patterns in the sky, gunships are vulnerable in broad daylight. Typically, gunships also carry so much ammunition they almost never have to land, reload, and get back in the fight—let alone change airplanes on the ground because troops need support urgently.
The rules went out the window during a series of spring 2017 missions that led to Distinguished Flying Crosses for 24 airmen.
April 8—in particular—was "the perfect storm," Capt. Joseph Tomczak, an AC-130U "Spooky" gunship commander told Air Force Magazine. "The enemy was amassing and ambushing, and we were repelling them," and even after four hours, the battle raged on, so "we … had to go get another gunship and get right back in the fight." The battle ultimately lasted more than nine hours.
The fight was a hornet's nest involving Khorasan—one of the ISIS franchises in Afghanistan—as well as US and Afghan troops, Army AH-64 Apache attack helicopters, and Air Force F-16s.
The mission planned for that day was similar to what the 4th Special Operations Squadron "Spooky" crew had been executing "pretty much every single day for about a month up to this point," supporting friendly units on the ground, nothing "outside the norm," Tomczak said. The exception was that this would be a daytime mission, flown in the vicinity of Jalalabad in Afghanistan's Nangahar Province. The city is known by US troops as "J-Bad," both to shorten the name and indicate the hostility of the area.

Map of Afghanistan shows the area of operation. Illustration: Mike Tsukamoto/staff
"Gunship guys aren't used to packing sunscreen on deployment," Tomczak said, "that's not really something that we do, so we were a little out of our element already, just going into" the operation.
Green Berets from the Army's 7th Special Forces Group were under attack, and the fight was "already hot when we showed up," Tomczak reported. They learned who they'd be supporting on the way to the battle. They had a special relationship with Green Berets, who the air commando crews train with regularly.
When the gunship showed up overhead, "engagements were already taking place, and so we just kind of jumped right in," he said.
"You've got Apache helicopters that were low level, there were fighters from the 79th Fighter Squadron out of Shaw [AFB, S.C.], who were there as well, who we also developed a really close relationship with, so we started engaging … as soon as we rolled overhead," Tomczack noted.
ISIS-Khorasan, also called ISIS-K, are among the group's most vicious and cruel sects, Tomczak said, explaining, "we're helping these Green Berets clear out some of the worst people in the country from these valleys."
As soon as the Spooky arrived on the scene, TSgt. Brett M. Laswell, special missions aviator, said that he walked into the aircraft's battle management center and could "just see the tracer fire going toward friendly positions," which was his cue to prepare to start shooting. From the time they put the guns on the line—ready to fire—the team "did not stop shooting until we were out of ammo," he recalled.
Ground forces were taking contact from buildings and tree lines "so it was just consistent shooting on our part," he added.
In addition to the Green Berets, the allied forces on the ground included Afghan army special forces that the Green Berets had trained and local militias. It was "a small number of Americans, but a large number of Afghan forces," Tomczak said. There were over 280 friendly forces on the ground, in trouble.
The gunship crew said, "when we heard the voices on the other end of the radio," we knew "exactly who was talking," because these particular Special Forces soldiers hailed from Eglin AFB, Fla., a short flight from Air Force Special Operations Command at Hurlburt Field, Fla., he continued. "We have a very close training relationship with them," and in fact some of those deployed in the battle below had trained with the AFSOC unit in 2016.
I CAN'T DRIVE 335
As the battle raged, Laswell said the crew had to press their "right scanner"—the crewman who watches the right side of the aircraft for threats—into duty helping to load ammunition, so fast was the gunship firing. It was "hot and heavy that day," he said.
"We ended up shooting 335 rounds, which exceeded the limitations for that gun," he said. The weapon got so hot that the 335th round (the very last 40 mm round they had) died in the gun, which then jammed. It was Laswell's fifth deployment, he said, and never before had he seen a gun overheat from combat fire.
In his view, the order to pull the scanner was "huge" because that took away a pair of eyes looking for threats, and to "Winchester the plane"—run out of ammunition—is "pretty rare these days."
The Spooky by that time had orbited overhead for three hours, Tomczak recalled, and while the aircraft could have stayed longer, there was no point in an aerial refueling: They were out of ammo. Still, the fight was still raging; they had to come back.
Besides the Spookys, the AH-64 Apaches were shooting at low level with 30 mm rounds and Hellfire missiles. "Then we would engage personnel, we'd engage vehicles, but then, when there was a target that was bigger, we would integrate with the F-16s," Tomczak said.
The F-16s, he said, "were dropping 500-pounders, dropping 1,000-pounders," but even the fighters ran out of weapons. But unlike the fighters, which could be replaced by others, "we were the only gunship crew available."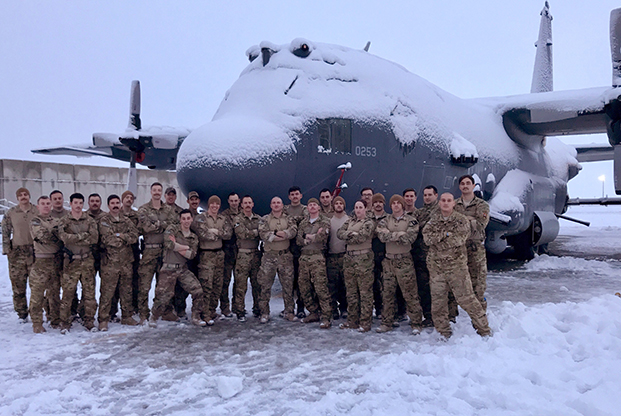 Two AC-130U crews in Afghanistan in February 2017. Both crews, which included the "Spooky 41 team, spent four months deployed there last year. Photo: Courtesy
After talking with the command and control battle managers, the AC-130U flew at maximum power back to Bagram Airfield while making arrangements for another, fully loaded gunship to be waiting, engines running.
"Instead of having to cold-start an airplane, we coordinated it on the way back so that we would land, pull into parking, shut down, literally run across the ramp to the airplane that had engines running, man all of our crew positions, and then take off again," Tomczak reported.
The whole process, from touchdown in the exhausted aircraft to wheels up with the fresh one, he said, took 19 minutes.
"Every single person … on that airplane knew exactly what we were going back into, and they knew that the guys on the ground needed the help, so you can imagine the hustle," he noted. "Yes, we're adhering to checklists, yes, we're being safe the entire time," but performing the regular tasks at a breakneck speed.
When the crew returned to the scene of action, Laswell said, things seemed slightly calmer: The fire had stopped, although the crew was continuing to support ground forces for some time.
Then, as they began to run low on fuel again, "it just seemed like all hell broke loose … when we're getting ready to roll off station." A "firestorm … just came out in ambush style toward the ground party as they're trying to move, and it pinned these guys down."

An AC-130 Spooky gunship flies over the DFC ceremony at Hurlburt Field, Fla., on May 11. Photo: SSgt. Ryan Conroy
The AC-130U crew "started putting down rounds, and then we lose communication with these guys, and we're already close to min fuel," Laswell said. The crew tried to coordinate strikes and restore communications with the ground forces. The ground troops generated smoke and the gunship put down fire on the marked spot—without radio communication.
"And something from that day that will [live] forever with me … you could hear the desperation in the JTAC's voice," Laswell said, using the abbreviation for joint terminal attack controller. "That was one of the last transmissions … it said we need effective immediate fire now, and that's the last thing … so we just continued to put down rounds until we ended up Winchestering the 40 again."
He added, "We ended up shooting 416 rounds on the 40, and I think we shot 57 or 58 105 mm rounds, with a couple thousand 25 mm rounds as well in just a short period of time."
Again, he said, the crew exceeded weapon limits. Again, the right scanner was pulled out of the window to pass ammunition. Meanwhile the crew was having "severe gun malfunctions," so the gunners in the back were "working their butts off trying to get these guns fixed" because on the screens, "it was just nothing but tracer fire back and forth."
At that point, Tomczak explained, sunset was an hour away, and the friendly force was "close to being back to where they would be safe" so a third gunship wasn't needed. Moreover, there was ground-based rocket artillery and air-dropped bomb coverage offering protection.
"By the time that we eventually did have to break contact, we were pretty confident that the ground force had the coverage that they needed," Tomczak said.
It was only days later that they learned there had been a ground casualty that day. He was identified by the Pentagon as Army SSgt. Mark R. De Alencar, 37, of Edgewood, Md., who had been a member of the 1st Battalion, 7th Special Forces Group.
For their "unparalleled airmanship and professionalism," resulting in "successfully repelling multiple enemy ambushes, 32 enemies killed in action, 24 fortified fighting positions, and one weapons cache destroyed," the crew members were awarded Distinguished Flying Crosses.
"The outstanding heroism and selfless devotion to duty of this crew during this remarkably dynamic and complex combat situation reflect great credit upon themselves and the United States Air Force," the DFC citation read.
The sentiments were echoed by Lt. Gen. Marshall B. Webb, commander of Air Force Special Operations Command, awarding the DFCs on May 11.
"These are the stories of legend and lore told around the squadron," he said. "The men and women of this command live our ethos everyday. … There is a way, we find it."