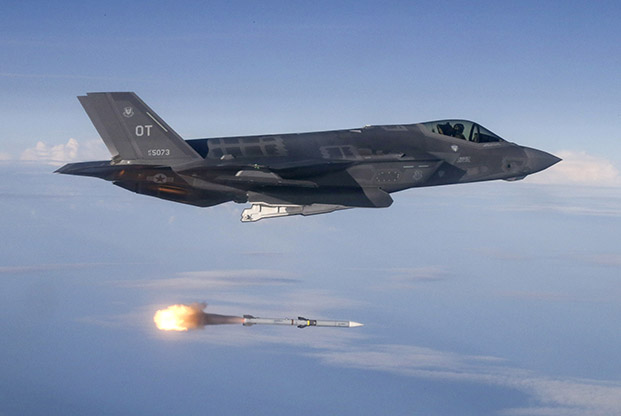 An F-35 test aircraft releases an AIM-120 missile during a live-fire test over the Gulf of Mexico. New AIM-260 missiles will replace AIM-120s, with testing to begin in 2021. Photo: MSgt. Michael Jackson
After decades of all-but-guaranteed control of the air in every military conflict, the US Air Force will enter the 2020s freshly challenged and behind the power curve. Potential adversaries are closing the technology gap, and USAF will have to field new equipment and new concepts of operation in order to sustain air superiority in the decades to come.
"The perceived lack of a peer adversary and the need to allocate resources" to the wars in Afghanistan and Iraq led the Pentagon "to forgo investments in advanced air capabilities needed for future high-end operations," the Center for Strategic and Budgetary Assessments concluded in "An Air Force for an Era of Great Power Competition," a March 2019 analysis of the Air Force's future needs. This failure has "created a window of opportunity" for Russia and China to develop advanced ballistic and cruise missiles, integrated air defense systems, anti-satellite weapons, cyber capabilities, and more—that today "are eroding America's airpower advantage."
America, CSBA declared, has become too dependent on large overseas bases that are now within adversary missile range, and its failure to rapidly field fifth-generation aircraft means it poses less of a threat to those potential foes.
China has developed (and deployed) one fifth-generation fighter, the J-20, and is far along in developing a second, the J-31; Russia is producing the Su-57. At the same time, China has replaced obsolete second- and third-generation aircraft with new fourth-generation fighters, and Russia has developed—and is exporting—advanced air defense systems such as the S-300 and S-400 series and is testing the more advanced S-500, with a new S-600 also under development.
"China and Russia understand the value of stealth," said retired USAF Lt. Gen. David A. Deptula, head of the Mitchell Institute for Aerospace Studies. "They are working very hard to replicate that capability. They may not have figured it out to the degree we have, operationally, but they will get there eventually."
USAF is responding with more than a dozen major initiatives on the books to rapidly develop or insert new capabilities into its existing fighter force, and with others to advance the state of the art in next-generation air dominance.
Looking further ahead, the Air Force is also developing future concepts, ranging from a stealthy successor to the MQ-9 Reaper—because the MQ-9 cannot operate in defended airspace—to a family of systems that will make up the future Next-Generation Air Dominance concept.
The Air Force requested more than $1 billion dollars for NGAD in its fiscal 2020 budget to fund development of a new, undetermined platform as well as a number of other approaches to control the air.
Will Roper, assistant secretary of the Air Force for acquisition, technology, and logistics, has proposed developing a "new Century Series" of aircraft, recalling the rapid development of fighters designed in the 1950s and '60s. Each took a slightly different approach to dogfighting and ground attack, making incremental improvements along the way. None of those aircraft were ever intended to be 30-year platforms, but neither were they disposable.
Because these new aircraft won't be built for a 20,000-hour service life and won't need the logistics train to support that, the jets could be developed more affordably, Roper said.
NGAD will also make use of remotely piloted, and potentially autonomous, aircraft to complement the fifth-generation F-22 and F-35. In USAF's "loyal wingman" concept, RPAs would fly in the vicinity of manned fighters, either providing extra missiles or carrying out their own missions independently. Dubbed "Skyborg" by Roper, the concept is being tested on the XQ-58 Valkyrie, which flew for the first time in March, and on other testbeds.
These unmanned systems would be "attritable" aircraft, meaning combat losses would be acceptable, or at least less costly to lose than manned platforms.
Swarms of such autonomous, attritable aircraft "could do things on behalf of a manned fighter, to either go into areas that pose too high a threat or to provide more dilemmas for the adversary," according to Pacific Air Forces Director of Air and Cyber Operations Maj. Gen Scott L. Pleus.
In fact, Air Force leaders have consistently said NGAD need not produce a new fighter, but could yield something else entirely.
"If we were to characterize it as a fighter, we would be thinking too narrowly about what kind of airplane we need in a highly contested environment," Pleus said. "A B-21 that also has air-to-air capabilities" and the ability "to work with the family of systems to defend itself, utilizing stealth—maybe that's where the sixth-generation airplane comes from."
Ultimately, Deptula argued, the Air Force must develop a "combat cloud" where the source of information about the enemy is "agnostic," relative to the platform it came from, and data is shared and routed through a "distributed, self-forming, all-domain, self-healing network that is difficult to attack effectively."

THE WAY AHEAD
Reclaiming clear air superiority is not simply a matter of building another next-generation fighter. Instead, the Air Force is pursuing a "family of systems" that "really does diverge away from a platform-centric way of doing air superiority," said Pleus, the former director of plans, programs, and requirements at ACC.
Traditionally, the Air Force approached air superiority as a numbers game. "More airplanes equal more capability," he said. But that may not be the case in the future.
"We're going to have to up our game in all areas," Pleus said. Stealth, sensors, and connectivity will be key attributes, increasing situational awareness both for pilots and commanders. Converging air, space, and ground-based sensors creates "the ultimate in synergy" and an "unbelievable edge in dominating in the air superiority realm," Pleus noted.
Active electronically scanned array radars, infrared search-and-track systems, ground-based sensors, bistatic radars, and satellites­—plus the ability to fuse all that situational insight together into a single operating picture—will give the US a speed advantage and force adversaries into a reactive posture.
That means F-35s and F-22s would penetrate contested airspace and "vacuum up" information, passing it undetected to heavily armed fourth-generation aircraft outside of the contested area. Those aircraft will need longer-range missiles, Pleus said, and the Air Force is "teaming with industry" now to develop jam-resistant multimode sensors to guide those weapons and more powerful motors to increase speed and extend range.
"With the scramjet technology missiles go much longer, much higher, much faster," he said.
The Air Force and Lockheed Martin are developing the AIM-260 Joint Advanced Tactical Missile—a faster, longer-range replacement for the AIM-120 AMRAAM—which has been the undisputed dogfight champ since the early 1990s.
Brig. Gen. Anthony W. Genatempo, USAF program executive officer for weapons, stated in June that said flight tests are to begin in 2021, with initial operational capability targeted for 2022. The missile will fit in the F-22 and F-35 weapon bays, just as the AMRAAM does today.
AMRAAM has a range in excess of 50 miles. The range of the JATM is not yet known. But to counter China's PL-15 long-range air-to-air missile, Pleus said the US needs something far more capable.
"I would love to see us get a missile that would get us in excess of 150 miles," he said.
Airmen prepare to launch an F-35 at Al Dhafra AB, UAE. The upgrades to the fleet would allow F-35s to penetrate contested airspace, vacuum up information, and pass it undetected to heavily armed fourth-gen aircraft, such as the F-15EX. Photo: SSgt. Christopher Drzazgowski
BETTER DEFENSES, DIFFERENT STRATEGIES
Improving adversary systems mean it may not be possible or even necessary to achieve blanket air superiority over an entire region. The CSBA study concluded USAF may have to settle for "localized" air superiority instead, particularly, to provide "close air support to friendly forces operating under an adversary's area-denial umbrella at the onset of hostilities."
"I don't expect that we have to have air superiority over the entire area of responsibility, 24 hours a day, seven days a week," Pleus said. "I just think we need to do it where we need it."
To Deptula, that means "not only changing the way we define new requirements," but more importantly, changing "the way we think about command and control and operate the systems associated with this task."
Achieving this construct will "compel adversaries to dedicate more resources toward defense than offense," he said. "It will be strategically dislocating to any military challenger."