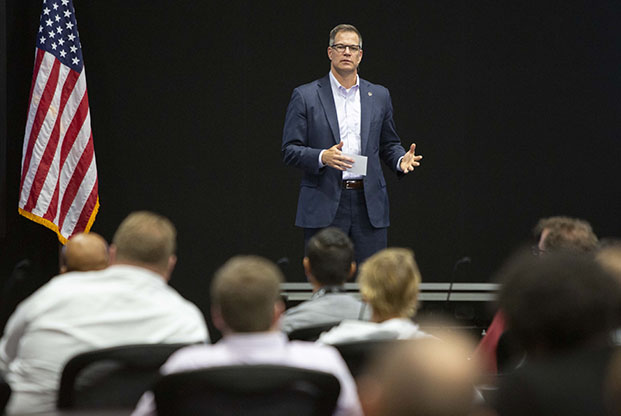 Jeff Babione, head of Lockheed Martin's 's Advanced Development Programs—the Skunk Works—speaks to company employees at a town hall meeting. Babione wants to grow the unit, but do so without hindering its light and lean culture. Photo: David Henry
The head of Lockheed Martin's Skunk Works wants to make his light and lean outfit bigger to better position it to tackle fast-turn, high-tech weapons development. The trick will be growing without slowing.
Skunk Works used to be larger and "perhaps, got too small" over the past two decades, said Jeff Babione, vice president and general manager of Advanced Development Programs (Skunk Works' official name). "My vision … is to grow it significantly. I think there is an opportunity to grow without getting too big."
The government wants to accelerate weapons development, and Skunk Works wants to get involved in more projects.
"Skunk Works is really [an]…engine of new development. Once we get it to a certain stage, we want someone else" to develop and field the system, Babione said.
Growth comes with risks, Babione admits. Skunk Works' success is a product of its culture—where programs are small, requirements simple, reporting chains short, and trust high. Babione has to find a way to increase the number of "Skunks" while preserving that culture. To do it, he's setting up a "Skunk Works Academy" to inculcate new hires with the Skunk Works approach. The goal: "?'Immerse' them in that culture."
The Pentagon has said it wants a "Skunk Works-like" approach to launching programs and propelling them toward revolutionary, usable products. "It's easy to say you will do it like Skunk Works," Babione said. "If it were that easy, everybody would do this."
Take hypersonics, for example. Lockheed has numerous hypersonics projects underway. To avoid blind alleys and reinventing the wheel, the company recently won permission to share insights across its divisions.
"We've been very fortunate that our customer has trusted us with all these hypersonics projects," he said. Aeronautics is working on Tactical Boost Glide (TBG) and the Hypersonic Air-breathing Weapon Concept (HAWC); its Missiles and Fire Control division has the lead on the Hypersonic Conventional Strike Weapon (HCSW); the Space division is leading the Intermediate Range Conventional Prompt Strike (CPS) project; and Missiles and Fire Control, with support from Aeronautics, is working on the Air-launched Rapid Response Weapon (ARRW).
With so many secret projects going, there's a risk that work gets over-compartmentalized to the point where the company's left hand doesn't know what its right hand is doing. By allowing cross-pollination, however, Babione said the government is ensuring that technological red herrings are avoided and company units aren't duplicating effort unnecessarily.
"The expectation is, by giving us those programs, you're actually going to benefit greater than if they had been spread across other companies," he explained.
Lockheed has established a steering committee for hypersonics. The committee ensures "we share staff, we share lessons learned, we can move technology across where the security lines will allow us," and that projects can share hardware and vehicles. "We do everything we can to ensure that we learn as rapidly as possible," Babione said. "We're doing, I think, a pretty good job of sharing experiences near-real time."
Meanwhile, the Pentagon has hypersonic programs underway with other contractors.
"I fully expect, that as we succeed in certain areas, that you'll start to see some more alignment, both from a technology and funding standpoint," Babione said. Competition is healthy—"sometimes you run faster when you know somebody's chasing you," he said. "And we recognize that we have to perform."
Yet, he's confident Lockheed will lead the field. "We've assembled the best team in the world to bring this capability. If we can't do this, nobody can."
THE ACHILLES' HEEL
One thing that could hold back progress, however, is the test infrastructure needed to let the research fully take off.
"If there's an area where I think we're challenged, from a resource standpoint, it's around hypersonic test facilities," Babione said. The nation's high-speed wind tunnels "have not been kept up," he added. "They're fragile." It's not uncommon to find facilities can't be used for lack of maintenance.
"Right now, we're on the ragged edge of having enough test capacity," Babione said. "We need, as a nation … to invest in a much greater, more modern infrastructure to do this testing."
Such wind tunnels are too big and expensive to expect industry to build them, Babione said. They must be seen as "national assets.
ON TO 6TH GEN
Skunk Works drove the development of stealth aircraft and the X-35, the concept demonstrator that would eventually lead to the F-35 fighter. Now Skunk Works is working on future improvements to that aircraft, even as it frames some of the debate about what next generation air dominance might look like.
In five or 10 years, "the threat's going to move," Babione said. By then the F-35 may require "a new optical targeting system," he added. "You need something to defeat an infrared threat. You need to hide your infrared signature."
One recent F-35 improvement out of the Skunk Works: the automated ground collision avoidance system (Auto-GCAS), which in early April won the National Aviation Association's Collier Trophy for the "greatest achievement in aeronautics or astronautics."
"We did that … in a very Skunk Works fashion," he said, racing from development to testing "in six or eight months."
He declined to discuss further F-35 improvements except to say that, "we know there's a future gap, and so we're designing technologies that cover that future gap, to be sure that it's never a fair fight. We always want to win overwhelmingly."
What might a sixth generation air dominance system look like
Babione said that while the current government preference is for "optionally manned" aeronautic systems, the weight of environmental and escape systems might be better used for fuel or payload.
"I think when people get more comfortable with 'optionally manned,' you'll see them get more comfortable with 'unmanned,'" he predicted. While there are still "good reasons" to put people in combat aircraft, he added, "in some of these cases, it's getting pretty dangerous."
Some of the revolutions will be in "pilot-vehicle interface. … What envelope we fly in; the altitudes, the integrated sensors and avionics," Babione said. Another feature will be "integrated apertures … getting away from just a radar" or electronic warfare and having broadband sensing "virtually across the spectrum … and doing it in a way that it's very difficult to detect."
He said "our customer has leaned forward in ensuring we are working best technologies to solve their toughest problems."
STEALTH TANKERS AND NEW BUSINESS
What else is Skunk Works working on?
"We've spent the last 20 to 25 years operationalizing LO into our 5th generation platforms," Babione said, referring to low-observable, or stealth technology.
Now the threat is changing. Advanced air defense systems, are "pushing our tanker fleet farther and farther from the fight," he said. The result: "We have this discontinuity, where the aircraft can't make the trip from the tanker to the target."
LO technology could "get the fuel closer" with "some form of advanced tanking." What that looks like is the question. Is that "distributed tanking?" Babione asks. "Unmanned assets? How do you hide the fuel" or get it closer to the fight "so that now you have this ability for your combat aircraft to refuel before they go in, and go back out, and then go back in?"
He predicted a "dance around the edge of denied airspace," driving "an obvious need for some form of survivable—or more survivable—tanking."
Skunk Works is also focused on the Advanced Battle Management System (ABMS), the successor to the JSTARS program, Babione said.
"It's really about connecting existing platforms and then aggregating that information to make a decision," he said, suggesting that experience with autonomous systems may help solve this challenge.
Automation is critical because the volume of information keeps rising, and human ability to process incoming data is finite. Relying on human decision-making may prove to be a choke point in future battles, Babione said. The future of multi-domain operations will be "how do I get that data, turn it into information," and produce courses of action more quickly. Automation will enable swarms of unmanned aircraft to be able to coordinate attacks on enemies, he said, so that the aircraft are "acting as one, instead of independently."
"Now you really start to see an opportunity to have multi-domain command and control using manned/unmanned teaming, artificial intelligence, neural network connections—all those things that allow things to act together," Babione said. "We're not that far out from being able to connect all these things and start automating some of these decisions."