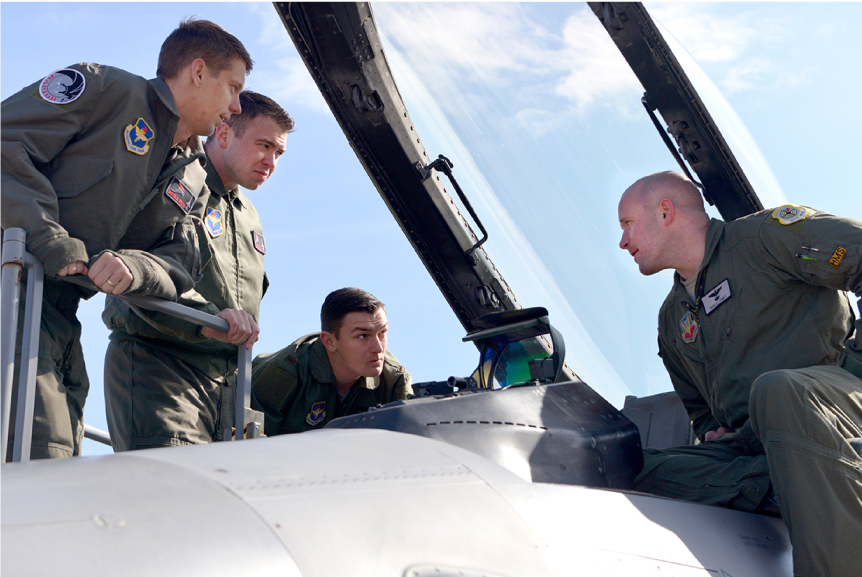 The Air Force is trying to get creative in addressing a number of urgent and severe manpower shortages, looking for new ways to hang on to seasoned specialists who have grown weary of nonstop deployments. The service is also under pressure to build end strength, the total number of airmen in uniform, back up to levels adequate to accomplish its expanding missions.
New initiatives are underway to help attract and retain airmen in some critically short fields, such as pilots, maintainers, cyber experts, battlefield airmen, and acquisition specialists.
In recent years, despite being actively engaged in Middle East combat and other contingencies, USAF was forced by tightening budgets to make tough choices between modernization, recapitalization, and readiness. Trying to balance those three factors (given the way the world looked then), the Air Force in 2014 chose to reduce end strength, hitting 311,000 Active Duty airmen in Fiscal 2015—its lowest since 1947. It didn't take long, however, for service leaders to realize they had gone too far.
The original idea was to cut manpower while simultaneously divesting hundreds of aircraft, including entire fleets, such as the A-10 and U-2. Congress didn't agree, however, and upset the service's carefully crafted plan by directing that both the Warthog and Dragon Lady keep flying for years to come. Now the Air Force is in a bind: It has to keep operating aircraft it had planned to retire but it has already shed the manpower needed to fly and maintain them.
Top Focus: End Strength
Though USAF has carried out its missions, "what's masked is the fact that the shortage of people has fundamentally changed the way we do business in terms of the operational risk, day to day," said Air Force Chief of Staff Gen. David L. Goldfein last year.
The risk, as Goldfein described it, is not sustainable.
At AFA's Air Warfare Symposium in March, acting Air Force Secretary Lisa S. Disbrow acknowledged many "acute shortfalls."
"I can say with confidence, the United States Air Force must grow. Our top focus is end strength. We need to increase the number of people we have," she maintained.
The Air Force closed Fiscal 2016 with 317,883 Active Duty airmen—6,000 more than the year before but still 38 percent less than it had during the first Gulf War. It's expected to end Fiscal 2017 with 321,000 Active Duty members—contingent on whether Congress approves the budget, something it has yet to do despite being more than halfway through the fiscal year.
Lt. Gen. Darryl L. Roberson, commander of Air Education and Training Command, said the service is projected to grow to 324,000 Active Duty airmen by 2022, but the time line probably is going to be accelerated, pending congressional funding.
"We need to increase the number to at least 350,000 over time just to fill our existing units to 100 percent, and we may need to grow beyond that number in the future," said Disbrow.
Lt. Gen. Gina M. Grosso, deputy chief of staff for manpower, personnel, and services, told Air Force Magazine in April the five- to seven-year 350,000 target was set before the incoming Secretary of the Air Force was nominated, and she may have different ideas. The personnel numbers must also be rationalized and paid for in the context of the bow wave of hardware recapitalization hitting USAF in the mid-2020s.
While "the mix of that manpower will change over time," Grosso said, the 350,000 figure "just gets us whole today."
The Air Force is making progress with its maintainer shortage, but is still in a deep hole in this regard. The beddown of the F-35 strike fighter and Congress' refusal to let USAF divest aircraft exacerbated the problem, because the service couldn't move as many airmen over to the F-35 from legacy platforms as it had hoped.
Do What You Did—and More
Although it has managed to narrow the maintainer shortage from 4,000 to 3,400 airmen by taking a large share of new accessions and recruiting more airmen into the maintenance field, the Air Force won't close the maintenance shortfall until Fiscal 2019, said Grosso. That would cover the maintainers needed for new F-35 squadrons coming online, but if asked to accelerate that process—an idea that has been debated on Capitol Hill—it will further stress the maintenance force, she said.
Recruiting hasn't been a problem, said Grosso, but there are other challenges to overcome. The Air Force is pushing about 9,300 airmen annually through the maintainer schoolhouse, but the bulge of people coming through can create a "leadership challenge" because the service must have enough noncommissioned officers (NCOs) to mentor and lead the new airmen.
"We're working really hard to keep all the NCOs that we can" through selective re-enlistment bonuses and the voluntary limited period of Active Duty, which brings reservists on full time to fill midlevel management positions, Grosso said. For high-demand staff sergeants and technical sergeants, the Air Force is waiving high year of tenure, an up-or-out rule setting the maximum time an airman may serve before he or she must separate or retire.
Growth in the commercial airline industry will affect the maintenance force. Airline hiring is already taking a big bite out of USAF's pilot ranks, and as the airlines grow, "they will need more maintainers, so we're watching very closely the maintenance retention," Grosso said.
The Air Force finished Fiscal 2016 short 1,555 pilots overall, 1,211 of them fighter pilots. Given that it costs $11 million to train a fighter pilot to the point of operational readiness, the deficit equates to about a $12 billion capital loss, Grosso told the House Armed Services Committee during a late March hearing on pilot shortages.
Just as with maintainers, Grosso said USAF doesn't have a problem recruiting new aviators, but it is struggling to retain midcareer pilots tired of the service's high operational tempo and repeated deployments. The airlines are "actively recruiting the world-class experience of our rated airmen," Grosso explained in the hearing, because USAF pilots have had "diverse experience and quality aviation training." Airline expansion and their need to hire more pilots is "expected to continue for the next 10 to 15 years," she pointed out.
To address the pilot problem, USAF will expand undergraduate pilot training to the "maximum capacity" of 1,400 pilots per year over the next two years.
"We produced 1,108 graduates from our pilot training program last year and we're going to produce 1,200 this year," said Roberson. USAF will work its way up to producing 1,400 with the assets available, but even that's not enough to meet requirements.
Solving the Pilot Shortage
More student pilots moving through the schoolhouse means the Air Force must find more aircraft for them to fly, so it diverted two F-16 squadrons from Hill AFB, Utah, which is transitioning to the F-35, to serve in fighter production units at Holloman AFB, N.M. The 45 F-16s were going to be spread out among the Total Force, said Roberson.
"That's going to increase the … production rate from the 235 that we produced this year to 335 Total Force fighter pilots," he added. "That's going to help us in the short term just for fighter pilots, but we still have a much bigger problem overall."
Though the pilot shortage in the fighter community generally gets the most attention, the problem looms in the mobility field as well. Air Mobility Command boss Gen. Carlton D. Everhart II told reporters in April his command will have about 1,600 pilots eligible to separate within four years. USAF must find ways to convince them to stay in uniform, whether in the Active Duty, Guard, or Reserve, he said.
The pilot shortage also affects U­SAF's test pilot program, and that could become a big issue as new types of aircraft—driven by the big push in modernization—start to come online, Air Force Materiel Command boss Gen. Ellen M. Pawlikowski said.
Besides hiring and training more pilots, USAF is attempting to keep the ones it has by trying to reduce additional duties often imposed on them. The extra tasks are a distraction from flying and cut into family time at home station. They run from administrative chores to scheduling and staff work. Goldfein has pledged to add more "white space" to pilot calendars, especially at home base.
Another way to attack the retention problem is with money. Last year, Congress authorized an aviation bonus of up to $35,000 per year—the first increase in 18 years. Prior to the Fiscal 2017 defense authorization, it was $25,000.
The Air Force spends about $930 million a year across the force on special and incentive pay, such as the aviation bonus, Grosso stated. The amounts of the bonuses are determined using a mathematical model that takes into consideration current manning and retention as well as the cost and time needed to train an airman in a given specialty. The Fiscal 2017 Aviation Bonus Program offers various contract lengths—one, two, five, nine, and 13 years—depending on "platform type and business case," said USAF spokesman Maj. Bryan Lewis.
Grosso said USAF is still working out the "tiered structure" for the payment, including the length of time aviators must serve after accepting it. She expects those details to be rolled out in the near future, but said the service is considering asking Congress for new authorities.
"We're finding that we're not retaining enough [pilots] even at the 20-year point, so we're looking at some authorities to incentivize people not to retire. We've had to do that before," she said.
Though the service pays out some form of selective re-enlistment bonus for about 122 enlisted specialties, the aviation bonus is not yet offered to enlisted pilots, who have just begun to populate the remotely piloted aircraft community. In 2015, the Air Force announced it would allow enlisted airmen to fly the RQ-4 Global Hawk, and the first enlisted RPA pilot training class began last year.
Grosso doesn't see that as a near-term issue because there won't be any enlisted airmen eligible for the bonus for six years. Plus, the service already has enough authorities to offer critical skills retention bonuses to enlisted aviators, so "from the airmen's perspective [they] would get paid the same."
Goldfein and other senior Air Force leaders were scheduled to meet with airlines officials in May to discuss solutions to the national pilot shortage problem, in hopes of finding solutions that will benefit both the military and the US economy.
One idea under consideration is the Career Intermission Program. This would allow Active Duty pilots to take a three-year sabbatical—while still recallable as a member of the Individual Ready Reserve—allowing them to join an airline and start earning seniority before returning for another tour of Active Duty. The program gives them "time to meet personal or professional needs outside the service," according to an Air Force press release.
Grosso said the airlines operate on a "first in, move up" system. "When you start determines everything else along the way," she said. Pilots are often reluctant to see a military career through to retirement because they don't want to start an airline career as a junior flight officer after being a seasoned aircraft commander.
If implemented, the intermission program could allow a pilot to get a line number much earlier, provide the commercial airlines with more predictability, and ensure USAF doesn't lose all its experienced aviators.
"It's an idea we think might work," said Grosso, who called it a "win-win."
Another idea is to allow Active Duty airmen to fly part-time for the Air Force and part-time for the airlines. "We don't have a part-time program like that today," Grosso noted. Yet if it works in the reserve, "is this something we should think about with the Active Duty?" she asked.
Exactly how such an idea might be implemented is still unclear. Grosso said one way might be to use such aviators to fill instructor pilot billets.
Another approach might be to find a way to help civilian pilots obtain a pilot's license—a costly venture—in return for some type of military service. However, allied nations offer similar programs. The idea is more challenging for the US, which doesn't have a nationalized airline.
"We need to start to get the two-way communication with airlines going and see what they are thinking. This is a challenge for both of us," observed Grosso.
One Large Cyber Wing
One manpower shortage that doesn't get the spotlight it deserves is in the ranks of cyber experts.
USAF Maj. Gen. Burke E. "Ed" Wilson, deputy principal cyber advisor to the Secretary of Defense, said the Air Force's entire cyber force is only the "size of a large wing," yet overall requirements for this force continue to increase. The stand-up of the Cyber Mission Force (CMF) was a good start, he said at a December 2016 conference of the Armed Forces Communications and Electronics Association.
Though the CMF organized more than 6,000 military and civilian defense personnel into 133 teams, the Defense Department still needs to grow the cyber force and invest more in it, he said.
Grosso said one problem with Cyber Mission Teams, declared operational last October, is that they're all field-grade positions—held by people at the level of majors, with 10 or more years of service. That makes growing the force a challenge.
The Air Force is considering bringing in qualified cyber experts from the private sector, direct-commissioning them at the level of a major rather than second lieutenant. How this would work has yet to be determined. Grosso said the service has to think about whether these cyber officers would need to attend traditional Officer Training School or if there may be a shorter program USAF could create for them.
"What do we do to set them up for success?" she asked, noting, "this may have applications in other skill sets as well."
There is a chronic shortage of people in battlefield airmen career fields—pararescuemen and combat controllers particularly. Standards are very tough, and even if someone is admitted to the schoolhouse, there's no guarantee that a recruit will complete the rigorous course. Attrition is quite high.
The Air Force awarded a contract about 18 months ago for a program called Scout, run by former battlefield airmen. The idea is to recruit athletes who could make it through the training program, then help mentor those recruits through the process, so they have a higher chance of success, said Grosso.
While most of the discussion around USAF's manpower shortages understandably has centered around uniformed personnel, AFMC chief Pawlikowski faces her biggest problem in the civilian force.
Lingering Civilian Pain
She said the command is "still in the throes of recovering" from the implementation of sequestration in 2013, with its civilian hiring freezes and furloughs of the AFMC workforce. When President Trump ordered a short-lived federal hiring freeze earlier this year, it compounded the problem, she contended.
Pawlikowski said in March that the command is "working through the process" of getting exemptions for personnel deemed critical to national security, but it slows her ability to fill shortfalls.
"Within AFMC in any month, on average, we lose about 400 people," she said. That's people who retire, go back to school, etc. AFMC has 60,000 civilians, so while 400 people is not a huge number, nonetheless, "if we freeze hiring, that adds up pretty quickly," she said.
The command has struggled to balance the growth in new programs with the fact that older weapon systems are not retiring as soon as expected.
"We're not getting any additional manpower on the acquisition side," she explained. Standing up a new program office to do Ground Based Strategic Deterrent is tough when the expected manpower pool doesn't have spare people from, say, the A-10 program, since that fleet was not divested as planned. Properly staffing the program offices has been a "major challenge," she stated.
Pentagon leaders rolled out a "should cost" initiative a few years ago. It focused on getting requirements right at the outset, instead of disrupting programs at great cost, by adding them later in the process.
To do that well, USAF needs really good people who have "expertise with pricing," Pawlikowski explained.
"Over the years, we've atrophied that capability within the Air Force, so we have to build that back up again, but you can't do that without people," she said. "You can't own the technical baseline if you don't have sufficient engineers in the program office."
In prepared answers to the Senate Armed Services Committee before her nomination hearing, Heather A. Wilson, President Trump's nominee to be the next Air Force Secretary, said there is a "mismatch" between the Air Force's strategic objectives and its ability to "confront and deter threats."
"The Air Force is too small for what the nation expects of it," wrote Wilson. "Unless the Air Force receives funds above the caps imposed by the Budget Control Act, it will not be able to achieve the readiness, modernization, and force structure required to meet emerging threats."
The manpower challenges are already acute, and if USAF cannot begin rebuilding its ranks soon, the problems will multiply.