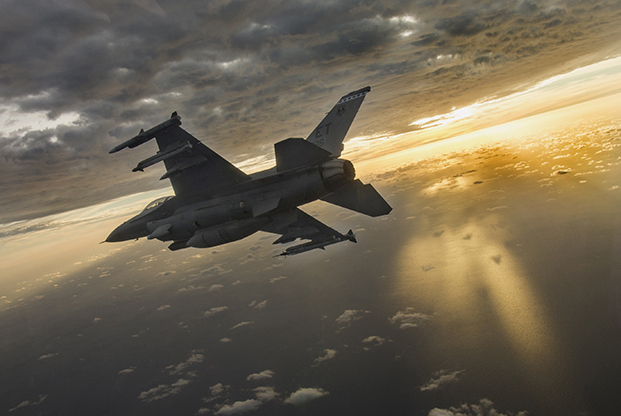 F-16Cs, such as this one flying from Eglin AFB, Fla., are the most mission-ready USAF fighters. But, at only 73.7 percent mission capable, they are still short of the 80 percent target. Photo: TSgt. John Raven
Air Force leaders say they are on pace to achieve 80 percent mission capable rates for F-22s, F-35s, and F-16s by the end of this year through intensified maintenance and changes to basing and deployments.
"We are more ready for major combat operations today than we were two years ago," Air Force Secretary Heather Wilson said at AFA's 2019 Air Warfare Symposium.
Then-Defense Secretary James Mattis ordered the Air Force and Navy to increase fighter mission capable rates to 80 percent in September in order to meet requirements set out in the Pentagon's National Defense Strategy, which called for increased availability of aircraft in case of war with a peer competitor.
At the time, the mission capable rate for F-22 was only 49 percent and for the F-35A was just 54.7. The F-16C was the most capable USAF fighter, but at 73.7 percent, still below the target.
Lt. Gen. Arnold W. Bunch Jr., the Air Force's top uniformed acquisition official and presumed nominee to take over Air Force Materiel Command, said in February that the Air Force's combat-rated fighters will reach the goal, but that training and test aircraft will fall short. Maintaining the low-observable coatings on the F-22 Raptor and F-35A Lightning II is one of the complicating factors.
"We're on track across the three systems," said Vice Chief of Staff of the Air Force Gen. Stephen W. "Seve" Wilson in an interview. "Maybe the hardest is the F-22. … But we are focused on being 80 percent across the three platforms. And how do we shift money to get the right weapons support, with the right parts, and the right manning, [and] the right people to be able to do that? … We track it by month. Right now, we're on track."

Maintainers work on F-35s during Red Flag 19-1 at Nellis AFB, Nev. Spare parts shortages helped keep the jets' mission capable rates under 55 percent in 2018. Photo: R. Nial Bradshaw/USAF
BRINGING RAPTORS HOME
One way the Air Force is increasing readiness is by decreasing workload. Since 2014, F-22s have quarterbacked strike operations in the Middle East, where Raptors have conducted air strikes and escorted USAF bombers during the Syria campaign. But when the 94th Fighter Squadron wrapped up its deployment in October 2018, legacy F-15Cs took over the mission.
Air Combat Command boss Gen. James M. "Mike" Holmes declined to discuss F-22 deployments in detail, saying the key is balancing training and maintenance.
"Part of that balance is how much time can you spend on deployment, how much time can you spend at home to train—to both train young maintainers into experienced maintainers and young aircrew into experienced aircrew, and to train for the threats that the National Defense Strategy told us to train for," Holmes said.
At the same time those Raptors returned, the Air Force was adjusting to the post-Hurricane Michael realities of a devastated Tyndall Air Force Base. After the storm, Tyndall's F-22s were redistributed to JB Langley-Eustis, Va.; JB Elmendorf-Richardson, Alaska; JB Pearl Harbor-Hickam, Hawaii; and Eglin AFB, Fla. A long-term basing plan is still in the works, but for now, Langley, Elmendorf, and Hickam will increase their overall squadron size, and a small number of aircraft will stay at Eglin for training.
Holmes said maintaining 24 aircraft per F-22 squadron can help improve readiness.
"The reason is the economy of scale," Holmes said. "On any given day, you only want to commit a certain percentage of your aircraft to the flying schedule, and spend time addressing delayed discrepancies—doing planned and unplanned maintenance on the others—the more you have, the more you can commit a certain percentage of them [to maintenance]."
The two F-22 bases in the Pacific are moving toward that goal. The aircraft are already at JB Elmendorf-Richardson, Alaska, and JB Pearl Harbor-Hickam, Hawaii, and the rest of the airmen are expected to be at the base by summer, PACAF boss Gen. Charles Q. Brown Jr. said.
Last summer, the Government Accountability Office criticized the Air Force's management of the F-22 fleet and personnel, citing inefficient basing and constant Middle East deployments as undermining readiness.
"Although its high-end capabilities provide some benefits in current operations against ISIS, 39 F-22s have primarily been used for close air support missions in operations against ISIS, according to Air Force officials," the GAO wrote. "However, CAS is not a primary or secondary mission for the F-22. As such, F-22 pilot air superiority skills degrade while on deployment because they are conducting CAS missions and not able to train for their air superiority missions, according to Air Force officials."
The Air Force, in response, said it is reassessing how it bases and deploys the aircraft.
F-35 PARTS SHORTFALL
For the F-35, the largest readiness challenge is a lack of spare parts. "The biggest bang for the buck is in parts," General Wilson said in early March. "I've got to be able to have the right parts in the right place."
Holmes said, "The goals that the Secretary of Defense gave us to work toward" are helping to shine a light on problems and to drive toward solutions.
"Do you have enough of the parts in stock that, if you picked up to go deploy, you've got your war reserves spares kit full and you can operate for a while?" he asked. "We're continuing to fill those out."
FOCUS ON PEOPLE
The squadrons that have the best readiness are the ones that are fully manned with maintainers.
A servicewide maintainer shortage has contributed to the readiness problem, and even though that gap has been closed in gross terms, the Air Force continues to struggle with experience and knowledge shortfalls among maintainers.
"Some of our squadrons are able to achieve that [80 percent readiness] now in places where we're fully manned and have more experience," Holmes said.
"The last number I pulled for ACC said we're manned at 100 percent and a bit better for maintainers, but we still have a lot of … brand-new maintainers that are gaining experience."
In addition to adding new maintainers, the Air Force is also adding additional maintenance shifts and hiring contractors to help. Adding a night shift to an F-16 squadron means that a Viper in need of repair after a training flight can be fixed overnight so pilots can fly the next morning, Wilson said. Without that extra shift, it might take another day to get that jet back in the air.
"We're about 15 percent better than we were last year," Holmes said. "That's largely because of the people"—being fully manned. "That's pushed some of the squadrons over the hump."