In 1910, former president Theodore Roosevelt (l) grasps a strut on a Wright Type B biplane at Kinloch Field in St. Louis. The pilot, Archibald Hoxsey, who worked for the Wright brothers, died a few months later in a crash attempting to set an altitude record.
Photo: Cole & Co. via Library of Congress
In January 1943, US President Franklin D. Roosevelt and British Prime Minister Winston Churchill met in secret in Casablanca to plan the next phase of strategy for World War II. In preceding months, German submarines had sunk hundreds of Allied vessels, so crossing the Atlantic by ship to the conference in North Africa was considered too dangerous for the president.FDR boarded a Pan American flying boat, the Dixie Clipper, in Miami and flew by stages to Trinidad and Brazil, then across the ocean to British-controlled Gambia on the coast of Africa. From there, a C-54 transport took him on to the meeting in Morocco. The trip was not disclosed to the public until he was safely back home.
It was the first time an incumbent president had traveled by air on official business, but—depending on how the historic milestone is interpreted—Roosevelt was not the first president to fly. That honor is usually accorded to FDR's distant cousin, Theodore "Teddy" Roosevelt.
At a county fair in St. Louis in 1910, Teddy Roosevelt—whose tenure as president had ended 18 months previously—took a four-minute flight in a Wright Type B biplane. A contemporary photo shows him sitting beside the pilot, holding on to a strut. "By George, it was fine!," he said. " I only wish I could have stayed up an hour."
FDR's Dixie Clipper was the first in a long line of airplanes assigned to transport POTUS (as the president of the United States is referred to in Beltway shorthand). Although the Army and Navy kept airplanes ready for Roosevelt, most notably a modified C-54, the Sacred Cow, he flew only twice more, to the Allied conferences at Tehran in 1943 and Yalta in 1945.
President Harry S. Truman inherited Sacred Cow, which was later replaced by a DC-6, Independence, named after his hometown. President Dwight D. Eisenhower's airplanes were two C-121 Constellations, Columbine II and Columbine III. (The original Columbine was his military C-121 when he was Supreme Allied Commander Europe.)
For the past 60 years, presidents have flown on variants of four-engine Boeing airliners. The call sign for any USAF aircraft when POTUS is aboard is "Air Force One," but the principal one currently in service is a VC-25, the military version of the Boeing 747 jumbo jet.
For shorter trips, including the hop from the White House to Joint Base Andrews in the Maryland suburbs where Air Force One awaits, the president usually takes a Marine Corps helicopter designated as "Marine One."
The "Special Air Mission" fleet at Andrews, operated by the 89th Airlift Wing, consists of about 15 aircraft. They include the primary VC-25 and a backup, as well as business-jet variants used by the president and assorted senior government officials. The aircraft are identified by the initials SAM plus the tail number.
The VC-25s—SAM 28000 and SAM 29000—have been flying since the early 1990s and are due for replacement. The next Air Force One, the VC-25B, is on contract and scheduled for delivery in 2024. It will be a variant of Boeing's 747-8.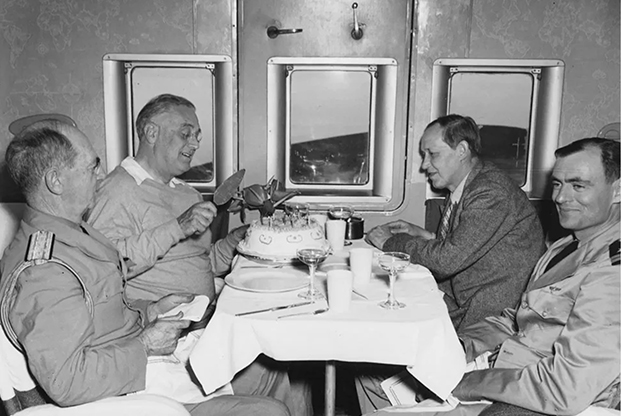 President Franklin Roosevelt (second from left) celebrates his 61st birthday on Dixie Clipper, returning from the Casablanca Conference. Photo: National Archives
EARLY BIRDS
Other world leaders had traveled by air in their official capacities well before Roosevelt did. In Germany, Adolf Hitler flew to the massive Nazi Party rallies on a Junkers Ju 52. His arrival in Nuremberg in 1934 was featured in the famous propaganda film Triumph of the Will. In 1938, British Prime Minister Neville Chamberlain went to Munich on a Lockheed Electra for his notorious "appeasement" meeting with Hitler.
The first US airplane configured for presidential use was a transport version of the B-24D bomber named Guess Where II. FDR never flew on it, but First Lady Eleanor Roosevelt did. For his trip to Tehran in 1943, Roosevelt took the battleship Iowa to Cairo and flew from there to Iran on a TWA C-54.
Sacred Cow, delivered in June 1944, had an elevator to lift Roosevelt in and out of the aircraft in his wheelchair. FDR flew on it only once. In February 1945, the heavy cruiser Quincy took him to Malta, where he met up with Sacred Cow for the flight to Yalta for the conference with Stalin and Churchill.
For the final Big Three meeting in Potsdam in July 1945, Truman made his transatlantic crossing on the cruiser Augusta and flew on from Antwerp to Berlin on Sacred Cow. Churchill also flew. Stalin came by train. After a rough flight with severe turbulence in a Lend-Lease American C-47 in 1943, Stalin refused to fly again for the duration of the war.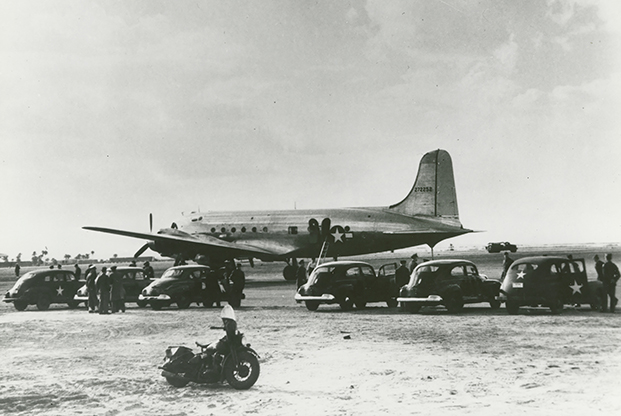 Sacred Cow is now at the National Museum of the US Air Force. Photo: National Museum of the US Air Force
In 1945, Truman dispatched Sacred Cow to bring his mother, Martha Truman, 92, from Missouri to Washington for Mother's Day. Upon landing, she was going down the elevator that had been installed for FDR when it stuck. It had to be pulled up to get her out. Turning to the pilot, she announced that, "I am going to tell Harry that this plane is no good, and I could walk just as easily as I could ride."
On July 26, 1947, Truman signed the National Security Act onboard Sacred Cow. This act established the Air Force as an independent service, making Sacred Cow "the birthplace of the Air Force."
The next presidential aircraft, The Independence, entered service in 1947. In 1950, it carried Truman to Wake Island in the Pacific to confer with Gen. Douglas MacArthur, commander of US and UN Forces in the Far East, about the progress of the Korean War.
Eisenhower's first official aircraft was the VC-121A Columbine II, similar to the military transport he had used in Europe. A VC-121E Super Constellation, Columbine III, was added in 1954. These were the first airplanes to be called "Air Force One."
Over Richmond, Va., in May 1954, Columbine's pilot checked in with the air route traffic control center as Air Force 8610. This induced a query from an Eastern Air Lines pilot whose call sign included the same numbers. Contrary to an often-told story, the two airplanes did not cross paths, but it was decided that the president's plane should have a call sign like no other.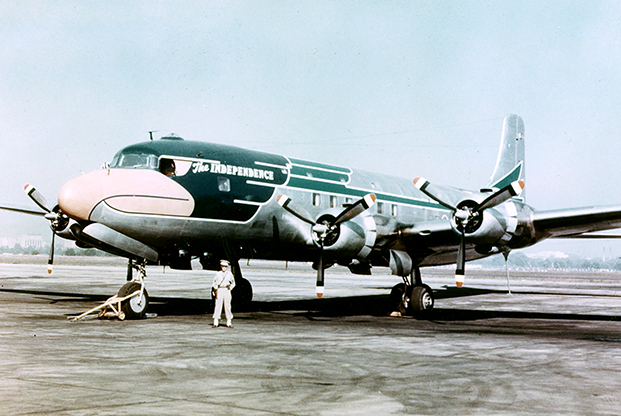 Independence, Truman's Air Force One, was a DC-6 named after his hometown. Photo: National Museum of the US Air Force
THE BIG BOEINGS
The first jet, a Boeing 707 named Queenie, joined the Special Air Mission fleet in 1959. It was not designed specifically for presidential travel and most of its service was in backup roles. The classic Air Force One—a highly modified 707-320B airliner, military designation VC-137, tail number 26000—was delivered in October 1962.
The distinctive appearance was developed by First Lady Jacqueline Kennedy and industrial designer Raymond Loewy. The aircraft was painted in vibrant blue and white with the words, "United States of America" running in tall letters along the fuselage and an American flag on the tail. That set the look for Air Force One that continues today.
SAM 26000 was the airplane that took President John F. Kennedy to Dallas in November 1963 and brought his body back to Washington after he was assassinated. Lyndon B. Johnson took the presidential oath aboard the aircraft.
A second VC-37, SAM 27000, was added in 1974. In honor of the upcoming bicentennial, President Richard M. Nixon had "Spirit of '76" lettered on the noses of both aircraft. To his chagrin, the new names never caught on and were eventually removed.
Nixon resigned from office Aug. 8, 1974, effective at noon the next day. At that time, he was airborne in Air Force One, bound for San Clemente, Calif. When Gerald R. Ford took the presidential oath just after noon, the pilot notified the air traffic control center at Kansas City that the call sign had changed to "SAM 27000." The passenger was no longer president.
When the Air Force in 1985 put out a request for proposals to replace the VC-37s, one of the bids was for a wide-body Douglas DC-10. However, it had only three engines, one under each wing, one atop the fuselage. That was sufficient for the requirement, but tradition was strong for a four-engine airplane, and a variant of the Boeing 747 jumbo jet was chosen. Two of these, designated VC-25s, were delivered in 1990 and 1991 and are still the primary Air Force One aircraft.
The biggest collection of retired presidential aircraft is at the National Museum of the US Air Force in Dayton, Ohio. Sacred Cow is there, as are The Independence, Columbine III, and the most famous Air Force One of them all, SAM 26000, which flew presidents from Kennedy to George H. W. Bush. SAM 27000 is at the Ronald Reagan Presidential Library and Museum in Simi Valley, Calif. The Museum of Flight in Seattle has Queenie, the first of the presidential jets.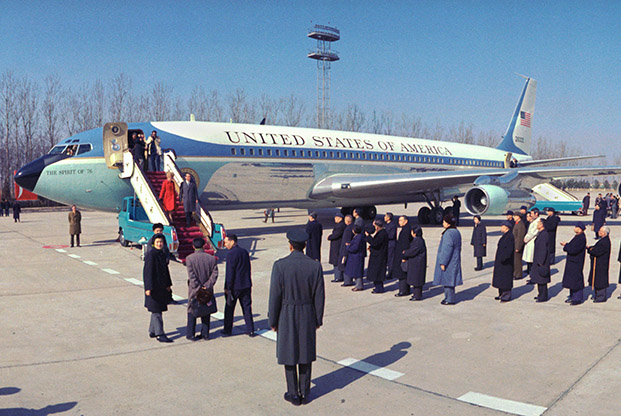 SAM 26000 flew presidents from Kennedy to George H. W. Bush. Photo: National Archives
FLYING WITH POTUS
There is plenty of elbow room on Air Force One. A regular Boeing 747 in high-density configuration seats 660 passengers. The standard complement of Air Force One is fewer than 100, counting the crew.
The aircraft has three decks, the lowest one for cargo and equipment, with the flight deck and communications center up top. Passengers are on the main deck. In earlier presidential aircraft, the president's stateroom was in the rear, away from the engine noise. Nixon had the cabin moved forward, in front of the engines, where noise was not an issue.
The press section, accommodating a pool of about a dozen reporters and photographers, is in the back. In between are the staff offices, a conference room, dining room, and a medical suite that can function as an operating room. There is always a doctor onboard.
On VC-25, the pilots sit up high. The flight deck is 29 feet above the ground, 100 feet forward of the main landing gear, and 12 feet in front of the nose gear.
For security reasons, all the food—enough to last for two weeks—is obtained in Washington. Passengers are expected to eat what they are served, but the stewards make sure the choices reflect what the main passenger likes.Reagan enjoyed meatloaf and macaroni and cheese except when First Lady Nancy Reagan was along on the trip, in which case, he had a bowl of vegetable soup with a salad or fruit. Ford's favorite was cottage cheese and A-1 Steak Sauce. George H. W. Bush banned broccoli from the airplane altogether.
Even jaded travelers cherish the souvenirs from their flight. These once proliferated, and included Air Force One playing cards, mugs, glasses, and other trinkets. The takeaways have been reduced in recent years but the special M&Ms are still available, the boxes embossed with the presidential seal and the autograph of the current president.
The aircraft was featured in "Air Force One," a political thriller movie in 1997 starring Harrison Ford as President James Marshall. Presidents Bill Clinton and Donald Trump have given the film good reviews but pointed out that the escape pod through which Harrison Ford eludes his adversaries is fictional.
Presidents have differed appreciably in their demeanor aboard Air Force One. Ford is generally remembered as the most congenial and considerate. By contrast, Johnson was imperious and often ill-tempered. "He installed a special seat, which his aides called 'the throne,' that he could raise at the push of a button so he could ascend to a higher, more regal elevation than anyone else," said press pool veteran Kenneth Walsh of US News & World Report. Bill Clinton was informal and gregarious. He would wander back to the conference room, wearing a T-shirt and jeans, for a game of Hearts.
Normally, news coverage of Air Force One is positive for a president's image—but there are exceptions. In 1993, Clinton called Beverly Hills hair stylist Christophe to come give him a high-priced trim aboard Air Force One at Los Angeles International Airport. Departure was delayed by almost an hour.
Unfortunately, the delay was not anticipated and the airplane sat on the ramp, engines idling. Since other air traffic stops before and after a presidential arrival and departure, two of the airport's four runways were shut down for the duration. Clinton took a pounding in public relations for the abuse of privilege.

The current Air Force One is a modified Boeing 747, but a new aircraft is in the works. Photo: SSgt. Kenny Holston
THE REST OF THE FLEET
The big VC-25s need at least 7,000 feet of runway. When the destination is a shorter airfield, one of the other aircraft in the SAM fleet at Andrews takes over as Air Force One. A frequent choice is the VC-32, the military model of a Boeing 757 twin-engine midsize airliner, which most frequently operates as "Air Force Two," transporting the vice president.
Presidents have made use of smaller airplanes all along. Eisenhower favored a propeller-driven LG-26 Aero Commander which flew as Air Force One when shuttling him to his farm in Gettysburg, Pa., where there was a grass runway. Similarly, an Air Force C-140 business-style jet could land at Johnson's LBJ Ranch in Texas.
Helicopters have served since 1957 for short hops between the south lawn of the White House and Andrews or to the presidential retreat at Camp David, near Thurmont, Md., about 60 miles from Washington.
Initially, both Army and the Marine Corps helicopters transported the president on such trips, but the mission was assigned to the Marines alone in 1976. Marine One is accompanied by several identical helicopters that shift position in the formation, making it difficult to determine which one is carrying the president.
The current Marine One helicopters include the Sikorsky VH-3D Sea King and the smaller VH-60N White Hawk. After a string of program problems and delays, Sikorsky is on contract for the next Marine One, the VH-92A, with deliveries to begin in 2020.
Three presidents have been pilots themselves. The first was Eisenhower, who learned to fly on a Stearman PT-13 biplane trainer in the Philippines in 1936 and logged 350 hours of flying time between 1936 and 1939. George H. W. Bush was a naval aviator in World War II.
However, the only president who ever flew as a presidential pilot was George W. Bush, who in his younger days had been an F-102 pilot in the Texas Air National Guard. In May 2003, Bush was aboard "Navy One," an S-3B Viking taking him to the carrier Abraham Lincoln off the coast of California. He was in the co-pilot's seat and took a turn at flying the airplane en route. The regular pilot resumed control for the tailhook landing.
In an unusual instance of presidential flight, a United DC-10 became "Executive One" in December 1973 when the Nixon family flew as commercial passengers from Washington to Los Angeles. An oil crisis was in progress at the time, and Nixon wanted to set an example of conserving fuel by not making the trip on Air Force One.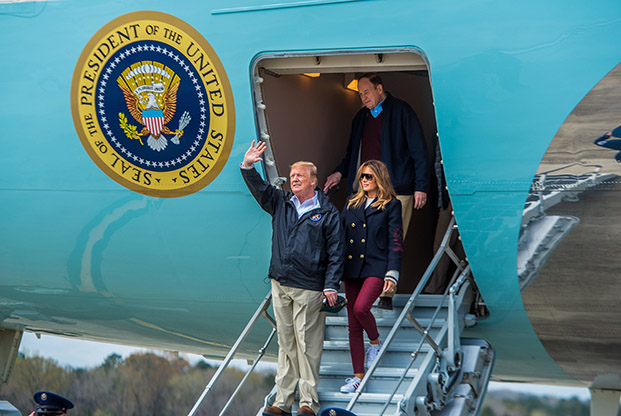 President Donald Trump and First Lady Melania Trump debark from Air Force One at Lawson Army Airfield, Ga., March 8 en route to Lee County, Ala., where tornadoes and storms killed 23 people. Photo: Patrick Albright/USA
NEXT IN LINE
In 2015, the Air Force announced its intention to purchase, sole source, the Boeing 747-8I as the next Air Force One. That aircraft, the third generation of the wide-body 747, had a lengthened fuselage, redesigned wings, new engines, and improved efficiency. USAF said it was the only available choice meeting the established requirements.
In December 2016, President-elect Donald J. Trump threw a monkey wrench in the works, declaring that the airplane was too expensive, and that he would cancel it. His tweet came 22 minutes after press reports that a Boeing official had been critical of Trump's trade policy.
That led in 2018 to a revised deal with Boeing at a substantially reduced price, made possible in part by filling the order with two 747-8Is originally produced for a defunct Russian airline. The airplanes had never been flown, going straight from the assembly line to storage in the Mojave Desert. They will be refitted to Air Force One specifications and designated VC-25Bs, with delivery in 2024.
"Air Force One is going to be incredible," Trump said in July 2018. "It's going to be top of the line. And it's going to be red, white, and blue, which I think is appropriate."
Trump's decision for a new color scheme raised some eyebrows, but it would essentially return to the markings in use before Jacqueline Kennedy's redesign. The previous presidential aircraft, Queenie, had been finished in red, white, and a natural metal that had a bluish cast, depending on the light.
Whatever the outcome, it is unlikely to be as flamboyant as Truman's VC-118 The Independence, which had a stylized eagle motif. The design was not blatant. It takes a moment to see the beak and tail feathers, but they are there. The eagle's beak, formed by the nose of the aircraft, was originally yellow, but pigment in the paint interfered with the nose-mounted radar, and it had to be redone in white.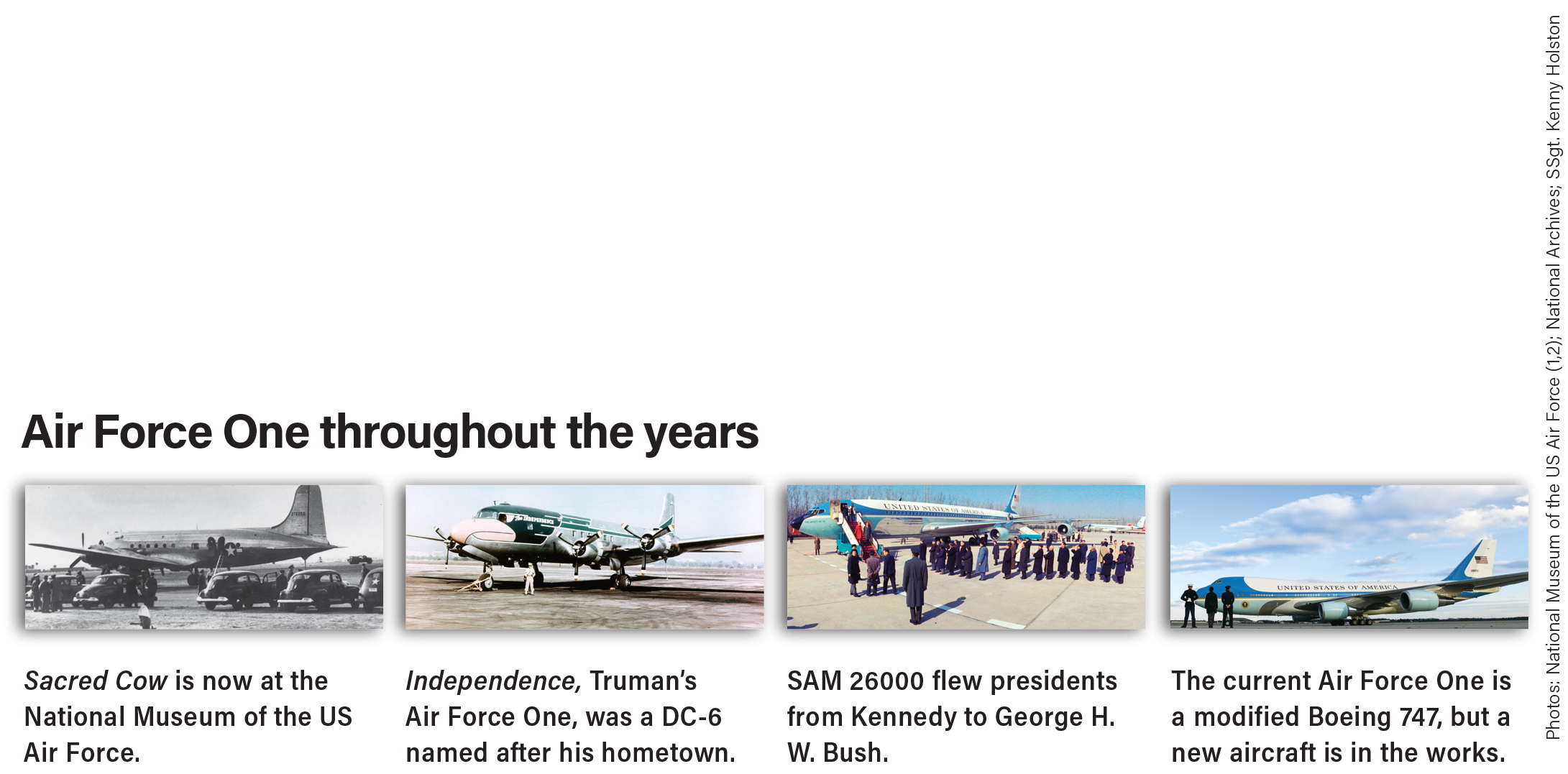 –––John T. Correll was editor in chief of Air Force Magazine for 18 years and is a frequent contributor. His most recent article, "Bring 'Em Back Alive," appeared in the April issue.