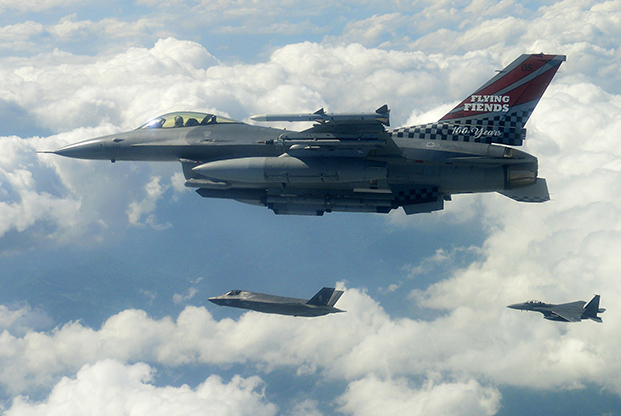 A 36th Fighter Squadron F-16, front, flies with a USMC F-35B, left, and a Republic of Korea F-15K Slam Eagle during a 2017 show of force flight south of the DMZ. Photos: A1C Gwendalyn Smith; SSgt. Alex Fox Echols III; TSgt. Travis Edwards
North Korean officials in late September accused the United States of declaring war on their country and said they have the right to shoot down US bombers operating in international airspace.
The comments followed a series of tweets from President Donald J. Trump, which said if the North Korean regime "echoes thoughts of Little Rocket Man they won't be around much longer!"
The escalated rhetoric comes as North Korea ramps up its nuclear and ballistic missile testing. In mid-September, North Korea launched an intercontinental ballistic missile, and its 1,200-mile course took it over Japan. Just two weeks earlier, North Korea had conducted its sixth—and most powerful—nuclear test, claiming it now had the capability to mount a hydrogen bomb on a long-range missile.
"While we are prepared to respond to a wide range of growing threats, our most pressing concerns are the most recent actions taken by North Korea" which "seeks to test in-theater an intercontinental ballistic missile capable of threatening the US homeland," said Pacific Air Forces Commander Gen. Terrence J. O'Shaughnessy in a recent video address to airmen. "Our President has stated we cannot allow this to happen. In response to this challenge, all options are on the table."
_You can read this story in our print issue:
Those options inevitably will include US airmen assigned to Osan Air Base and Kunsan Air Base in South Korea, as well as the F-16s, A-10s, and U-2 Dragon Lady aircraft based on the peninsula where the phrase "Ready to Fight Tonight" is not just a motto, it's a way of life.
In the event of a crisis, the US, South Korea, and 15 other nations could conduct some 2,000 sorties per day. US forces will comprise roughly 60 percent of the available iron, but the Republic of Korea Air Force will execute roughly 80 percent of the air tasking order, 7th Air Forces officials told Air Force Magazine. Sending states are nations that, along with the US, committed to sending forces in 1953 when the armistice agreement was signed, to defend South Korea.
"This effort will require coordinated and integrated airpower in a congested and contested battlespace," said 7th Air Force officials.
That's why airmen based in South Korea are always on exercise. In fact, there are more than 30 exercises a year conducted on the peninsula. The annual Ulchi Freedom Guardian (UFG) and Key Resolve are two of the Defense Department's largest exercises.
UFG is a computer-assisted exercise focused on defending South Korea from an attack from the North. This year's iteration ran from Aug. 21-31. About 17,500 US service members participated, as well as seven sending nations, comprising Australia, Canada, Columbia, Denmark, New Zealand, the Netherlands, and the United Kingdom.
Key Resolve is an annual command and control exercise conducted across South Korea. In 2017, about 12,800 US forces and 10,000 South Korean military personnel participated, as well as dozens of augmentation forces and multinational representatives from Australia, Canada, Denmark, France, and Great Britain. Key Resolve enables US, South Korean, and allied troops to work side-by-side just as they would during wartime operations.
In 2013, 7th Air Force conducted a comprehensive review of all wargames held in Korea and concluded that individually the exercises such as UFG and Key Resolve provided a lot of value, but the Air Force needed something that linked the strategic drills to the more tactical. Exercise Vigilant Ace was the answer. First launched in 2015, Vigilant Ace specifically exercises the pre-position air tasking order that simulates the first few days of conflict on the peninsula. It includes 24/7 flying operations and demonstrates the United States' "capability to maximize our regional forces and generate combat power with little to no notice," according to 7th Air Force.
"Key Resolve and Ulchi Freedom Guardian exercise the strategic level, whereas the tactical level is all simulated," said Lt. Col. David Villa, 7th AF inspector general, and exercise planner, in a November 2015 Osan release. "The other types of exercises we typically do are tactical level exercises where the wing executes the flying but there's no higher level command and control or strategic level involvement above the wing. So this exercise is unique in that it bridges the gap and is specifically focused on exercising the strategic to operational to tactical level linkages."
In his video address to airmen, O'Shaughnessy said the command is working with Chief of Staff Gen. David L. Goldfein and the commander of US Pacific Command to identify areas to further improve readiness in case a military response becomes necessary. The theater is rapidly changing, he noted, and the Air Force is determined to maintain its competitive advantage.
"Our task is not easy. We stand on the border of democracy and tyranny, between freedom and oppression. Our hope is for peace on the peninsula from our mere presence, but ultimately, I know that you're ready, and if called upon to practice our craft, may God have mercy on the Wolf Pack's prey," said Col. David G. Shoemaker when he assumed command of the 8th Fighter Wing at Kunsan in May 2017.