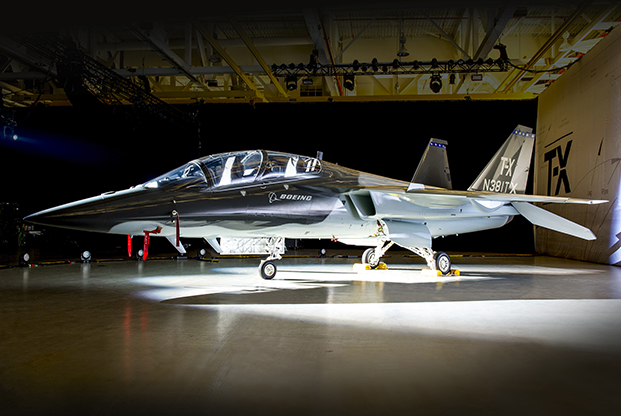 Boeing, with partner Saab, made a calculated investment and landed the Air Force's T-X Trainer contract worth upward of $9.2 billion. Photo: Eric Shindelbower/Boeing
Boeing bet big on the T-X Advanced Trainer competition: The company put a lot of its own money on the line and counted on new design and manufacturing technologies to win the contract with an all-new aircraft, even as the Air Force pressed for a low-risk, off-the-shelf approach. The company also viewed T-X as a proving ground for a design and development approach it could apply to future programs. "The risk was super high," said Boeing Vice President and T-X Program Manager Steve Parker.
"If we hadn't met our own schedule, if we hadn't met our own design reviews and quality, if the software wasn't mature, and we couldn't fly those test points," Parker said, there would have been "no point submitting a proposal."
He added, "You can't game the system. It's got to be mature."
Just how much Boeing invested in the T-X isn't clear. Company sources suggest the amount exceeded $100 million. The payoff could be huge, though. Last fall the Air Force signed Boeing, and its partner Saab, to a contract potentially worth $9.2 billion, not counting variants the service could order for other roles, such as companion trainer, aggressor, or light fighter. Boeing sees a market for 2,000 of the aircraft, including those for the Air Force
Paul Niewald, Boeing's T-X chief engineer, said the company was preparing for the T-X long before the competition even got underway. Company leaders believed modern, computer-driven design and manufacturing could dramatically shorten the development cycle, saving time and money with 3-D modeling and precision manufacturing that would reduce labor and accelerate software development.
Initially, the Air Force pushed competitors to offer a variant of an in-production airplane, the better to reduce risk. "We were competing against proven, in-production aircraft, so we had to do things differently," Niewald said. Although there were lessons learned from Boeing's other programs, the T-X was a "petri dish" for "a lot of different innovations," he noted.
New 3-D modeling software meant the company could create a digital twin, test performance in virtual wind tunnels, and make adjustments rapidly, without having to bend metal. This permitted the company to "rapidly get out there with a configuration," he said.
Next came systems development. "We adopted an agile mindset and a block plan approach to hardware and software integration," he explained. "This had us releasing software every eight weeks and testing it at the system level to validate our requirements. By doing this, in such a disciplined way—at frequency—it allowed us to reduce our software effort by 50 percent."
The ground-based training system was developed in parallel with the aircraft. Because the aircraft software and simulator software are on a matching pace, pilots will never see something different in the airplane than they see in the sim, Niewald said.
The 3-D models translated into parts so precisely tooled that pieces fit perfectly together on Day One. "This allows us to have a shimless design," Niewald said. "We had one master tool on the program, and the parts were self-locating. This allowed us to have something like a 75 percent increase in first-time parts quality." Among parts suppliers, "everybody knew what their interfaces were."
Computer-aided design and modeling has existed for decades, but the level of fidelity possible today is greater. By applying "dimensional management and dimensional analysis on the parts, we knew with certainty that when the parts were manufactured and came together, they would come together just as we had modeled," Niewald said.
Parts came back "one-time, first-time quality. It comes back, it fits together."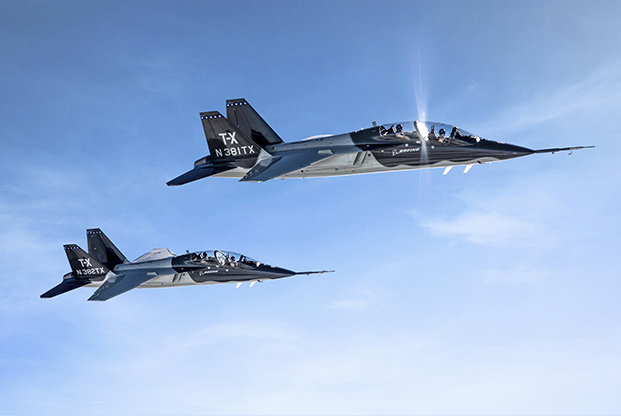 Boeing's T-X advanced pilot training aircraft were developed to meet the specific requirements of the USAF. Photo: John Parker/Boeing
So great is the fidelity of Boeing's virtual wind tunnel tests, in fact, that Boeing expects it could skip some flight testing.
Indeed, Niewald said the strong validation of the models—and the performance of the actual aircraft in flight—may make future wind tunnel tests unnecessary. "If it were me," he said, all wind tunnel testing would be eliminated. Boeing had full trust in the model to "represent full-scale flight with the computational fluid dynamics, because it continues to advance."
All assumptions were questioned, and new techniques were developed. For example, the canopy transparency is attached to the frame with an "injected adhesive sealant," eliminating 600 fasteners. "We had planned six weeks in the schedule to assemble the canopy," Niewald said. "It took us eight days."
Overall, T-X requires 80 percent less touch labor than traditional manufacture, and rework has been reduced to 0.03 percent, he claimed.
So confident was Boeing in its new approach that it priced its offer to the Air Force about $9 billion below what service officials anticipated.
Precisely how those savings break out are a matter of competitive edge for the company. "This is a story that we have guarded jealously, for a number of years, in term of the advancements," said Boeing spokesman Walt Rice. "I don't think we're ready to share that level of detail."
So much of the software was validated prior to the contract award that updates have become less frequent while the company waits for the Air Force to decide what additional features and revisions it wants.
T-X training jets built at Boeing's St. Louis manufacturing facility used labor-saving processes and precision design to reduce touch labor by 80 percent over conventional manufacturing. Photo: Eric Shindelbower/Boeing
PARTNERS COUNT
Partnering with Saab made sense because both have a "similar mindset" about innovation, Niewald said.
The T-X benefits from "a little bit of Swedish design philosophy," said Parker. The aircraft draws some inspiration from Saab's fourth-generation fighter, the Gripen, such as built-in stand-on doors, access panels that can be reached without a ladder, and maintenance that doesn't require specialized tools.
The design went from drawing board to first flight in three years, skipping the prototype stage and going directly to "production representative jets." The second T-X to be built flew within 24 hours of the first, he added, and they are "the most identical jets we've ever built."
Now the same processes used to build them will be used to build the rest of the fleet.
These first two aircraft racked up 71 flights during the evaluation period, at one point flying four times in one day. That's comparable to what the Air Force expects to do with operational aircraft, and "unheard of" on brand-new aircraft, Niewald said. The first two aircraft expanded the flight envelope and demonstrated high angle-of-attack performance, as required.
"Probably the most significant stats that we had, we went through the first 14 flights without a pilot squawk," Niewald said. That is a testament to how we went through this journey, [we] had a robust design."
The Boeing T-X was built to the Air Force's stated requirements: the only extra features were those that could be included without a cost, weight, or space penalty.
"I had a lot of guys on the program that wanted to design a fighter," Niewald allowed, but that wasn't the aim. Instead, design focused on meeting requirements, safety, maintainability, and building in "smart growth" capacity.
"We have volume, and we have power and cooling that can support new systems," he asserted. The aircraft was "provisioned" for air refueling, and the fuel tanks are all in the fuselage; the wings are dry. Despite large fairings for actuators under the wings, he insisted there's room for hardpoints that could carry ordnance.
Parker said the Air Force acquisition leadership is committed to getting equipment to the user faster than ever, and the T-X will be a way to "challenge the bureaucracy [on] how industry and government supercharges how we do things."
Boeing is already adapting some of the approaches from the T-X to other programs. Manufacturing lessons have been applied to new-build F-15s and other programs, he explained.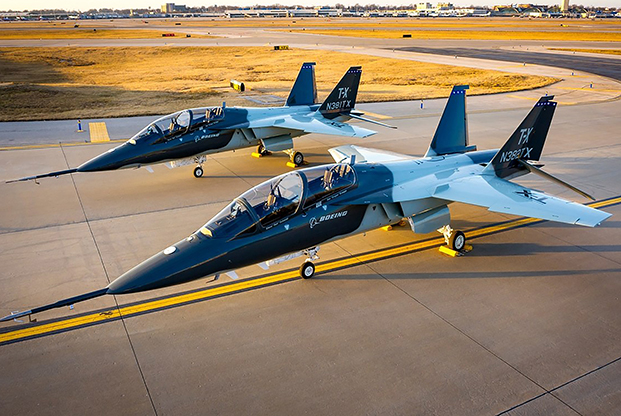 The Air Force plans to purchase 351 T-X aircraft to replace the T-38 Talon, which has been in service for 57 years. Photo: SECAF Public Affairs
CHANGING MINDSETS
Boeing had to convince the Air Force that buying a clean-sheet airplane wouldn't cause undue delay, and that began with producing those first "two production representative jets," Parker said. "The best form of convincing people is to show them how we do it—not with a piece of paper."
Parker noted that starting fresh had some advantages over offering an established design. The requirement to accommodate men and women of a wide range of pilot heights and weights, "would have been a major redesign for other folks," he said. "When you come in with a clean sheet, [and] new design, we just went through that testing, [and had] already measured it ourselves, before contract award. That's one of the advantages of a clean sheet."
The next step is engineering and manufacturing development, where five more airplanes will be built and tested. They will expand the flight envelope—flutter, loads, and mission systems testing­—with the 412th and 416th Flight Test Squadrons at Edwards AFB, Calif., beginning this year with the first two jets.
New capabilities added will include night vision capability, but Parker called such revisions minor.
Unlike conventional development programs, he added, "we don't have to go through the normal milestones," such as critical design review. "We're already done. We don't have to go into a traditional program."
Boeing's critics have suggested that the company lowballed the T-X bid—as it did on the KC-46—and may have to absorb losses for a while before it can make up the deficit. Boeing has already taken more than $3.5 billion in losses on the KC-46.
Parker said that move was calculated.
"We made an investment up front. That's good business practice," he said. "That allowed us to compete, and we won. And we expect that—based on the interest we're already seeing internationally—and what we may do in America, that's a smart investment."
With plenty of space, weight, and power for added capability, he added, "we have a very clear growth path where we expect to take the aircraft over time."
He also said the T-X was designed with an open architecture, per Air Force requirements, because "it's going to be around a long time." The T-38, which the T-X will replace, will have lasted more than 70 years by the time it retires.
The greater lesson the Air Force needs is to "change its thinking" on how it considers what's possible. By being open about its requirements early, the Air Force provided transparency that allowed for Boeing's up-front investment.
"Now we've got to execute," Parker said, but he urged that other companies follow suit. "Hopefully the Air Force can get with industry and work together. We need to get these weapon systems out quicker. The days of perfection and testing forever, those days are over. There are smarter ways of doing things."