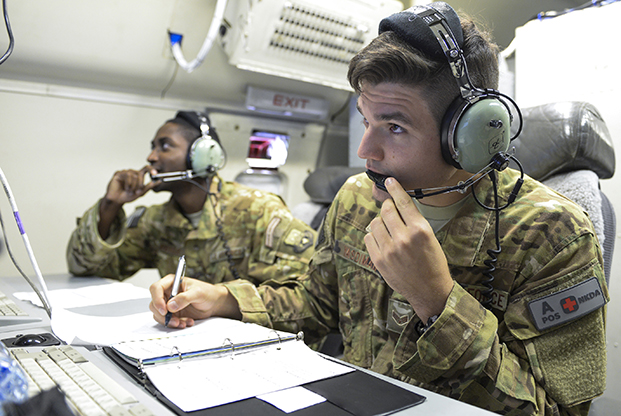 SrA. William Pryor (left) and SrA. Mehmet Yasdiman study their computer monitors during a mission aboard an E-8C JSTARS aircraft based at Al Udeid AB, Qatar, July 27. USAF photo by TSgt. Bradly Schneider/ANG
In one of the most specific announcements at AFA's Air, Space & Cyber Conference, Secretary of the Air Force Heather Wilson said the service would be kickstarting a year-long effort to review its science and technology (S&T) strategy.
"The Air Force must reinvigorate its focus on basic and applied research to ensure the long-term domination of air and space," Wilson said. "We must also reevaluate how we manage our research enterprise and spend research dollars in ways that advance air and space superiority for the long term."
The review will see USAF "step back" from today's realities and "project [forward] … to see what kind of Air Force we might have at that time," Wilson said, emphasizing future needs must be attended to now.
"Our adversaries are advancing rapidly," Wilson said. "We need to update our research priorities, but validation of research areas isn't enough. We need to rethink the way in which we manage our path-breaking research."
Wilson continued, "Near the end of World War II, [Gen. Henry H. "Hap" Arnold] realized that the future of US national security depended on our military supremacy and that supremacy depended on scientific research and development."
Getting to Know the Unknown Unknowns
Over the next year, airmen from the Air Force Research Laboratory—which is leading the endeavor—are going to travel to almost a dozen research centers as part of the S&T review. The goal is to create a new science and technology strategy, and to stay on top.
But the Air Force is not sure where it's going, yet.
The visits are part of an attempt to open up communication and potential collaboration with academia and industrial partners that "historically do not" cooperate or work with DOD, AFRL Commander Maj. Gen. William T. Cooley told reporters at the conference. Looking both domestically and internationally, AFRL will identify 10 academic or enterprise hubs, whether by pedigree or geographical proximity to its research targets. It will make a "significant effort" to build those relationships and engage those research agencies, he added.
While Cooley did not identify specific areas of S&T AFRL will be focusing on, he said the four major domains for research will be "space, air, cyber, and multidomain C2 [command and control]." With these broad strokes, AFRL hopes to reach researchers who've never considered what their work could do for the service.
"They may not know or be as familiar" with USAF and what it does or what needs doing within its organization. For example, AFRL will share what USAF's challenges are, "the types of missions" it's concerned with, and ask what such agents of innovation might be able to offer.
"It's really hitting the entire ecosystem of S&T," said Morley Stone, AFRL's chief technology officer, adding, "It's not just academia." As the agency is determining where to go, small businesses or lesser known laboratories will get a look as well.
Stone added that—like the rest of the Department of Defense—AFRL is aware of an "undeniable fact": S&T is receiving a smaller share of the budget than before, and "given that, how do we keep reaching out to traditional and nontraditional" partners and engage in applied research?
Stone went on to call the effort "an international research endeavor," to which Cooley added USAF has a "large number" of "smaller dollar" grants already spanning the globe's universities.
Not Just Another Military Study
On top of asking the world what AFRL can do to innovate its mission sets, the laboratory will seek on its own—and from the outside—creative solutions to the way it approaches science and technology research in the first place.
"The last piece of this is looking at potential changes—things that we can do within our organizations to ensure we're as innovative as we can be, but also that we're ready to adopt new technologies," Cooley said. "We intend to understand that through the lens of other organizations."
Citing what he called the "influential" 2010 study Air Force Technology Horizons 2010-2030, Stone said, "The key difference" with this effort is "really digging into 'How do we change our portfolio in response to what we learn?'?" or what Stone called an "execution function" to the project.
"The real metric is 'What's changed?'?" Cooley added. The service needs to avoid a problem from the past, in which AFRL conducted past studies but then placed them "on the shelf." In addition to this study, "I'm going to be looking for measurable results," Cooley asserted, and having the Air Force Secretary's attention on the endeavor will certainly help drive the change.
"We need to update our research priorities, but validation of research areas isn't enough. We need to rethink the way in which we manage our path-breaking research," Wilson said. "Hap Arnold's vision for this Air Force still rings true. The United States will develop technologies to secure air dominance. We will underwrite our nation's military supremacy."
AFRL "Will Not Be Alone"
Cooley didn't add much about the upcoming research, saying, "We don't know what we don't know."
While AFRL is going to lead the effort, USAF's Scientific Advisory (SAB) will lead a parallel effort, and input will even come from a National Academy of Sciences workshop, whose details are still working.
In 2018, SAB is going to undertake two major studies, one of them specifically tied to the S&T strategy review, the board announced on Sept. 21, a day after ASC17 ended.
This main study will deliver an "independent, expert perspective on the critical air, space, and cyber technology development needed in the 2030-and-beyond environment and propose policies, processes, and mechanisms that enable more rapid, affordable, and effective transitions of capability that provide distinctive advantages into the hands of the warfighter," reads a service news release.
The second study—echoing one of AFRL's own broad priorities in its S&T review—will focus on "technologies for enabling resilient command and control," researching "current capabilities and limitations" in C2, and possible means to improve current systems for the service.
"We present the most challenging technology issues the service faces to the best and brightest in specific science fields," said Werner J. A. Dahm, SAB chairman, about 2018's goals.
Altogether, the various approaches USAF is taking with this S&T review will work to keep the country ahead of its adversaries in the scientific realm, now and decades into the future.
"I view this through a much broader security lens," Cooley said. "This is about our United States Air Force and how we're going to ensure we maintain our technological edge."
This hopeful introspection, eagerness to change from within, and the world innovation tour are examples that set this S&T project apart from other studies. Collectively, the hope is to integrate more agents of change into the Air Force S&T efforts.