AFA welcomed numerous athletes and guests throughout the competition at their "Family Hospitality Suite." Photo: Christine Brown
First-time host US Special Operations Command organized 300 wounded warriors from around the country to compete in the 2019 DOD Warrior Games held at MacDill Air Force Base in Tampa, Fla., from June 21–30. The athletes showed their strength through competition in archery, cycling, shooting, golf, wheelchair basketball, rugby, tennis, swimming, and track and field events.
As the wounded warriors worked hard going for the gold, family members across all military branches cheered. The adaptive sports used in the Warrior Games competition inspire recovery, support rehabilitation, and encourage the warriors to overcome illness and injury, whether it be physical or mental.
Then-Vice Chairman of the Joint Chiefs of Staff USAF Gen. Paul J. Selva spoke with athletes and families during the Warrior Games opening ceremony, comedian Jon Stewart was back as master of ceremonies, and in addition to the team spirit and support from their care teams, the wounded warriors and their family members also received support from the Air Force Association (AFA) team.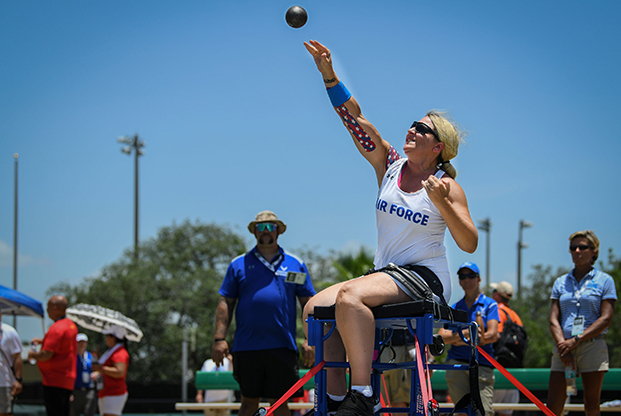 Team Air Force's MSgt. Melissa Martinez, 33rd FW, Eglin AFB, Okla., competes in the Shot Put and said, "from the bottom of my heart, I am so thankful to be here." Photo: SrA. Daniella Peña-Pavao
The Wounded Airman Program (WAP) is the premier program for airmen and families at AFA, providing life-changing and life-saving support. In addition to Warrior Games support for wounded warriors across all branches, AFA's Wounded Airman Program is the leading nonprofit support partner of the Air Force Wounded Warrior Program with more than 8,400 enrolled airmen. WAP has provided over $625,000 to wounded airmen and their families since its inception in 2011 and continues to support the growing needs of the Air Force family.
The AFA staff supported our warriors and families with a Family Hospitality Suite located at the Long Aquatic Center, which held the swimming competitions. The line was out the door as AFA welcomed 1,000 participants and family members with complimentary snacks, beverages, coffee, and morning and afternoon treats.
The highlight of the hospitality event was the children's activities room that featured an "Under the Sea" theme. "Little warriors" enjoyed playing board games and cards with their parents and other children. The face painting, arts and crafts, reading, and photo booth stations were also popular with the children and even adults.
"It was such an honor and a privilege to help so many veterans who experienced both visible and invisible, mild to extremely serious, injuries. Working with AFA's Wounded Airman Program, I spent most of the day glad-handing guests—passing out coffee, refreshments, snacks, and fruit, and thanking both competitors and their family members," said Barry Taylor, an AFA hospitality event volunteer.
Team Air Force finished the competition by winning 128 medals, followed by the Army with 111 medals, and the Navy claiming 94 medals.
Retired SrA. Brett Campfield, Ultimate Champion Silver Medalist for Team Air Force, thanked all of the supporters and AFA's Wounded Airman Program.
"My family and I have greatly benefitted from AFA's Wounded Airman Program support. They helped to cover my travel to the Warrior Games and even gave me a stipend to assist with my out-of-pocket costs. We are forever grateful for AFA and all of their support that has greatly blessed my family," said Campfield.
AFA's WAP, along with its strategic partners, sponsored the 14 veteran wounded warriors who made the Air Force Team to compete at the Warrior Games with Airman for Life Travel Assistance grants. Without this support, some airmen would not have had the opportunity to compete. The program's mission is to help as many airmen as it can to attend rehabilitative events in order to stay connected with their Air Force family. Support at events like the Warrior Games continues to keep our wounded heroes strong.
AFA is committed to caring for our wounded heroes and family members, and providing the support they deserve.