Cake, Coffee, Awards
In California, the Robert H. Goddard Chapter hosted its annual awards ceremony for airmen from Vandenberg Air Force Base.
It took place in April, only two months after the base held its own annual awards ceremony at the same venue, the Pacific Coast Club. So what made the AFA event unique
Chapter President Juan E. Cruz explained that the chapter's ceremony fills a gap: Along with awards to airmen it also presents honors to defense contractors, something the base can't do.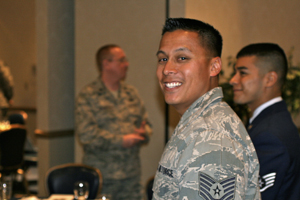 TSgt. David Peria and SSgt. Jaime Escobar (background), both from the 4th Space Launch Squadron, attended the Goddard Chapter's awards ceremony at Vandenberg AFB, Calif. Chapter President Juan Cruz said it had been a stressful day because of sequestration announcements, so airmen looked forward to relaxing at the Pacific Coast Club reception.
The event is free. The chapter had been losing money with the regular awards-luncheon approach because more guests were showing up than were covered, so Cruz said the chapter decided, "Why don't we just make it free?" A cake 'n coffee reception was born.
Scaling back hasn't affected attendance: At the latest event, more than 200 airmen filled every table, paying tribute to winners in 18 categories. This included military personnel, civilians, and contractors. Katie Burke and David Yundt accepted Outstanding Contractor Team awards for the large and small units, respectively.
Among airmen receiving awards were TSgt. Benjamin Hofbauer, SMSgt. Greg Morgan, and Capt. Joshua McCullion, who earned the top honors for space and missile operations in the NCO, senior NCO, and officer categories.
Bring In the Rock Stars
The Richmond Chapter and Tidewater Chapter, with help from the Langley Chapter, Gen. Charles A. Gabriel Chapter, Donald W. Steele Sr. Memorial Chapter, and Virginia State AFA carried out the eighth annual Virginia AFJROTC State Drill Championship.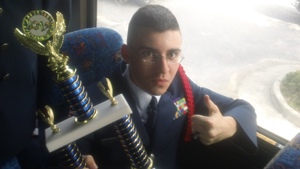 Grassfield High School's Christian Coyne carries the third-place trophy for rifle exhibition after competing in the Virginia AFJROTC State Drill Championship. Grassfield cadets, led by Tidewater Chapter's Gordon Strong, came in fourth overall.
Richmond Chapter's Chip Moran described it as the biggest AFJROTC state championship drill meet sponsored by AFA, with more than 500 competitors this year from 26 schools. The cadets of E. C. Glass High School in Lynchburg, Franklin County High School in Rocky Mount, and Stonewall Jackson High School in Manassas took home the top trophies.
For the past two years, a special group has dazzled those at the event: the USAF Honor Guard Drill Team. "These guys are treated like rock stars" by the youngsters competing in the meet, said Moran. The airmen show up early to mingle with the young cadets, sign autographs, and pose for photos. Their presence inspires the high school students to "pick it up," Moran commented.
Tidewater Chapter's Gordon Strong said the airmen not only conduct a demonstration at this meet but some serve as judges, as do airmen-volunteers from JB Langley-Eustis, Va.
L-r: 1st Lt. Blandon Prowse, Karen Cundiff, and AFA Vice Chairman for Field Operations Scott Van Cleef admire a photo montage. The Leigh Wade Chapter assembled it for the Air Force section of a Fort Lee dorm.
Strong, an AFJROTC instructor at Grassfield High School in Chesapeake, handles the actual drill meet, while Moran organizes the venue, Atlee High School. The event costs some $5,000, he said.
And here's something to note: Atlee High School's Booster Club runs a concession at the meet. It "makes a killing," Moran said.
Happy To Make It Happen
They're blue in a sea of green at Fort Lee in Petersburg, Va., but airmen training at the Army facility just south of Richmond now have artwork to remind them of their Air Force ties. They can thank the Leigh Wade Chapter.
In April, the chapter debuted a collection of Air Force-related photos and photo montages, gathered by its members and Community Partners for display in the hallways of a Fort Lee dormitory.
Navy personnel live in the bottom two floors of this dorm, while airmen—assigned to the 345th Training Squadron—occupy the top three floors.
Chapter President Gary D. Metzinger said 1st Lt. Blandon L. Prowse, military training flight commander, came up with the idea of how the chapter could brighten up the bare hallways of the airmens' dorm.
Sarasota-Manatee Chapter President Michael Richardson with science fair award winner Brandon Uveges. Richardson designed and arranged for a local trophy shop to create the medal Uveges is wearing.
Prowse also offered use of a conference room for chapter meetings and for displaying chapter memorabilia. "I'd be happy to make that happen," Metzinger told him, particularly delighted because at that point, the chapter's awards plaques and certificates lay in boxes stored in his garage.
Metzinger pieced together and nudged along these dual dorm and conference room projects over a 15- month period. The JAG office cleared use of the items, declaring them "on loan to the 345th Training Squadron." Graphic designer and Community Partner Karen Cundiff chose photos, with input from chapter officers Cordell Hopper, Jim White, and Albert Pianalto. Mapcom Systems and Davis Consultants, both Community Partners, donated $500 each. Some two dozen photos were enlarged and printed, mounted on solid backing.
With CAP cadets from the Mount Airy Composite Squadron, Md., Keith Lohoefer (second from right) shows pride in his Cadet of the Year Award. Maryland AFA leaders attended this event.
Chapter volunteers and several airmen went to the dorm on a Saturday in March, used screw drivers and levels, and placed the photos and plaques on the walls.
The dorm residents "thought it was phenomenal," Metzinger said of the reaction to the chapter's gift.
Science Fair Winners
Florida's Sarasota-Manatee Chapter recognized several area students for their science fair projects on aviation and space topics.
Mason Rademaker from Haile Middle School investigated how variations in wing angle of attack affects distance of travel. His project had been entered in the Lockheed Martin Manatee Regional Science and Engineering Fair in January.
The chapter also singled out Sarasota Middle School student Michael Moran and North Port High School student Brandon Uveges for their entries in the Sarasota Regional Science, Engineering, and Technology Fair.
Central Maryland Chapter's Bob Roit, CAP legend Mary Feik, and Maryland State President Shedrick Roberts (l-r). Feik taught AAF aircraft maintainers during World War II.
Moran studied how wing shapes and positions affect flight. Uveges titled his project "Electrodynamics of Black Hole Magnetospheres." Chapter President Michael E. Richardson selected these two students for one of the Sarasota fair's Special Awards.
Rademaker, Moran, and Uveges each received a chapter achievement medal, chapter certificate of recognition, an AFA calendar, the book New Space Discoveries, and a backpack of Air Force promotional items donated by the local recruiting office.
Cargo ship Capt. Richard Phillips (left) related to the Green Mountain Chapter his experience as a hostage of Somali pirates. Chapter President Ray Tanguay is at right.
Hostage
In May, Vermont's Green Mountain Chapter members heard a first-person account of a tale that had been headline news four years ago—and that will be again, when it's released this fall as a movie starring Tom Hanks.
Richard Phillips, captain of a Maersk Line cargo ship, addressed the chapter's meeting in Burlington, describing how four Somali pirates with AK-47s boarded his US-flagged vessel in April 2009. Phillips surreptitiously cut off radio communication with their controlling ship, and before escaping to safe rooms, his crew shut down the 17,000-ton ship's engines and power supply. Unable to gain control of the cargo ship, the pirates retreated to a motorized lifeboat with Phillips as a hostage.
Five days into this ordeal, Phillips' life appeared to be in imminent danger, and Navy SEAL snipers on the US Navy destroyer Bainbridge picked off his captors.
Phillips' story has been made into a movie, to debut in October, called "Captain Phillips." Tom Hanks plays the title role.
Bill Burns, president of the Lt. Col. B. D. Buzz Wagner Chapter, and Secretary Bob Rutledge (both in the back row, right) presented a custom-made banner to Bishop McCort High School's CyberPatriot V Team in Johnstown, Pa. The students finished third in the state.
Green Mountain Chapter's Membership and Communications VP Richard R. Lorenz reported that many 158th Fighter Wing members from Burlington Airport turned out to hear Phillips, and two TV stations covered his appearance. WCAX TV's video segment is on their website under "Capt. Richard Phillips shares his story of survival."
Phillips resides near Burlington, in Underhill, Vt., and Chapter President Raymond Tanguay had been after him since last fall to speak to the chapter.
More Chapter News
"Thank you and the Air Force Association for being a part of our students' academic success!" wrote Mecklenburg County High School AFJROTC instructor Paul Pelletier to the Leigh Wade Chapter. The retired senior master sergeant explained that his unit received an AFA Educator Grant, using the $250 for a model-rocket program, from planning, design, construction, and safety phases to launch and recovery. "Without the … Educator Grant, this would not have been possible," he said.
Sounding like she was echoing the US Postal Service slogan, New York State President Maxine Rauch wrote that she made it to Clarkson University "despite the rain, sleet, and sometimes snow." The Iron Gate Chapter member traveled some 350 miles from Long Island to Potsdam, N.Y., in April to present an AFA Outstanding Cadet award to Justin Harrington of AFROTC Det. 536. She reported meeting with AFA members and cadets in the area with an eye on starting a chapter.
Sarasota-Manatee Chapter President Michael Richardson with Riverview High School's CyberPatriot V team at the Sarasota County Military Ball in Florida. The team placed second in Florida. L-r: Jonathon Higham, Benjamin Williams, Richardson, Erica Tenorio, Eric Chen, and Jacob Nanfito.
Also in New York, Albany-Hudson Valley Chapter President Michael A. Szymczak presented a Civil Air Patrol Outstanding Squadron Cadet of the Year award to Morgan Wynkoop of the Sullivan County Cadet Squadron. Chapter Treasurer Ron Campbell presented a similar award to Samuel O'Brien of the Vedder Composite Squadron of Latham, N.Y
Robert Kjar, San Jacinto Chapter communications VP, and Chapter President Donald E. Keltner helped organize a reunion in Houston in May for former missileers from Minot AFB, N.D. Among events, Gene Kranz, moon landing and Apollo 13 missions director, spoke to the group as they toured the original Apollo mission control center. "Most charismatic," said Kjar of Kranz. "I would hope that AFA would use him in things like the space symposium."
"Shedrick Roberts and Bob Roit worked hard to keep the Central Maryland AFA Chapter open," wrote Central East Region President Joseph L. Hardy in an e-mail. Roberts, the Maryland state president, and Roit, from the Central Maryland Chapter, attended an awards banquet recently for the Mount Airy Composite Squadron. They presented awards and even recruited new members: parents of the young CAP cadets. A VIP guest at the banquet was CAP legend Mary Feik, who presented an achievement award named in her honor.
How To Wow the Kids

The first-graders in teacher Cheyenne Rust's classroom at Eaton Elementary School knew Jason Brock; he regularly volunteered at their Lenoir City, Tenn., school. But when the ANG lieutenant colonel showed up in April to present the Gen. Bruce K. Holloway Chapter's Elementary School Teacher of the Year award to Rust, he surprised them. He was wearing his Air Force service dress uniform.

The youngsters got "really excited," Brock said. They asked if he was a pilot. (He commands the aircraft maintenance squadron for the 134th Air Refueling Wing at McGhee Tyson Arpt., Tenn.) They asked about his rank, the 26 ribbons on his uniform, his maintenance and logistics badges—and Brock knew how to channel their curiosity:

He asked, "Who likes airplanes?" After the students finished "jumping up and down," he told them that studying science, technology, engineering, and math would help them become pilots.
He tied the ability to fly airplanes to subject matter they knew about firsthand: a recent math test.
He asked a local newspaper to cover the award presentation. (That's who everyone is posing for, above.)

Brock said high schoolers are already familiar with military uniforms because of JROTC and recruiters, but this was an opportunity to wow an impressionable younger audience.

CAPTION: Teacher Cheyenne Rust (r) once handed classroom volunteer Lt. Col. Jason Brock (l) a laptop to carry out a reading comprehension test for these youngsters. Such use of technology—the kids are lined up in front of an interactive white board, here—led the chapter to select Rust as its Elementary School Teacher of the Year.
Reunions
4th Special Ops Sq, current and former AC-47 and AC-130U crews. July 11-13, Fort Walton Beach, FL. Contact: Ron Knight (850-884-8419).
6th BG, Tinian (1944-1945). Oct. 3-6, Milwaukee. Contact: William Webster (651-345-4575) (wbw-ejw@mchsi.com).
61st Fighter-Interceptor Sq, Selfridge, Harmon, and Truax. Oct. 24-26, Branson, MO. Contact: Charles Christianson (763-295-2861) (cncask4it@hotmail.com).
98th BG/Bomb Wg and successor units. Sept. 15-19, Charleston, SC. Contact: Bill Seals (281-395-3005) (colbillyseals@hotmail.com).
100th BG (1943-1945), Thorpe Abbotts, UK. Oct. 17-20, Embassy Suites Savannah Airport, Savannah, GA. Contact: Nancy Putnam (414-339-2818) (nputnam51@gmail.com) (100thbg.com).
Berlin for Lunch Bunch. Oct. 11-13, Albuquerque, NM. Contact: Gene Trosterud (creekmisty@hotmail.com).
F-106 reunion, all welcome. Sept. 11-15, National Museum of the US Air Force, Dayton, OH. Contact: Bob Kwiecinski (734-429-0772) (734-771-9501) (bobski9933@aol.com).
Johnson AB, Japan, veterans or dependents (1946-mid-1960s). Oct. 3-6, San Antonio. Contact: Keith Swinehart (303-814-0800) (keith.swinehart@gmail.com).
Misty Fast Forward Air Controllers. Oct. 27-30, Ramada Plaza Beach Resort, Fort Walton Beach, FL. Contact:Jack Doub (229-415-3579) (jack.doub@gmail.com).
Phan Rang AB, Vietnam, all units, all years. Oct. 3-6, San Antonio. Contact: Doug Severt (dougsevert@cox.net).
USAF Air Weather Recon Assn. Sept. 25-29, McClellan AFB, CA. Contact: Bernie Barris (210-274-9974) (bcbarris@aol.com).
UPT Class 68-A, Webb AFB, Tex. Sept. 12-15, Air Force Museum and Holiday Inn-Fairborn, OH. Contact: Larry Bowers (540-828-4858) (ldbowers65@gmail.com).
Unit reunion notices should be sent four months ahead of the event to reunions@afa.org, or mail notices to "Unit Reunions," Air Force Magazine, 1501 Lee Highway, Arlington, VA 22209-1198. Please designate the unit holding the reunion, time, location, and a contact for more information. We reserve the right to condense notices.
ADDITIONAL IMAGES
Nation's Capital Chapter Secretary Harvey Dahjelm (second from right) presented the chapter's Malcolm Grow Medical Award to James Covelli at the May graduation for the Uniformed Services University of the Health Sciences. L-r: USUHS President Charles Rice, Covelli, Dahjelm, and the School of Medicine's Acting Dean John McManigle.
Robert Goddard Chapter members SSgt. Anna Salvador and TSgt. Juan Lopez check in guests at the chapter's awards reception. See 100+ photos of this event, at goddard266.org and on AFA's Facebook.
Goddard Chapter President Juan Cruz listens to remarks at the reception, along with Lompoc Mayor John Linn (center) and Col. Michele Edmondson, 381st Training Group commander.
Goddard Chapter Awards VP Peter Caputo received 75 nominations for the 18 awards categories noted at this reception.
Cruz presents an award to chapter Community Partners VP SrA. Mario Mitchell.
Chapter Treasurer Roderick Board (left) took many of the photos at this reception.
TSgt. Derek Thompson, Capt. Russell Anderson, and MSgt. Olivia Cruz, chapter communications VP, share a table.
Goddard Chapter's Senior VP Norm Marous (l) chats with CMSgt. Ryan Peterson.
MSgt. Jill Higgins is California State AFA Secretary.
Chapter Secretary TSgt. Tim Tichawa with his wife, SSgt. Kathryn Tichawa.
SrA. Latricia Maye and David Thompson. See 100+ photos of the Goddard reception on the chapter's Facebook page.
Grassfield High School cadets took home some trophies from the Virginia AFJROTC State Drill Championship.
Leigh Wade Chapter volunteers—led by Chapter President Gary Metzinger (center)—hang wall art in a Fort Lee dormitory.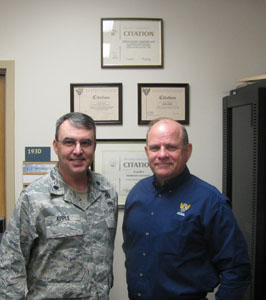 Lt. Col. Richard Apple, 345th Training Squadron commander, and Scott Van Cleef, AFA's Vice Chairman of the Board for Field Operations, pose in a conference room decorated with the Leigh Wade Chapter's awards.

Sarasota-Manatee Chapter President Michael Richardson with both of Riverview High School's CyberPatriot V teams at a military ball.
At the awards banquet, Roberts presents an AFA Certificate of Appreciation to CAP's Grace Stapf.