Honors at the LA Ball
Gen. William L. Shelton, commander of Air Force Space Command, received top honors during the Air Force Ball sponsored by the Gen. B. A. Schriever Los Angeles Chapter in California in November.
Air Force Association officials presented him with the Thomas D. White Space Award, recognition for outstanding contributions to the nation's progress in space.
Shelton's "adaptive leadership" sustained the Air Force's "unequaled space capabilities," said master of ceremonies Kenneth Goss, in introducing Shelton to the audience at the Hyatt Regency Century Plaza in Los Angeles.
Shelton "saved billions of dollars" by driving the acquisition system to making block buys of satellites, "combining procurements, implementing fixed-price contracts, and restructuring acquisition programs," Goss stated.
The space award is named for USAF's fourth Chief of Staff, who served from 1957 to 1961. Shelton has led AFSPC since January 2011.
Also at the Air Force Ball—held as the culmination of AFA's Pacific Air & Space Symposium—Maj. Gen. Martin Whelan was named a Gen. Bernard A. Schriever Fellow.
Whelan is director of requirements for AFSPC and has defined the future of space and cyberspace systems through requirements definition, architecture, and science and technology support, Goss told the audience.
AFA Vice Chairman for Aerospace Education Jerry E. White and Chapter President Edwin Peura presented the award.
Michael Gass, president and CEO of United Launch Alliance was general chairman for the ball and presented a short video about his company. In addition, Gass pointed out that the Schriever Chapter's aerospace education foundation donates funds to local AFROTC units and USAF airmen and families. He mentioned the chapter's sponsorship of 40 Visions of Exploration classrooms, supporting science, technology, engineering, and math education through the joint AFA-USA Today newspaper program.
Lt. Gen. Ellen M. Pawlikowski, the Space and Missile Systems Center commander at Los Angeles Air Force Base, served as military host for the ball.
Hurlburt's Heroes
At Hurlburt Field, Fla., many airmen do "an outstanding job day in and day out, supporting the Air Force mission, but have gone unrecognized," wrote Florida State President Dann D. Mattiza in an email. The Hurlburt Chapter solved the dilemma with its Unsung Heroes award.
The latest awards presentation took place in December at the Soundside Club on base, for two dozen airmen. More than 100 guests celebrated with them. Col. William P. West, commander of the 1st Special Operations Wing, was guest speaker.
Each year the chapter focuses on unsung heroes from the 1st SOW during its first quarterly luncheon meeting. The spring or summer quarter meeting recognizes airmen from Hurlburt's tenant units. Each airman receives an award certificate and a chapter challenge coin.
The Unsung Heroes program began in 1997, developed by E. Max Friedauer, now chapter VP for community and industrial affairs. The local First Sergeants Group administers the program, selecting the awardees. Over the past 16 years, the chapter recognized 331 airmen.
A Chapter Community Partner, Boeing, has covered the costs of the program for the last three years.
Remember Pearl Harbor: 72 Years
The Long Island Chapter organized and hosted its annual Pearl Harbor "Dropping of the Roses" memorial ceremony in New York on Dec. 7.
"The ceremony was a great community outreach event," commented Chapter Treasurer William Stratemeier. Some 800 spectators—including US Rep. Steve Israel (D-N.Y.) and US Rep. Timothy H. Bishop (D-N.Y.)—attended the service held at the American Airpower Museum at Republic Airport in Farmingdale, N.Y.
Three Pearl Harbor survivors who live in the area, Gerard Barbosa, Seymour Blutt, and Richard Abeles, received Congressional Proclamations as part of the event.
Navy Capt. Francis Bonadonna presided over the blessing of 72 American Beauty red roses—one for each year that has passed and an additional white one symbolizing 9/11. The 73 roses were then presented to pilots of a vintage AT-6 on the airport flight line. After a low pass of the field, the World War II-era training aircraft flew to the Statue of Liberty, where at the exact time of the attack on Pearl Harbor, the backseater dropped the roses into the waters surrounding the iconic American monument.
Long Island native Joseph Hydrusko started this Dropping of the Roses tradition. A medic on duty at Pearl Harbor when the Japanese attacked Hawaii, Hydrusko carried out his remembrance in his own aircraft from 1970 until his death in 1983. Today, the Geico Skytypers drop the flowers.
Chapter President Fred DiFabio, who organizes this event, said: "It is important to keep the memories of that day alive in the hearts and minds of all generations of Americans."
Teachers of the Year at Work
In Florida, three Falcon Chapter Teachers of the Year conducted an aerospace education workshop in November, aimed at middle school instructors.
Shawna Coddington, Trena Dinsmore, and Carla Chin—who serves as the chapter's aerospace education VP as well—also planned the lessons, ordered the materials, and arranged for a presentation on the Civil Air Patrol by cadets from the Cecil Field Squadron in Jacksonville.
Chapter Communications Director Lawrence A. Belge handled publicity for the event, while Chapter President Bruce A. Fouraker organized a breakfast for the attendees who turned out for the Saturday session. Both officers also attended the teach-the-teachers workshop, held at San Jose Catholic School in Jacksonville.
Participants represented five Catholic schools in Gainesville, Jacksonville, and Orange Park.
Emerging Leaders

The Air Force Association began an Emerging Leaders Program in 2013 as an avenue to secure AFA's future.

Emerging Leaders volunteer for a year. With guidance from a mentor, they participate on a national-level council, attend national leader orientations, and serve as National Convention delegates. Emerging Leaders will be profiled here in the coming months. Here's the fourth one.

Tyler Johnson

Home State: Oregon.

Chapter: Langley.

Joined AFA: 2001.

AFA Offices: Chapter executive VP. Member of the Field Council and Membership Committee. Was executive assistant to AFA President Craig R. McKinley and Board Chairmen S. Sanford Schlitt and George K. Muellner. Was member of Development Committee.

AFA Award: National-level AFA Medal of Merit.

Military Service: Seven years Active Duty. Now a traditional Reservist, JB Langley-Eustis, Va.

Occupation: Sustainment manager for defense contractor Jacobs Technology, JB Langley-Eustis, Va.

Education: B.A., Vanderbilt University. Completing an M.A., Johns Hopkins University.

Social Media: Find Tyler Johnson on Facebook and on LinkedIn.

Q&A

How did you first learn of AFA I was given an awesome opportunity as a cadet to see how AFA worked behind the scenes. As a senior in college, I was on the Arnold Air Society national staff. … AFA really rolled out the red carpet for us [at the National Convention], and that's where I got to see how AFA advocates for the airmen, their families. … I knew that was important [and that] somebody was going to have to step forward and carry the torch.

How can AFA increase membership Not only do they need to leverage social media and the communication tools of the next generation, the younger generation, … but more than anything, I think: [From the] grassroots up, leadership down, … we need to go out [and] explain why AFA is valuable.

Johnson with his mother, Madelon, and sisters Maddie and Maijken.
Reunions
7th Air Commando Sq/7th Special Ops Sq, all years and units. May 15-18, Ramada Plaza Beach Resort, Fort Walton Beach, FL. Contact: Max Friedauer, 10 Ridgelake Dr., Mary Esther, FL 32569 (850-243-1343) (max@7thsos.org).
91st Strategic Recon Wg, all years and units. Aug. 12-16, Hope Hotel, Wright-Patterson AFB, OH. Contact: Jerry Haines, 2411 S. Tecumseh Rd., Springfield, OH 45502 (937-325-9306) (gerald_haines@yahoo.com).
345th Tactical Airlift Sq, Ching Chuan Kang AB, Taiwan, Kadena and Yokota AB, Japan, and Keesler AFB, MS. May 2-4, Orlando, FL. Contact: Mike Petraszko (734-330-5259) (reunion345yokota@aol.com).
446th Bomb Gp Assn. June 18-22, Inn at Ellis Square, 201 W. Bay Street, Savannah, GA. Contact: Lou Valenti (410-727-7976) (louvalenti@comcast.net).
612th Tactical Fighter Sq. Feb. 21-24, Shades of Green, Orlando, FL. Contact: Skip Beasley (skipbeasley49@gmail.com).
Nagoya/Komaki AB. May 18-21, Midwest City, OK. Contact: Richard Klegin, 7756 S 311 Way, Wagoner, OK 74467 (wtlighthouse@yahoo.com) (918-697-6298).
Unit reunion notices should be sent four months ahead of the event to reunions@afa.org, or mail notices to "Unit Reunions," Air Force Magazine, 1501 Lee Highway, Arlington, VA 22209-1198. Please designate the unit holding the reunion, time, location, and a contact for more information. We reserve the right to condense notices.
Gen. William Shelton holds the Thomas D. White Space Award at the Los Angeles Ball. With him are (l-r): Ed Peura, Gen. B. A. Schriever Los Angeles Chapter president; Thomas Taverney, chapter board chairman; and AFA Board Chairman George Muellner. (USAF photo by Joe Juarez)
Several 1st Special Operations Wing members surround A1C Andrea Posey, with her Unsung Hero Certificate. On her left is Col. William West, wing commander. At far right is CMSgt. Jeffery Maberry. (Photos by Joseph Hardy USAF photo by SSgt. Jeff Andrejcik)
Maryland's Thomas W. Anthony Chapter named AFJROTC cadet Mathew Simmons (below) as its Member of the Year. His
mom, Beverly Simmons-Dickerson, is at left. Photos by Joseph Hardy
Col. Tracey Hayes, 90th Missile Wing commander at F. E. Warren AFB, Wyo., shows the audience a statue of a cowboy. Cheyenne Cowboy Chapter President Irene Johnigan (right) gave it to Hayes for speaking at the chapter's annual banquet. USAF photo by R. J. Oriez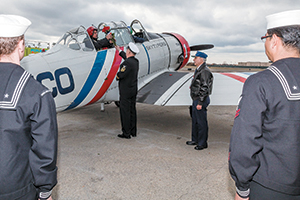 Long Island Chapter's Fred Di Fabio (in blue ball cap)
watches the backseater receive some roses later dropped at
the Statue of Liberty as part of a Pearl Harbor Day ceremony. Photo by Steve Biegler
Simmons "recruited" Jonathan Fernandez and Kayla Scott
as chapter members. They're shown here at a chapter Cadet
Council meeting. Photos by Joseph Hardy
AFA Vice Chairman for Aerospace Education Jerry White (center, in black shirt) met with the Alamo Chapter's executive committee in San Antonio in November.
Gil Slack (below) celebrated his Big Nine-Oh birthday at a Tarheel Chapter meeting in North Carolina in December.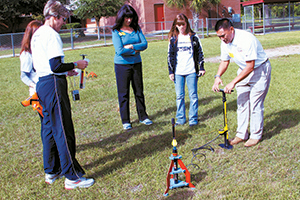 Teacher Archie Yamul mans the pump to power a model-rocket launch at the Falcon Chapter's workshop in Florida.(Photos by Larry Belge)
Falcon Chapter workshop presenters Shawna Coddington, Carla Chin, and Trena Dinsmore taught hands-on science activities.
Students from Military Magnet Academy compete in a CyberPatriot qualification round aboard the decommissioned aircraft carrier USS Yorktown in Charleston Harbor, S.C. The
Charleston Chapter partners with this floating museum for
a unique venue.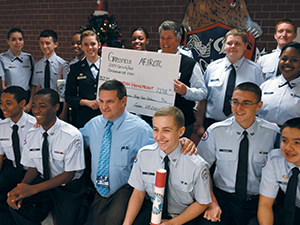 Supported by the Tidewater Chapter in Virginia, AFJROTC

cadets from Grassfield High School raised more than $2,000 for Operation Homefront. The funds will help veterans and families of deployed service members.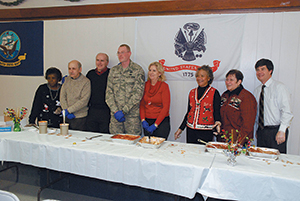 Volunteers at the Paul Revere Chapter's holiday party for veterans in Lowell, Mass., served up nearly all the food on hand. The Air Force Sergeants Association from Hanscom AFB, Mass., cosponsored the festivities.
The Genesee Valley Chapter supported the Veterans Choir from Henry Wadsworth Longfellow School in their Pearl Harbor Day remembrance ceremony in Rochester, N.Y. With the singers and their parents are New York State Sen. Joseph Robach (R) and Chapter President Alfred Smith (third and second from right, respectively).