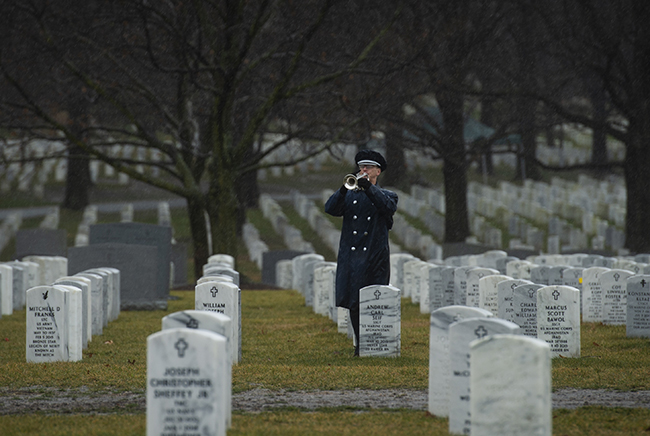 A USAF bugler plays taps during the military funeral honors of USAF SSgt. Dylan Elchin, a Special Tactics combat controller assigned to the 26th Special Tactics Squadron, at Arlington National Cemetery, Va., on Jan. 24, 2019. Air Force photo by SrA. Joseph Pick.
Acting Army Secretary Ryan McCarthy on Sept. 25 announced new criteria for interment (burial) and inurnment (preservation of cremated remains) at Arlington National Cemetery to keep from running out of space in the nation's most hallowed military cemetery.
Congress called on the Army to revise the criteria for burial at the cemetery in the 2019 National Defense Authorization Act, with the goal to keep it functioning as an active burial ground for another 150 years. That's not possible under present rules.
Today, some 95,000 burial spaces remain available, but with more than 20 million living veterans and 2 million military members currently serving, the population of potential eligibles keeps growing. Without changes to eligibility, the cemetery will be full by the mid-2050s, according to the Army.
Today, any Active Duty member or veteran with at least one day of active service is eligible for burial at Arlington.
Under the proposed new rules, below-ground interment will be limited to presidents and vice presidents, as well as military members or veterans:
Killed in action, including repatriated remains of service members
Awarded the Silver Star or service Cross or Medal of Honor
Awarded the Purple Heart
Suffering combat-related service deaths during "unique" military activities
Formerly held as prisoners of war
Or who served in combat and also served out of uniform in government and "made significant contributions to the nation's security at the highest levels of public service."
Those eligible to be inurned above ground must be either:
World War II-era veterans, including legislated active duty designees
Retirees from the military who are eligible for retirement pay but not eligible for interment
Veterans who served at least two years on active duty and served in combat
Or veterans who did not serve in combat, but did serve out of uniform in government service and "made significant contributions to the nations security at the highest levels of public service."
A notice of the new rules will be posted for public comment in the Federal Register within the next nine months, according to the cemetery.
At the same time, the cemetery is planning a large expansion of the grounds on the southern side of the cemetery, including the area surrounding the Air Force Memorial. The expansion will add another 60,000 new burial plots and a large new columbarium for cremated remains.