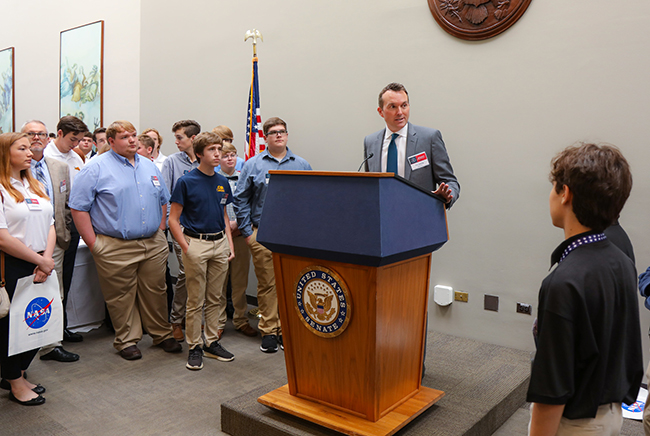 The Aerospace Industries Association, which is helmed by President and CEO Eric Fanning (shown above), released its "2019 Facts & Figures: US Aerospace & Defense" report on Sept. 9, 2019. AIA courtesy photo.
The US aerospace and defense industry continued building its sales for the eighth-straight year in 2018, growing 4.2 percent from the previous year and topping out at $929 billion, the Aerospace Industries Association announced Sept. 9. Aerospace accounted for $374 billion of US gross domestic product, or 1.8 percent of overall GDP.
According to a 15-page report of final figures for 2018, aerospace and defense reduced the federal trade deficit by 10 percent in 2018, logging a trade surplus in that sector of almost $90 billion. Growth occurred despite what AIA called "significant events that deeply affected international markets," like political gridlock in Washington, D.C., that spurred stop-gap funding measures and government shutdowns.
Prospects are good for commercial sales to increase in 2019 due to a "strong backlog" of orders for aircraft, parts, and services, AIA said. The association noted burgeoning geopolitical threats could drive global defense spending to increase again in 2019, "as allies in foreign markets continue to procure cutting-edge American technology."
The $929 billion in total industry revenue was almost evenly split between the supply chain at 49 percent and final manufacturers at 51 percent. Aircraft made the most money for manufacturers at $361 billion, followed by land and naval systems at $55 billion, space systems at $39 billion, and cyber systems at $16 billion. Their supply chain companies provide everything from raw materials to nuts, bolts, hoses and radios.
AIA noted that, thanks to Congress reaching a two-year budget deal to lift defense spending caps, Pentagon spending on aerospace and defense research and development grew to $92.3 billion—up almost 30 percent in a single year.
"These increases will support the 10 modernization priorities identified by Undersecretary of Defense (Research and Engineering) Dr. Michael Griffin, including artificial intelligence/machine learning, hypersonics, autonomy and quantum science," AIA said.
NASA's budget also increased by 13.3 percent in 2018 to $13.6 billion. Together, Pentagon and NASA R&D have averaged about $70 billion a year since 2013.
Even so, aerospace and defense contractors increased their research funding to $17 billion annually, the largest number on record and growth of more than 14 percent. Industry R&D spending has ticked up every year since 2012, when it was $15 billion.
The aerospace and defense trade surplus, at $89.6 billion, nearly returns the industry to its 2016 high water mark of $90.4 billion, after dipping in 2017 to $85.9 billion. The most recent level is nearly double the 2010 level of $50.5 billion.
AIA also pointed to a rise in imports to $61.5 billion, up about 10 percent from 2017. The vast majority of that—89 percent—was commercial sales, compared to 11 percent defense products. The export split was about the same.
China was the biggest destination for American aerospace and defense goods and services, with $18.8 billion in purchases. Rounding out the top 10 US customers were: France, the United Kingdom, Canada, Germany, Japan, Singapore, Brazil, Mexico, and the United Arab Emirates.
France, the home of Airbus, also sent the most aerospace goods and services to the US at $12.7 billion in sales. Canada, Japan, Germany, the UK, Mexico, Italy, Singapore, Brazil, and Poland comprised the rest of the top exporters to the US.
The aerospace and defense industry accounts for nearly 2.6 million jobs, AIA said, up slightly from a relatively flat average of 2.5 million over the several preceding years.
AIA said more growth is assured by global demand, and predictable federal budgets will offer stability to US aerospace companies. The organization argues government and industry investments in R&D should continue America's lead in technological innovation and drive the country's economic growth.