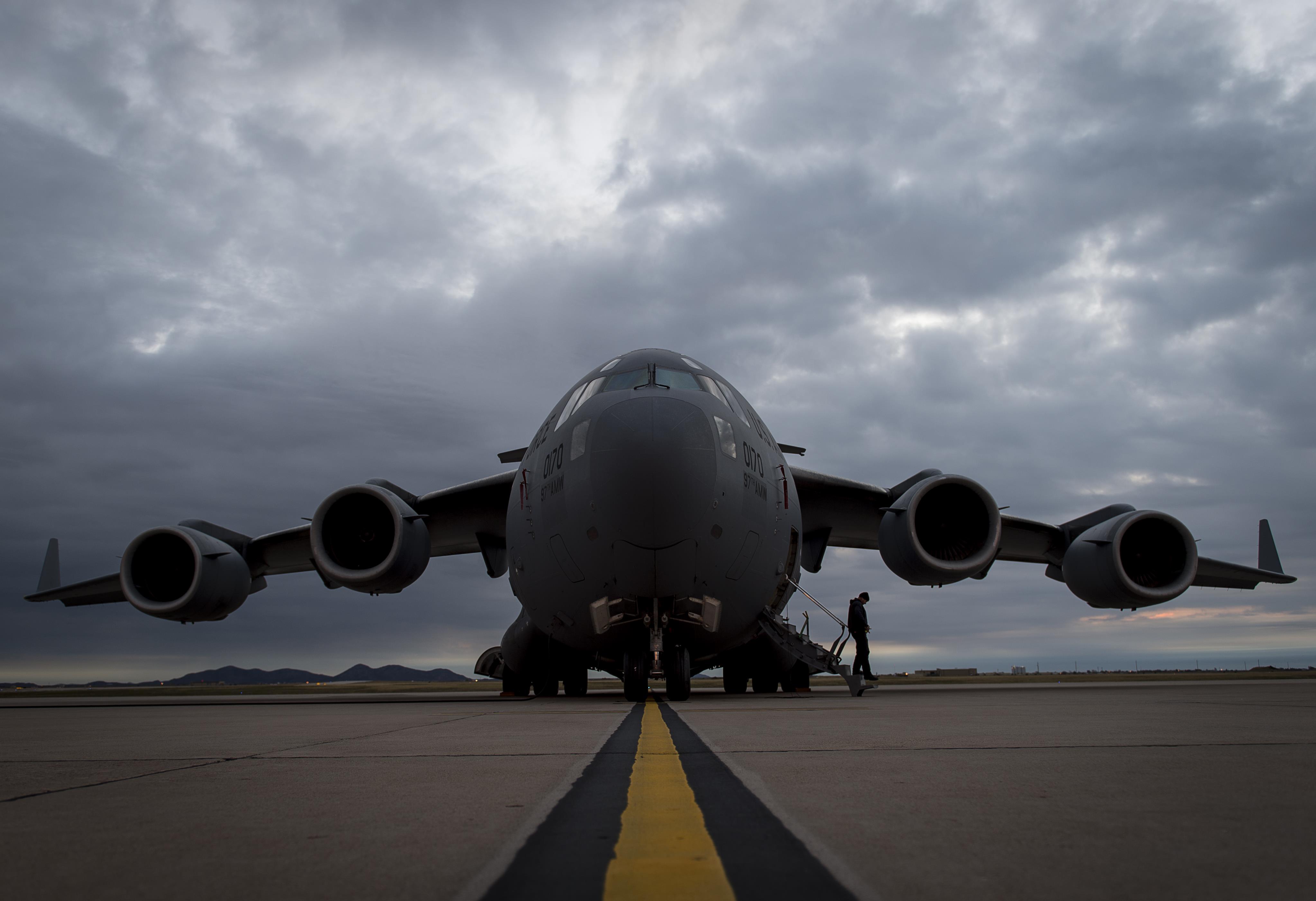 An airman from the 97th Maintenance Group exits a C-17 Globemaster III during the Altus Quarterly Exercise (ALTEX), Nov. 16, 2017 at Altus AFB, Okla. Air Force photo by SSgt. Kenneth W. Norman.
Air Mobility Command is finalizing a large-scale effort to keep its fleet healthy across the Total Force, including swapping airframes between units and using data to try to predict when planes need service.
The initiative is part of an overall effort to keep its weapons systems healthy and learn from private airlines about how to most effectively repair and maintain aircraft, AMC Deputy Commander Maj. Gen. Thomas Sharpy told Air Force Magazine.
A main line of effort in this program is focused on strategicaly moving aircraft between units. For example, one unit could fly 500 hours per year and another would be flying 1,000. Under this initiative, these units would switch aircraft so the airframes would average about 750 hours and "we can then expand that life of that airplane," he said. This in turn saves money, because the Air Force wouldn't have to then buy a replacement airplane because "the other one timed out," Sharpy said.
AMC Commander Gen. Carlton Everhart announced the initiative last year, with the C-17's main training base, Altus AFB, Okla., expected to see the first impact. Altus-based C-17s that have reach the top five percent of flight hours in the Globemaster III fleet will be rotated out, and aircraft with fewer hours will be rotated in.
AMC is still working on the "business rules" and ensuring that both the Air National Guard and Air Force Reserve are willing to participate. Everhart and Lt. Gen. Maryanne Miller, chief of Air Force Reserve Command, in February signed off on a memo outlining the way forward.
This effort is "key to overcoming mobility enterprise challenges," by maximizing the health and service life of the overall mobility fleet, Air Force Reserve spokesman Col. Bruce Bender said. Going forward, it is necessary for AFRC to "maintain synchronicity" with AMC not just in fleet management, but also in facilities and weapon systems to "minimize risk against emerging threats."
The Air National Guard also has expressed interest, but the support is not "across the board," Sharpy said. AMC is working to make sure both the Guard and Reserve can trust in the process. Planes identified to be swapped will move as they come out of depot maintenance, and the Guard and Reserve will receive these healthy aircraft.
"One of the things we have to do is we have to validate the concept," Sharpy said. "It's really about trust. Once we show that we're actually gonna take airplanes out of depot with the most recent upgrades and give them back to our Guard and Reserve partners, they get a better product than when it left. That's trust that will help us to do this on a routine basis."
The effort extends beyond simple swapping aircraft. AMC is working with private airlines to learn how they use data from their airplanes to predict when maintenance will be needed. For example, United Airlines tracks data that can identify that an aircraft's engine will fail within 30 hours, so they will plan to land that aircraft in a location where it can be fixed within that timespan. Currently, USAF cannot do the same thing.
"We haven't done that, with the data that's been available because we haven't invested in some of those capabilities," Sharpy said.
Many AMC aircraft have the ability, but the Air Force needs to buy the diagnostics program to be able to use it, Everhart said at AFA's September Air, Space, and Cyber conference outside Washington, D.C.