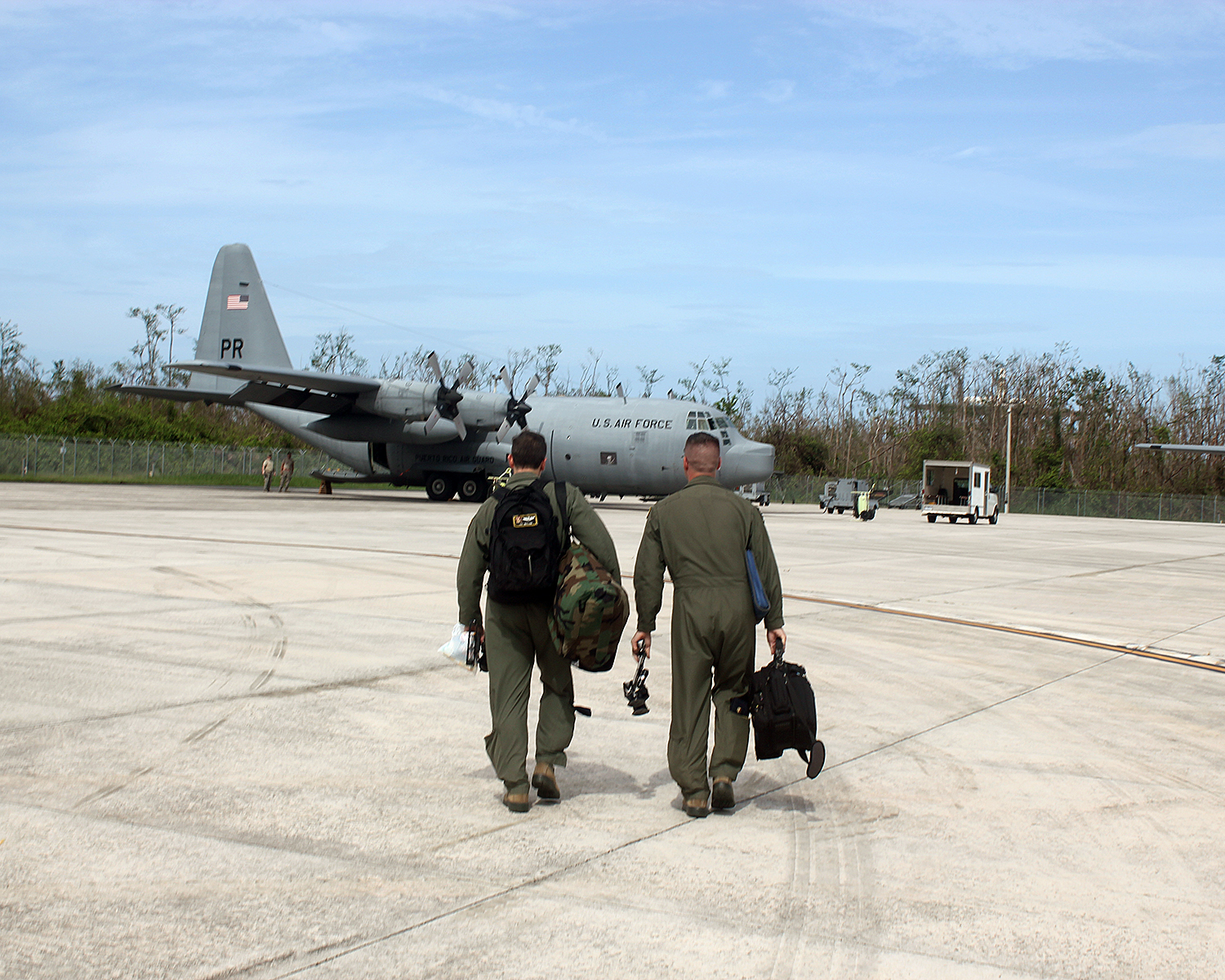 Two C-130 Hercules pilots from the Puerto Rico Air National Guard's 198th Airlift Squadron head out to their aircraft for another mission at Muniz ANGB, Puerto Rico, Oct. 17, 2017. The Puerto Rico Air National Guard is flying numerous missions both between Puerto Rico and the US Virgin Islands and between Puerto Rico and the US mainland in support of the hurricane relief efforts on the islands. Air National Guard photo by TSgt. Dan Heaton.
The need for mobility aircraft to respond to recent hurricanes across the US has delayed the shipment of equipment to Afghanistan and other locations by about 15 days, but there has not been a delay in deploying personnel, the head of Air Mobility Command said Friday.
The "slight delay" in sending equipment abroad via mobility aircraft isn't something AMC head Gen. Carlton Everhart said he is "overly concerned about." AMC and US Transportation Command were able to ensure there was not a delay for passengers needed to transit to areas such as the US Central Command area of responsibility.
Earlier this month, Defense Secretary Jim Mattis told lawmakers that a "finite number" of transportation aircraft would delay the deployment of more US forces to Afghanistan. It is "all hands on deck" to help US citizens, he said.
Air Mobility Command aircraft have flown approximately 2,900 sorties in relief of hurricanes Harvey, Irma, and Maria. Of those, 2,000 were solely for Maria in Puerto Rico and the US Virgin Islands, AMC's Deputy Commander Maj. Gen. Thomas Sharpy said.
AMC mobilized 60 percent of its entire capacity to support disaster relief efforts. Of those, 70 percent of the flights were flown by Air National Guard and Air Force Reserve aircraft and crews, he said.
It could take months to alleviate the backlog, as AMC crews and aircraft are in a surge to chip away on the validated requirements from combatant commands. This surge could last "through the holidays" to get back on the "glidepath" to more normal operations, Sharpy said.