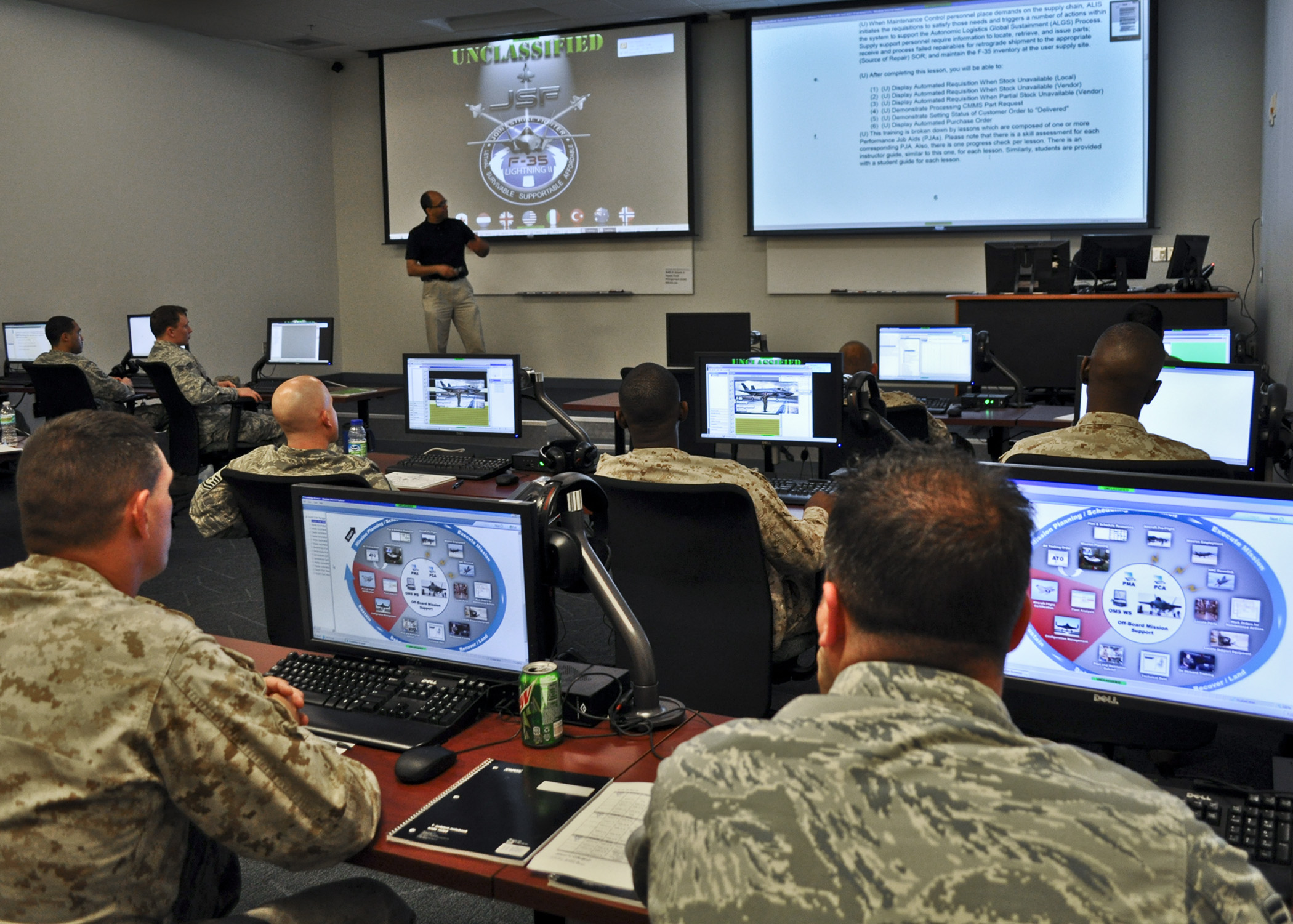 Airmen from Eglin's 96th Logistics Readiness Squadron; and three F-35 units, the Air Force's 33rd Aircraft Maintenance Squadron; the Navy's Strike Fighter Squadron 101, and the Marine Corps, Fighter Attack Training Squadron 501, take an Autonomic Logistics Information System supply course at the F-35 Academic Training Center. Air Force photo by Maj. Karen Roganov.
Lockheed Martin announced Wednesday that the newest version of its Autonomic Logistics Information System, or ALIS, which the company calls "the IT backbone of the F-35," has been approved for installation on Air Force and Navy F-35s. Another version of ALIS, to be fielded by early 2018, will be coming before the F-35 can close out the system design and development phase, according to Lockheed.
The completion of version 2.02 means that "for the first time, the entire F-35 from tip to tail, including the propulsion system, is integrated within ALIS," vice president of F-35 logistics Reeves Valentine told reporters on a conference call.
Previously, F135 engine makers Pratt & Whitney "had a native tool where they managed the engine configuration and usage" separately from the ALIS system, demanding a more lengthy process and involving "their own field service reps." Lockheed expects the full integration of 2.02 will "reduce cost and increase aircraft availability" by shaving decision time for maintenance requirements and reducing the number of personnel needed.
The new system also automates the tracking of parts among variants of the F-35, provides "enhanced networking," and streamlines "the resource management for deployed operations," said Valentine. He called ALIS 2.02 "one of the largest incremental steps of development" so far in the F-35 program because it provides "a single system where all of this data is captured and collected," giving operators "the tools and the data they need in order to economize across the entire fleet."
Valentine said Lockheed is in conversation with the Air Force about future "adaptations or modifications" of ALIS that would allow the system to be deployed "across other platforms." While those conversations are still in the early stages, he said, "there are certainly going to be adjacent opportunities and follow-on discussions."
But 2.02 is not the final version before the F-35 can enter initial operational test and evaluation, a transition that has been delayed by issues with ALIS development. For IOT&E, a 3.0 version will be required. "Fielding will start very early in 2018," Valentine said. Among other features, ALIS 3.0 will have better security, faster data transfer for large files, and lightning protection.
A follow-on 4.0 version is expected in early 2019.