When F-35s, F-22s, and F-15s took to the skies over Savannah, Ga., earlier this month, it marked the first time in 19 years the Air Force had hosted its most prestigious air-to-air competition, William Tell. 
It probably won't take anywhere near so long for it to happen again. 
"We're already talking about running William Tell again in 2025," said Brig. Gen. D. Micah "Zeus" Fesler, William Tell Air Expeditionary Wing commander, adding that discussions within Air Combat Command and Headquarters Air Force were underway even before the 2023 competition was over.
Indeed, that was an objective for William Tell '23, said the competition's director, Maj. Garrett "Dodge" Getschow in an Air & Space Forces Magazine interview. "One of the feedback comments from one of the surveys was, 'If William Tell '25 doesn't come back, there's going to be a mutiny.'" 
Hundreds of Airmen participated in the meet at the Air Dominance Center, which also included weapons loading and intelligence competitions, and Getschow and Fesler both said the feedback has been overwhelmingly positive—not only an encouraging sign for William Tell, but an indication of the power of competition.
"We want to make it a regular event, and I think you will also see, there used to be a competition called Gunsmoke that was an air-to-ground competition," Fesler added. "So I think you may see those continue out over time. And you may see William Tell continue into the future."
The idea to stage William Tell again, nearly two decades after the last edition in 2004, began roughly a year and a half ago, Getschow said. Leaders at the top of Air Combat Command saw it as a way to "invigorate that motivation through competition"—competition that had largely taken a back seat during the Global War on Terror as the Air Force faced no peer adversary. 
Actually pulling off the event required months of planning, much of it led by young officers and NCOs, said Fesler. The Air Force regularly stages exercises like "Red Flag" that challenge pilots to fly against simulated enemies. But Fesler said there's a clear difference between the two. 
"In our exercises, we have a tendency to train towards our adversary, to focus on the training portion of it, which is absolutely critical," he said. "We want to make sure the youngest Airmen, the youngest wingmen, the youngest warriors we have are ready to go to war. We want to make sure our command and control pieces are all ready to go when we really focus on bringing all those pieces together and training.
The difference between an exercise and a competition is in what is being watched and measured. "Although there are similarities … the real difference that you see is that there's a scoreboard, and there is a scoreboard that everybody saw every night, Fesler continued. "They knew how they performed, and they could see how they were doing relative to one another's peers. When you're in an exercise, you really are focused on the one sortie you just flew, the one mission you just executed, and debriefing." 
In addition to the weapons load and intelligence competitions, the flying portion of the meet consisted of four segments:
One-on-one basic fighter maneuvers, or "dogfighting"
Air combat maneuvers. "We had four bandits that were surrounding two 'blue air' jets, and they would take turns attacking that blue air from all sorts of different directions," said Fesler. "So imagine yourself at the center of a wolfpack, with adversary airplanes attacking you, and effectively they have to survive through that scenario." 
A gunnery contest. Participants shot their aircraft guns at a banner towed by a Learjet; judges could then examine the banners to determine accuracy—Fesler said teams got to take their banners home with them. 
Fighter integration. "Four F-22s plus four F-35s plus four F-15s against 20 adversaries," said Fesler. "And those 20 adversaries would regenerate one time, so a total of 40 adversaries. And they had to defend a piece of airspace for a 40-minute period of time. And so over that entire period, you had that team of four plus four plus four that was working together with their air battle managers, as well as their intelligence team, to put together the best game plan and then go out and execute that game plan. And that was probably the pinnacle event of all of them." 
Pilots didn't have to worry about standard administrative tasks like coordinating refueling or setting frequencies, added Fesler. They were simply expected to show up each day, form a plan, and fly.
Trophies were handed out to the best teams and individual pilots and crew chiefs for each fighter type, as well as the top performing teams in fighter integration, maintenance, weapons load, intelligence, and command and control.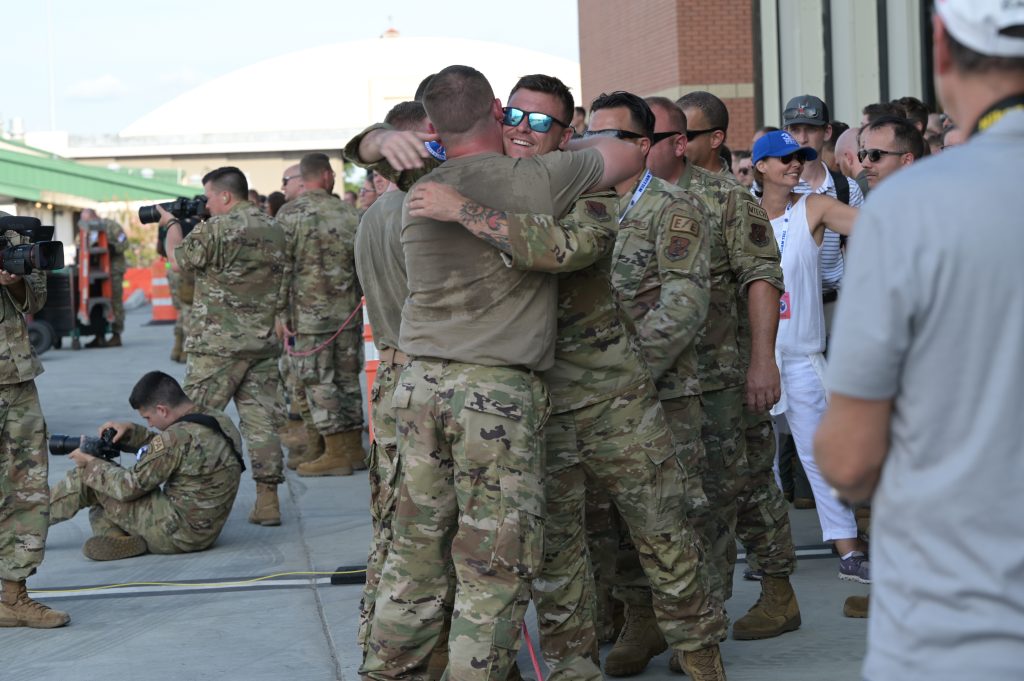 "When you think about NFL football, like that level of competition, people want to win," Getschow said. "Especially Airmen have this intrinsic drive to win. So now when you can actually codify that and put it on paper and create an awesome environment outside of that competition, I think that is where it struck everybody, not just from the competitors themselves, but the maintainers that are getting the jets ready, or the logistics guys that are bringing hundreds of trucks to make this happen, knowing, 'If any of us fail, this might mean our wing fails.'"
Beyon the competition, organizers also wanted to use the revival as a chance to celebrate the Air Force and engage with the public. 
More than 100 distinguished visitors observed the meet, said Getschow, and participating Airmen could attend keynote and panel discussions with notable Air Force figures like former Chief of Staff Gen. T. Michael Moseley; retired Col. Cesar Rodriguez, who scored three air-to-air kills in his career; and retired Lt. Col. James Harvey III, a Tuskegee Airman who was part of the winning team at the first-ever gunnery meet. 
Moving forward, Getschow said he'd like to see the meet expand in 2025, with every competing wing bringing their own maintenance team and possibly an air-to-air missile shoot. At the same time, Fesler said he wants to make sure Airmen don't become too focused on friendly competition at the expense of the mission.
Still, given how palpable and relatable competition can be, Getschow said he sees an opportunity for William Tell 2025 to capture the imagination of the public.
"I think if the country hears that we're sending the best of the best to fight the sport of kings and see Airmen that are the tip of the spear go out and try to win, and that story can be told with the same hype and drama and suspense, I think that will inspire the American public to have a little bit more belief in the military," he said.