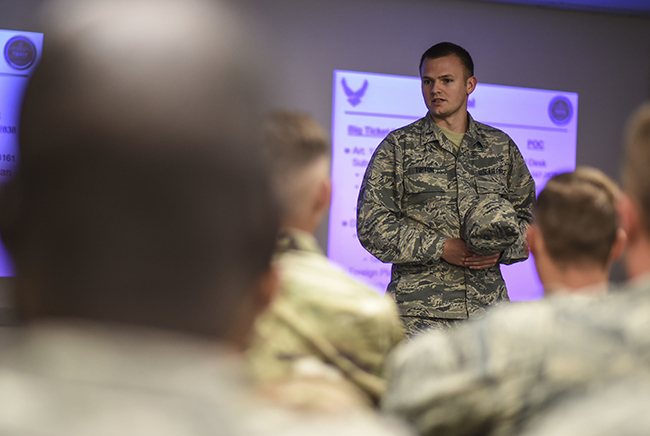 1st Lt. Patrick Tipton, 92nd Air Refueling Wing chief of civil law, gives a legal brief to incoming exercise Mobility Guardian 2019 participants on Aug. 16, 2019, at Fairchild AFB, Wash. Air Force photo by SSgt. Dustin Mullen.
SPOKANE, Wash.—Air Mobility Command's biggest exercise is off and running here in the Inland Northwest, bringing together 46 US aircraft and those of 29 other nations, along with more than 4,000 personnel.
Mobility Guardian 2019, the second iteration of the exercise since it began in 2017, will run for three weeks. It is headquartered at Fairchild AFB, Wash., and includes several other locations and training ranges throughout the Northwest. The USAF presence includes KC-10s, KC-135s, C-5s, C-17s, and C-130s. AMC's newest aircraft, the KC-46 tanker, is no longer expected to participate, though the Air Force has not said why.
For more than a year, AMC has planned scenarios that emulate "contested, degraded, and operationally limited environments mobility forces face now and in preparation for the future," according to a Sept. 9 command release. The exercise will focus on airlift, midair refueling, aeromedical evacuation, and global mobility support. Participants are practicing situations that range from offensive, forcible entry to airfield seizure, strategic deterrence, and humanitarian relief.
Three hundred personnel from 81 Air Force wings helped plan for the exercise. AMC began Mobility Guardian after canceling its long-held Mobility Rodeo competition in 2015 due to budget cuts. Instead of designing a similar event, AMC created a Red Flag-type exercise that lets its forces fight in a large-scale conflict simulation.
The first iteration of Mobility Guardian in 2017 was the largest training event in the command's history, though this year's is slated to top it.