When Air Force and Space Force recruits arrive to Joint Base San Antonio-Lackland, Texas, for the first five days of Basic Military Training next month, it will be different compared to what previous generations went through.
The 37th Training Wing is changing those first five days, known as 'Zero Week,' to educate trainees on human performance factors such as sleep hygiene, stress management, and nutrition, alongside the classic features like basic drill, physical training, and keeping the recruit living area tidy. Officials hope the redesign will better prepare enlisted Airmen and Guardians for the rigors of life in service.
"Resilience results from combining problem-solving skills with the lifestyle habits that power them," Lt. Col. Daniel Cassidy, director of human performance for the wing, said in a Sept. 21 press release.
"Well-being and performance hinge upon the ability to problem-solve effectively, especially in the midst of challenging and unpredictable operational and general life circumstances," he added.
Previously, such lessons were distributed across the 7.5 weeks of BMT, Cassidy explained, but the new Zero Week is designed to front-load them so that trainees have a stronger foundation of stress-resilience to build on. The lieutenant colonel likened it to swimming lessons.
"Before, we were teaching swim technique a little bit in the pool, but a lot in open water," Cassidy told reporters on Sept. 22. "[Now] we're front-loading a lot of swim technique in the pool, so that when people are introduced to open water with waves and wind and a variety of other variables, they've already got well-in-hand the fundamental skills necessary to work productively."
The new Zero Week should help better prepare trainees for physical training (PT). A beta test last December found "a noticeable decrease in injuries and a noticeable increase in PT pass rates," said Col. Lauren Courchaine, commander of the 37th Training Wing. Though exact numbers were not immediately available, she estimated it brought the number of PT failures for the test squadron from "the low double digits" down to zero.
The new Zero Week coincides with two larger trends in the Air Force. The first is an ongoing shortage in recruiting as the Air Force and other services struggle to attract new talent at a time when both propensity and ability to serve are at historic lows. Because of that, the Air Force wants to hold onto new talent for longer.
"Our job here … has been to set every single trainee up for success by giving them the tools that they need to thrive in whatever that future fight might be, but honestly, to thrive in technical training, and then their first assignments, and then hopefully have the skills to then make a decision to re-enlist," Courchaine said.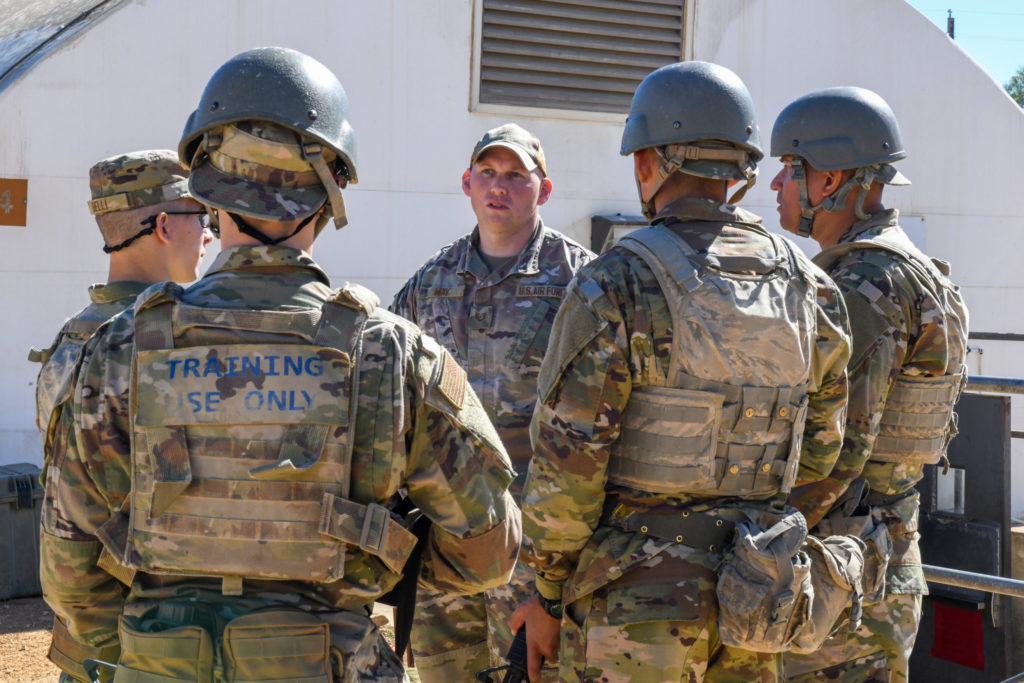 The other major change in the Air Force is a renewed focus on possible conflicts against China or Russia, which could see Airmen working in small teams out of isolated locations in the Pacific Ocean, a different kind of war than the predictable deployments and sprawling bases Airmen grew accustomed to during the Global War on Terror.
The 37th Training Wing wants to better prepare Airmen for those unfamiliar situations. In December, the wing implemented PACER FORGE, a 36-hour exercise where trainees split into small teams and work together through scenarios that are "physically demanding and based on real-world operations," Col. Jeff Pixley, then-commander of the 737th Training Group, said when the exercise was first rolled out.
Not wanting to spoil the surprise for future recruits, Pixley did not share many details of PACER FORGE, other than it is meant to prepare trainees for Multi-Capable Airmen, an operating concept where Airmen can perform jobs outside their specialty so that they can generate sorties even if they are working in a small team or have taken casualties.
The new Zero Week is aimed at preparing trainees for those stressful moments, and more changes could be coming soon. About 90 days after the new model is implemented, the 37th Training Wing may introduce "a stressing event" in between Zero Week and the trainees' arrival at their squadron for the rest of BMT, Courchaine said.
The event will focus on "utilizing those basic tenets of resiliency and team-building in a practical applications," the colonel said. By next year, there may be more such events between Zero Week and PACER FORGE to give trainees more chances to learn how to respond to difficult situations.
The Shallow End
Though there could be stressful events throughout the new BMT, the 37th wants to de-stress the first week, partly by shouting less at trainees as they pick up the basics of drill, PT, and keeping their living areas clean. Instructors will still be able to raise their voice if they need to, but the 37th is trying to build up recruits more gradually, like how a rookie swimmer starts in the shallow end or how a weightlifter lifts more over time.
"Most of us would intuit that it's not helpful to tell people just go out and lift the heaviest object you can find as much as possible," said Cassidy, "but instead to learn what proper technique looks like and then to apply utmost effort with proper technique to produce a good performance outcome."
Other services are on a similar track: in 2022, the Army stopped greeting infantry recruits with a "shark attack" of unintelligible screaming and replaced it with a tough physical exercise meant to instill trust in drill sergeants rather than fear. Armor training adopted a similar change.
"Nothing's really changed other than we're not screaming in their faces," Command Sgt. Maj. Thomas Yaudas of the 194th Armored Brigade, told Task & Purpose at the time.
Chief Master Sgt. Daniel Anderson, senior enlisted leader for Lackland's 737th Training Group, hopes to keep Airmen in a learning zone rather than in their panic or comfort zones.
"We want the instructors to be able to push them to a point where there's an elevated state of awareness so that they are receiving the information," he said. "And if they do not conform with the expectation, then the military training instructors will absolutely hold them accountable to include raising their voices and speaking with them in command voice."
Anderson pushed back on the notion that new recruits require different training because they are less mentally tough than their forebears.
"I would not say that the generation that we're receiving into our ranks now is not as tough whether mentally or physically or whatever, I would argue that they are different," he said. "They didn't grow up outside throwing rocks at the neighbor kids back and forth. They are digital natives. They think differently, they respond to stressors differently. And the approach to be able to effectively train them must be different, because it will be something different that is expected from them during their time in service."