The Department of Defense and the Army last month revived a dormant effort to build a target drone that can mimic cutting-edge adversary aircraft—and perhaps breathe new life into the Air Force's plans for a "Next Generation Aerial Target." 
Army Contracting Command and DOD's Test Resources Management Center announced a contract award Aug. 4 to Advanced Technology International Inc. and Sierra Technical Services on the 5th Generation Aerial Target prototype project, or 5GAT. 
5GAT development began in 2017, when Sierra Technical Services won its initial contract. By 2020, the stealthy unmanned aircraft was ready for first flight—but the the aircraft crashed on its maiden voyage. The Army then issued a second solicitation to industry in April 2022, then went dark once until the August 2023 contract announcement. 
Meanwhile, the Air Force launched its "Next Generation Aerial Target" program, asking industry in August 2021 for ideas on fielding unmanned, autonomous systems that could replicate threats posed by fifth-generation fighters, such as China's J-20 and Russia's Su-57. 
A year later, USAF went back to industry, this time upping its ask to include a requirement for target drones to fly at supersonic speeds. A few months after that, the Air Force inquired about ideas to operate NGAT a service—so that private companies would own and operate the target drones, just like they do with some "red" air aggressors. 
Little has happened since, according to the Air Force Life Cycle Management Center. "All AFLCMC efforts related to future aerial targets remain in the pre-acquisition phase," said a spokeswoman for the 96th Test Wing at Eglin Air Force Base, Fla.
In its fiscal 2024 budget request, the Air Force asked for $42.2 million in procurement and $6.9 million for research and development for target drones, but none of that funding would go to NGAT. Budget documents indicate no activity under that program name in 2024. 
In 2023, however, the program continued to "conduct engineering analysis to identify candidate configurations and concepts that lead to early identification of technical risks in integrating advanced electronic attack systems in prototype airframes," budget documents state. "Results of these studies will be used to select the most promising concepts for further evaluation and follow-on detailed design, integration, ground and flight test of the candidate configurations."
Those studies likely played a role in the development of the 5GAT program. The Air Force referred all questions on that program to the Office of the Secretary of Defense. A spokesperson at the Pentagon told Air & Space Forces Magazine that the Test Resources Management Center "is coordinating with the Air Force" on 5GAT. 
The 5GAT program "is a technology pathfinder for the future Next Generation Aerial Target," the spokesperson said. "The 5th Generation Aerial Target does not replace the need for the future Next Generation Aerial Target." 
Returning to Sierra Technical Services for the 5GAT program, the Pentagon indicated that the original "aircraft configuration and overall design is still considered to be sound," despite the 2020 crash. If the aircraft's efficacy and affordability are confirmed, DOD stated it anticipates a follow-on production contract. 
"The project may be transitioned directly to the individual service branches to complete range integration and transition the aircraft into production," the prototype contract award states.
Other potential competitors are waiting in the wings. In 2022, the Air Force Research Laboratory awarded a small business contract to Blue Force Technologies to develop a high-performance drone for adversary air training missions. That program came to be known as "Fury." Defense software contractor Anduril announced Sept. 7 that it had acquired Blue Force and announced it would make "significant investments" in Fury, including its autonomous capabilities.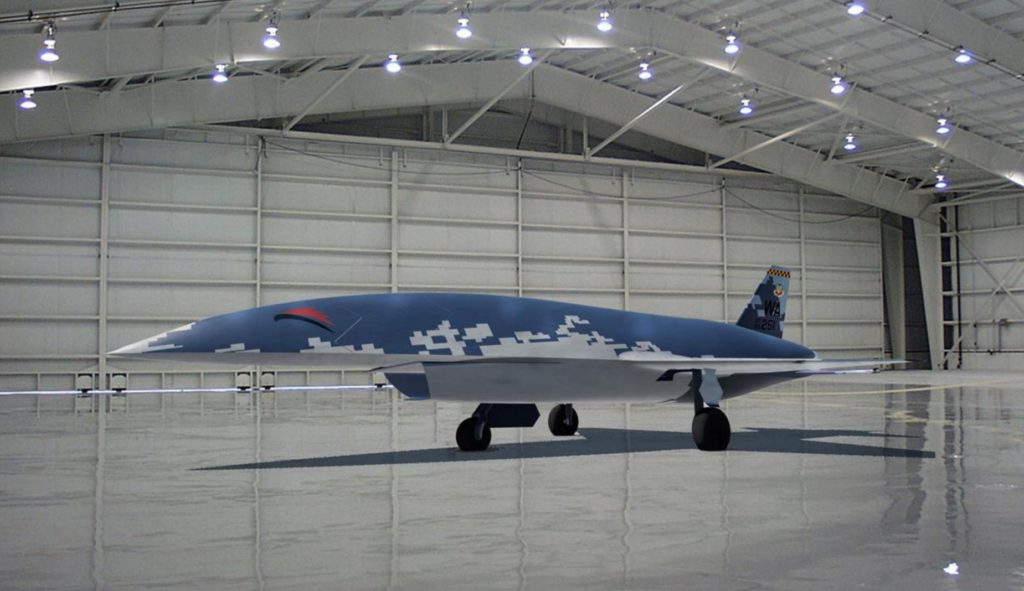 Unmanned target aircraft are not exactly a new idea. The Air Force has a subscale aerial target in the BQM-167 and has for years operated a fleet of 74 unmanned QF-16s—modified, older-model F-16s—that can act as full-scale targets.