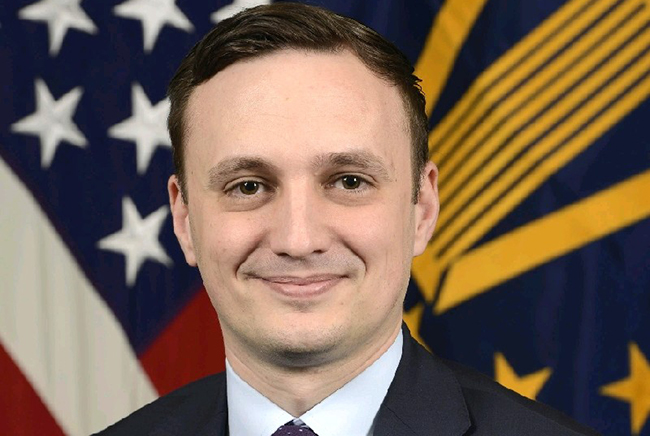 Nicolas Chaillan is the Air Force's new chief software officer. Defense Department photo via Nicolas Chaillan's LinkedIn.
DAYTON, Ohio—Nicolas Chaillan, a cybersecurity adviser in the Office of the Secretary of Defense with roots in commercial industry and the Department of Homeland Security, has joined the Air Force to oversee daily software development as chief software officer.
Chaillan started as CSO in May, and concurrently serves as co-lead of the Defense Department's enterprise-wide coding security initiative, according to his LinkedIn page. His appointment is among the positions the Air Force has created in the past few years to better harness its data and develop software faster, including a chief data officer and a digital program executive officer.
The CSO's job is to look across the Air Force's growing number of software development efforts and coding factories like Kessel Run for the Air Operations Center, Kobayashi Maru for the space sector, Bespin for business systems, and LevelUP for the cyber Unified Platform, foster each, and share technical lessons learned between teams.
His presence is already producing ripple effects across the acquisition community. In a June 19 interview at the Air Force Life Cycle Management Center's Life Cycle Industry Days conference here, Brig. Gen. Michael Schmidt, the program executive officer for command, control, communications, intelligence, and networks, said Chaillan calls program managers almost daily to get updates and dispense advice.
"On Unified Platform, we talk about minimum viable products on a regular basis," Schmidt said. "The minimum viable product was going to be this big and almost unobtainable [thing], and he said, … 'What do you really need in a minimum viable product?' And so he hands-on did that with a thousand stickies on the wall."
Chaillan offers valuable connections to contractors as well, and has helped the C3I&N team understand what risks to take or not when preparing to field new code.
He's also spearheading an effort to come up with a common software standard for the entire Air Force so systems can share information more easily—a growing priority within the acquisition community at large.
"He brings with him a lot of credibility, and [he is] someone who can really roll up his sleeves and get into the details of every program having these software challenges," Schmidt said. "Honestly, [hiring him is] one of the best moves I think the Air Force has made."
Chaillan serves as an in-the-weeds counterpart to Digital PEO Steve Wert, whose growing portfolio covers battle-management assets like Joint STARS and the Airborne Warning and Control System as well as coding centers, initiatives to counter small drones, and more. On a broader level, he helps programs shape contracts that are conducive to speedy, iterative software development; offers knowledge on best practices for the supply chain, agile development, and operations; and is part of the Air Force's effort to migrate its systems to cloud computing.