Two Air Force B-52s made history with the bomber's first ever landing in Indonesia on June 19—a gesture of partnership with the strategically important southeast Asian country.
"This specific deployment of the B-52s to Indonesia highlights the importance of working with our allies, partners and other U.S. joint military units as we bolster our collective ability to support a free and open Indo-Pacific," a Pacific Air Forces spokesperson told Air & Space Forces Magazine, confirming the mission. The War Zone first reported the B-52 visit, citing flight tracking data.
The bombers are assigned to the 23rd Expeditionary Bomb Squadron out of Minot Air force Base, N.D., and are in the region as part of a Bomber Task Force deployment. When they landed at Indonesia's Kualanamu Airport, it marked the start of their involvement in the Cope West exercise, during which U.S. and Indonesian fighter pilots will train with each other from June 12-23.
"This training enables our Airmen to become familiar with other theaters and airspace, and enhances the enduring skills and relationships necessary to confront a broad range of global challenges in support of the National Defense Strategy," the PACAF spokesperson said.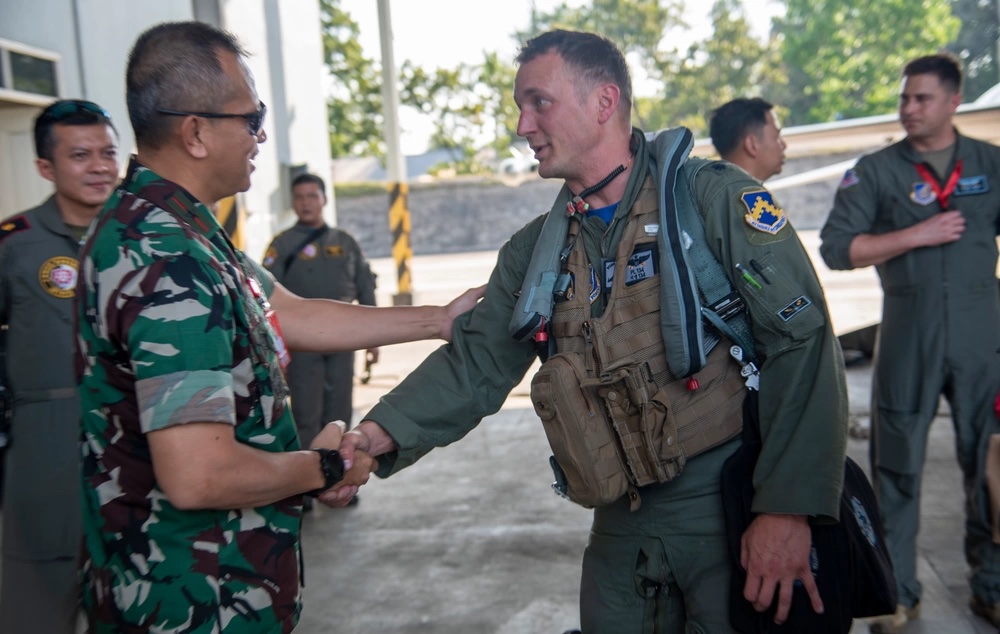 The world's fourth most populous country and 10th largest economy, Indonesia is a growing power in southeast Asia. Historically it has maintained good relations with both western countries and China, but the country's traditional policy of non-alignment may be tested as tensions grow between China and the United States, according to the Harvard International Review.
"It is unlikely that Indonesia and other partner countries would join the United States in using military force against China in the event of a significant escalation," wrote Air War College professor Dr. Stephen Burgess in an April paper on U.S-Indonesian relations. "Although challenges exist, with the right amount of will and creative effort, the United States and Indonesia can overcome them and strengthen their relationship."
One of those efforts may be advising and augmenting the Indonesian air force through exercises like Cope West.
"The USAF and PACAF can play a leading role in developing this partnership, while avoiding a transactional and paternalistic approach," Burgess wrote.
The arrival of B-52 bombers, one of the U.S. military's most powerful platforms, seems to underscore that idea. The PACAF spokesperson said the bomber deployment is part of a larger effort to "deter, deny and dominate aggression" and promote a free and open Indo-Pacific.
"Integrating strategic bombers, such as the B-52, in operations and exercises enables different types of strategic bombers to operate forward in the Indo-Pacific region from a broad array of overseas and continental U.S. locations with greater operational resilience," according to a PACAF statement. "Bomber missions contribute to joint force lethality and deter aggression in the Indo-Pacific by demonstrating USAF ability to operate anywhere in the world at any time in support of the National Defense Strategy."
The Minot B-52s are among several U.S. bomber deployments meant to send similar messages around the world. On June 19, a pair of B-1 bombers landed in Sweden for the first time in an effort to show strengthened ties as the Nordic country bids to join NATO. In May, two B-1s were met by a Russian Su-27 when the bombers operated in the Baltic Sea region as part of a four-ship Bomber Task Force mission meant to support "NATO deterrence initiatives," according to a U.S. Air Forces in Europe press release.