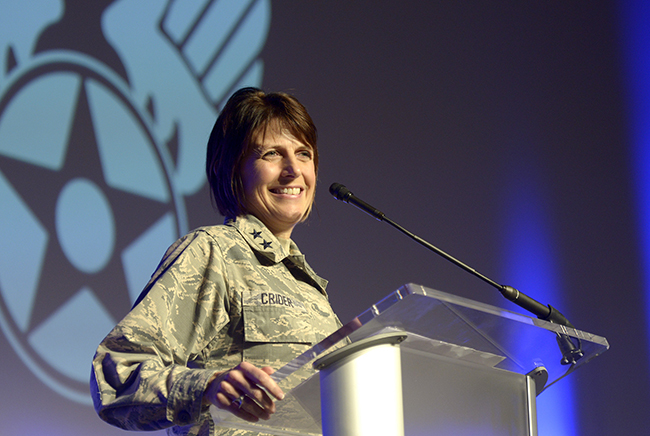 Maj. Gen. Kim Crider, the new mobilization assistant to Air Force Space Command boss Gen. Jay Raymond, speaks during AFA's 2018 Air Warfare Symposium in Orlando, Fla. Air Force photo by SSgt. Rusty Frank.
As space grows more contested, command and control will rely as much on the systems in orbit as the data they collect and share.
Maj. Gen. Kim Crider, the new mobilization assistant to Air Force Space Command boss Gen. Jay Raymond, aims to better harness that information by creating a repository where situational awareness and observation data from space-based sensors can be stored and accessed by warfighters on multiple security levels. Known as the "unified data library," the concept already promises to shape the Air Force's understanding of how information should be used to achieve true multi-domain command and control.
"We've got to be able to free the data," Crider said at a May 3 AFA Mitchell Institute breakfast on Capitol Hill. "We've got to be able to get the data out of the stovepipes. We've got to be able to access disparate data sets from a variety of different sensors and get them to the operators that need them through the lightweight apps that we're now deploying."
Crider, who served as the Air Force's first chief data officer for about a year, began her AFSPC job last November. In her current role, she's ensuring her former and current offices are collaborating on the way forward by employing a liaison between the two and implementing the same principles she championed at the headquarters level.
The cloud-based library was created last year through a software development collaboration between the Air Force Space and Missile Systems Center, the Air Force Research Laboratory, and industry. A data program management office in Colorado Springs, Colo., is continuing their work.
Crider said the library is different because it allows the entity that puts the data in to dictate who should be allowed to see each individual piece of information, in contrast with other Air Force repositories that are only available to certain people. The library is also fully integrated with the Enterprise Space Battle Management Command and Control system development effort underway at SMC.
A first attempt to use the library at the National Space Defense Center focused on building out the space C2 process at two security levels.
"We helped them access a variety of data from a series of data sources, not just commercial sources, which, by the way, they never had access to before, but also sources at higher levels of security," Crider said.
The second test case will involve three classification levels and a more diverse set of civil and military users from the Commerce Department, the Combined Space Operations Center at Vandenberg AFB, Calif., and coalition nations.
"We're going to tackle how do we ensure that different types of users with different levels of access will be able to leverage the data from the data library … to meet the timelines that the operators demand for their command and control processes," Crider continued.
The third and fourth initiatives will focus on multi-domain operations, discussion of which over the past few years has helped drive the Air Force's paradigm shift on the importance of data and speed.
Crider told reporters following the breakfast that Sheryl Thorp, a program manager in the MDC2 integration office at Hanscom AFB, Mass., visited AFSPC last week to learn about the data library and wants to invest in exercises to show how the concept could be used across domains.
"Now we've got this opportunity to do some real, tangible, integrated alignment through [the] unified data library … [and Thorp] wants to look at how does she bring data into it," she said. "I don't think those experiments have been fully defined. … It may involve kind of an airborne and space [intelligence, surveillance, and reconnaissance] integration, which would be a really good thing."
Thorp is one of the officials leading the Air Force's exploration of the architecture and processes that can enable MDC2, following a yearlong enterprise study of the subject in fiscal 2017. Figuring out how to allow users with varying security clearances to access the same trove of data has been an outstanding question for those working on MDC2, who could soon piggyback on what AFSPC is learning.
Crider added that AFSPC's new data strategy, of which the data library is a key aspect, is on track to be completed in May and will be released shortly after.