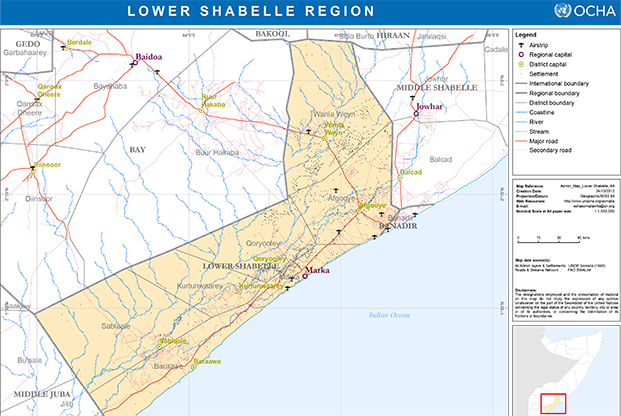 This map, created by the United Nations Office for the Coordination of Humanitarian Affairs, depicts the Lower Shabelle Region of Somalia. UNOCHA graphic.
US Africa Command for weeks claimed to reporters and to Congress there had been no civilian casualties as part of more than two years of ongoing airstrikes inside Somalia. However, on Friday, the command admitted that an internal investigation at a lower level inside AFRICOM determined a woman and a child were killed in a strike more than a year ago, but that determination did not make it to AFRICOM leadership until this week.
The incident was a "breakdown in reporting" from a subordinate organization that conducts counter terrorism operations stemming from an April 1, 2018, remotely piloted aircraft strike near the village of El Burr, USMC Maj. Gen. Gregg Olson, AFRICOM's director of operations, said in a Friday call with reporters.
That day, a US RPA struck an al Shabaab vehicle the command believed contained a leader of the group. The initial assessment of the strike, completed the day after the strike, determined that terrorists were killed in the strike and an AFRICOM press release stated, "We assess no civilians were killed in the strike," which is the information senior AFRICOM leaders had.
Last month, in Congressional testimony and in response to an Amnesty International investigation, AFRICOM leaders maintained that no civilians had been killed in any of the command's airstrikes. However, AFRICOM leaders were not aware of the determination from a follow-up investigation to the April 1, 2018, strike.
About one week after the announcement of the El Burr strike, the AFRICOM organization received "new information" alleging civilians were killed. A reassessment of the strike, which lasted "weeks," it was determined that the allegations of civilian casualties were now considered "likely" after evidence emerged that a woman and a child were also at the site of the strike. Olson on Friday would not expand on this new information. The command would not say what specific RPA conducted the strike, or which units were involved, just that it was an "AFRICOM subordinate unit" that conducts counter-terrorism operations in Somalia, Olson said.
This change in determination was not reported to higher AFRICOM headquarters, and only came to light after AFRICOM boss Gen. Thomas Waldhauser late last month ordered a commander-directed review of civilian casualty reports following the Amnesty International claims. The command was made aware of the civilian casualties last weekend, Olson said. The April 1, 2018, strike was not one included in Amnesty's report alleging civilian casualties.
"It is critically important that people understand we adhere to exacting standards and when we fall short, we acknowledge shortcomings and take appropriate action," Waldhauser said. The command didn't detail any punitive action taken in response to this incident.
Olson said Friday the command is working with the Somali government and the US Embassy in Mogadishu on possible payments to the family of the woman and child killed in the strike.
AFRICOM now maintains that these two civilians are the only non-terrorists killed in airstrikes in Somalia. So far this year, the command has conducted 28 airstrikes in Somalia, along with 47 in 2018 and 35 in 2017. Amnesty International's investigation claimed 14 additional civilians were killed in strikes between 2017 and 2018, a claim AFRICOM immediately denied.
Amnesty, in a Friday statement, said AFRICOM admitting these casualties is an "important step forward" from the previous claims, though the command should investigate other claims more thoroughly.
In addition to continuing the commander-directed review of civilian casualties, AFRICOM is now launching a new review of its reporting processes to avoid incidents like this in the future, Olson said. There isn't a fixed timeline on this review, he said.
Through this process, AFRICOM is "trying to become a better organization by refining our procedures. We are working to the maximum extent possible to understand what might have happened," Olson said.