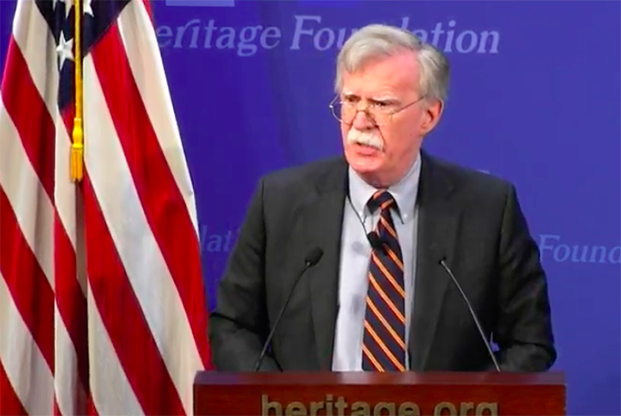 White House National Security Adviser John Bolton addresses the Heritage Foundation think tank in Washington on Dec. 13. Heritage Foundation video screenshot.
The US will pull military and financial support from "unproductive, unsuccessful, and unaccountable" peacekeeping missions across Africa and instead focus on countering the rising influence from China and Russia on the continent, White House National Security Adviser John Bolton announced Thursday.
The new White House strategy, which is mainly focused on putting US interests first, calls on African countries to "do more of their own security" instead of relying on US and UN support, Bolton said at the Heritage Foundation in Washington, D.C.
Longstanding peacekeeping missions in areas such as the Western Sahara, Sudan, or Somalia have not focused on resolving an underlying conflict, and instead have kept a foreign presence "ad infinitum" without a resolution, Bolton said. The US can only support missions that are "effective and efficient" and can "facilitate lasting peace," Bolton said, without specifically mentioning which missions he deemed ineffective.
Additionally, the US needs to shift away from these ongoing missions and instead look to counter China's influence on the continent. Specifically, China has increased its presence by building a base near the US presence in Djibouti, where China is also accused of affecting US operations by shining lasers at American pilots. Along with Russia, China is building up its presence and targeting its investments "in the region to gain a competitive advantage over the United States." Russia is using "corrupt economic dealings" as a way to "stunt" economic growth, Bolton said.
Bolton's speech comes a month after the Pentagon announced it was reducing its footprint in Africa by about 10 percent over the next several years, from the current total of about 7,200 US personnel on the continent. At the same time, US spending on the continent needs to drop, he said. Last year, the US spent $8.7 billion in development, security, and food aid to Africa, up from $8.3 billion in 2016. This investment hasn't translated to progress against terrorism or substantial regional development, Bolton claimed.
The change in financial support is needed to get away from a "longstanding pattern of aid without effect, assistance without accountability, and relief without reform," he said. Going forward, US aid will be specifically targeted to individual countries that will help with countering Chinese and Russian influence, and not to countries that "take action counter to US interests," including voting against the US in "international forums," he said.