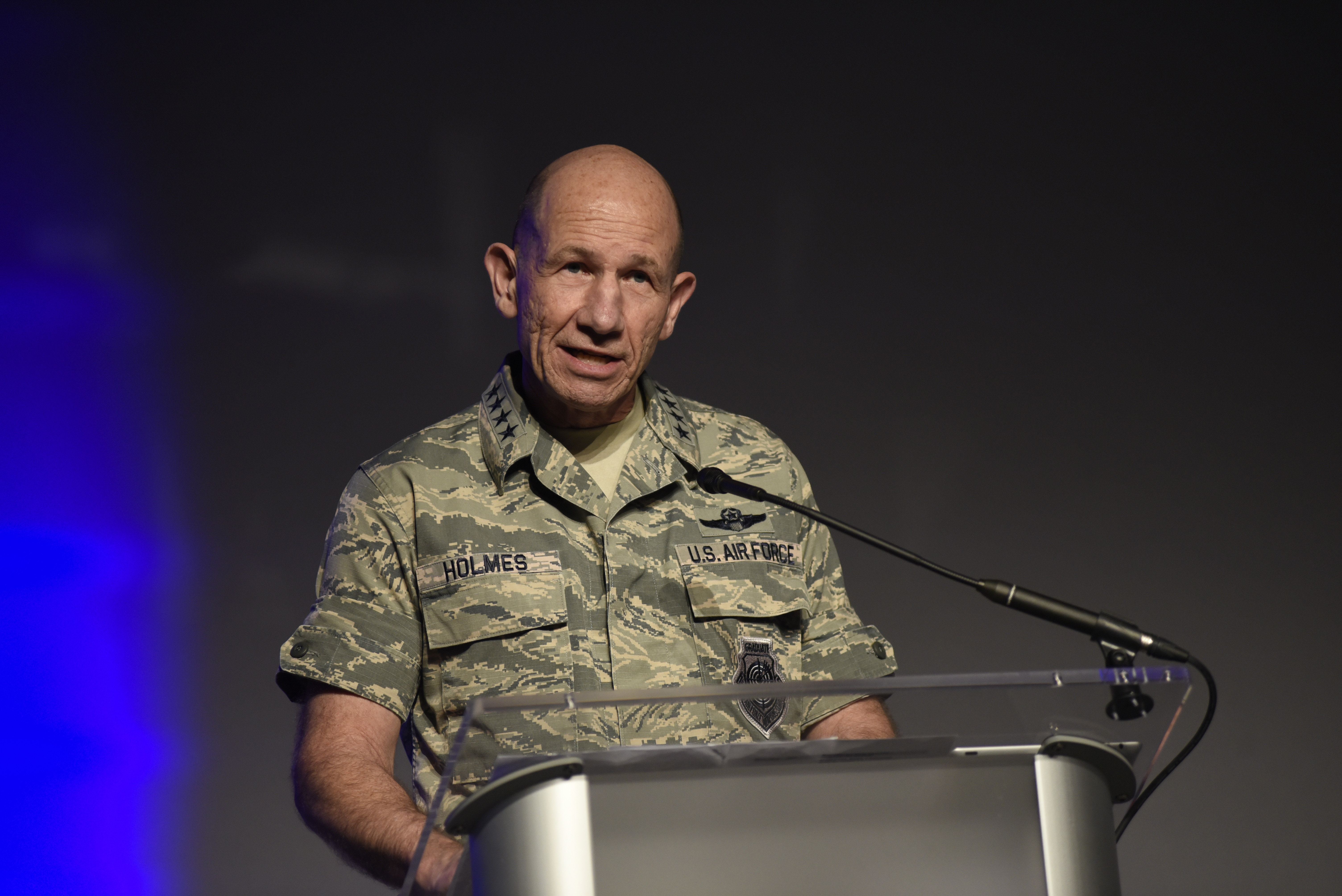 Gen. Mike Holmes, commander of Air Combat Command, speaks at the Airpower Capacity Crunch panel at the Air Force Association Air Warfare Symposium on Feb. 22, 2018, in Orlando, Fla. Air Force Magazine photo by Mike Tsukamoto.
Air Combat Command is moving forward on the possibility of a light intelligence, surveillance, and reconnaissance aircraft in the footsteps of the Air Force's light attack experiment, though there's no funding behind it yet.
ACC Commander Gen. Mike Holmes, speaking with reporters at AWS18, said the service's Strategic Development Planning Experimentation office is looking at using the plans and lessons from the ongoing light attack experiment for a new, cheap way to fly ISR. The thinking is: If the Air Force wants a quick, cheap aircraft to fly ISR both in its own fleet and for partner air forces around the world, it's "self-defeating" to rely on an expensive system that requires a lot of development.
"On our list is an idea to go experiment with what would a light ISR airplane look like, an airplane that could operate in a permissive environment, an airplane with an open architecture to take different sensors and kind of plug and play based on the needs of a partner nation, based on the current threat environment," Holmes said.
While this idea is still relatively far off, the Air Force is moving forward with its light attack experiment. Earlier this month, the service narrowed down the contestants to two and will, beginning in May, conduct more evaluations at Davis-Monthan AFB, Ariz.
The original plan was to send the next round of aircraft to the US Central Command area of responsibility for a combat demonstration. However, the Air Force determined this wasn't necessary. One of the contestants, the A-29 Super Tucano, is already flying real-world combat missions with the Afghan Air Force, for example, and a demonstration in addition to that wouldn't be needed.
Air Force Special Operations Command is actively involved in the light attack experiment, watching how the aircraft would be able to provide close air support to special operations forces in remote, austere environments.
Lt. Gen. Brad Webb, commander of Air Force Special Operations Command, said that he has airmen from his command embedded with Air Force Materiel Command and Air Combat Command as the light attack experiment is progressing.
AFSOC is most interested in a light attack aircraft to support its combat aviation adviser mission set, where AFSOC advisers work with foreign aviation forces to build their aviation abilities and conduct operations. So far, that focus is mostly on mobility and intelligence, surveillance, and reconnaissance, said Webb. There are "key partners in numerous locations" around the globe that could benefit by having a new light attack capability and by having AFSOC advisors ready to help them both build this capacity and operate it, Webb said. ?
Shortly before AWS18 kicked off, Paramount Group International announced it was launching a new aircraft for light attack and light ISR—the Bronco II based on the original OV-10 Bronco. While Holmes would not rule out additional aircraft joining the light attack experiment, he said it is "unlikely" that a new aircraft would come forward that is as developed as the A-29 and the AT-6 for the experiment.