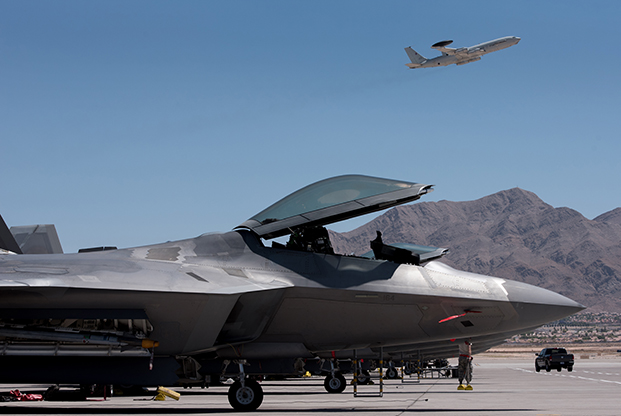 An E-3 Sentry takes off from Nellis AFB, Nev., behind an F-22 Raptor from the 94th Fighter Squadron during Red Flag 17-4, on Aug. 14, 2017. Air Force photo by SSgt. Carlin Leslie.?
The Air Force needs to overhaul its premier combat training event because the current model and current airspace allotment is far too limited to adequately train for a high-end fight, the head of Air Combat Command's planning and requirements said Friday.
Red Flag, the major air-to-air training event held multiple times per year at Nellis AFB, Nev., pits US and international aircraft and airmen against simulated threats in a training range that spans more than 15,000 square miles. While this airspace is a "national treasure," it is much too small and the range is too limited to begin to accurately reflect current anti-aircraft threats, said Maj. Gen. Scott Pleus, the director of plans, programs, and requirements at Air Combat Command.
"The Red Flag of the future is less about Nellis than it is today," Pleus said. "I need the state of Nevada" for training.
The current range size forces all aircraft—fighters and command and control—to take off alongside a simulated threat, such as an S400 missile system. "We would never do that, we don't take off into that threat," he said.
Future Red Flags could spread far beyond Nellis. For example, E-3 Sentry Airborne Warning and Control Systems might fly far away from the range in locations such as Utah or North Dakota to accurately reflect how far command and control aircraft would need to be from a denied environment to operate safely, Pleus said.
Even more locally, Red Flag needs to change how it places its threat emitters to better reflect the range of modern systems. For example, simulated anti-aircraft radars could go to China Lake in California to give F-22s and F-35s more space in the Nevada range to operate and reflect that modern threats are from standoff distances, Pleus said.
These changes only reflect the small number of aircraft that should actually fly in the exercises. More simulators are needed, especially as newer aircraft are brought on board. For some fifth-generation platforms, "I don't want to fly in open air" until they have to be flown in open air in combat, he said. "I don't want other people to know the capabilities of the airplane," Pleus said, not expanding on which specific aircraft he is referencing.
The exercise at Nellis is one of two Red Flag training events in the Air Force, with Pacific Air Forces hosting its own Red Flag-Alaska at Eielson Air Force Base. Pleus, a part of Air Combat Command, only discussed possible changes for the Nellis exercise.