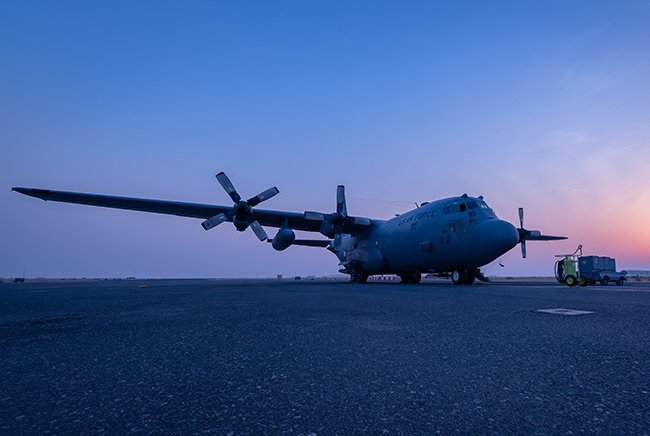 A C-130 deployed from the 120th Airlift Wing, Montana Air National Guard, sits on the ramp as the sun sets at Ali Al Salem AB, Kuwait on July 29, 2019. Air Force photo by TSgt. Michael Mason.
This story was updated Aug. 8 at 9:30 p.m. EDT.
Air Mobility Command on Aug. 7 announced it is temporarily removing about a quarter of all C-130s from service upon discovering "atypical cracks" on the wing joint of one H-model plane.
"Atypical cracks were discovered on the lower center wing joint, or 'rainbow fitting,' during programmed depot maintenance," the Air Force said in a release. "In-depth visual and modified non-destructive inspections of the wing box will be conducted on affected C-130H and J-model aircraft that have not received the extended service life center wing box and have greater than 15,000 equivalent flight hours."
C-130 rainbow fittings with cracks will be replaced. Aircraft found to have no cracks will immediately resume flight. AMC says pulling 123 of the Total Force's 450 Hercules platforms from service won't affect support for overseas operations.
AMC spokeswoman Alexandra Soika said that as of the evening of Aug. 8, 12 C-130s were inspected and returned to service. Each inspection lasts about eight hours. The command said depot capacity and operational needs will dictate how quickly it can finish all inspections.
Military.com reported 96 C-130Hs and 36 C-130Js will be inspected, 123 of which are actively in use on the flight line. Eight were already undergoing maintenance and one is in the boneyard.
Those totals make up 41 percent of C-130Hs, which started entering service in the 1970s, and 15 percent of C-130Js, which first deployed in 1999. Defense Daily reported the airlift aircraft are stationed in the US, Japan, and Germany.
"AMC also took the measure to alert our sister services and partner nations that fly the C-130 and shared our findings and the [technical order] details," AMC spokesman Col. Damien Pickart told Military.com.
Air Force Special Operations Command, which also flies C-130 variants, did not respond to a request for comment Aug. 8.
AMC has added 156 center wing boxes to aircraft since 1993. Lockheed Martin began installing redesigned center wing boxes on C-130s in 2008, meaning all aircraft that need inspections were built before then.
The Air Force also grounded 60 C-130Hs earlier this year to address propeller problems. Soika said all C-130s that were required to undergo propeller inspections are now back in service.