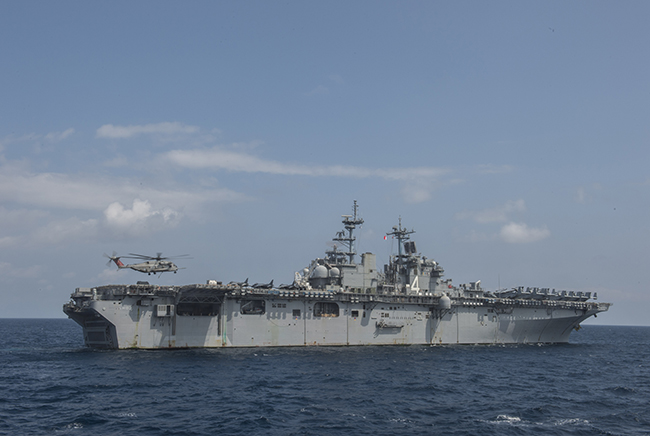 An CH-53E Super Stallion helicopter places cargo on the flight deck of the amphibious assault ship USS Boxer. Boxer is the flagship for the Boxer Amphibious Ready Group and, with the embarked 13th Marine Expeditionary Unit, is deployed in support of maritime security operations and theater security cooperation efforts in the US 5th Fleet area of responsibility. Navy photo by MC2 Kenan O'Connor.
Tensions continued to increase in the Persian Gulf as a US Navy amphibious ship downed an Iranian drone, and as the US reportedly prepares to deploy hundreds of personnel to Saudi Arabia.
At about 10 a.m. local time on July 18, the USS Boxer was passing through international waters in the Strait of Hormuz when an unmanned aerial system approached and closed "within a threatening range," according to a Pentagon statement. "The ship took defensive action against the UAS to ensure the safety of the ship and its crew."
"The Boxer took defensive action against an Iranian drone, which had closed into a very, very near distance, approximately 1,000 yards, ignoring multiple calls to stand down and was threatening the safety of the ship and the ship's crew. The drone was immediately destroyed," President Donald Trump said July 19.
The downing is the latest in a series of flare-ups between the US, Iran, and America's regional allies, including the downing of a Navy RQ-4 variant on June 20 (local time).
Following this increase in tensions, the Pentagon is reportedly preparing to send about 500 personnel to Prince Sultan Air Base, Saudi Arabia.
US Central Command told Air Force Magazine there is no "official announcement at this time" about a deployment to Saudi Arabia, though the command "continually works to manage our force posture in the region, and will continue to do this in cooperation with our partners and allies in the region."
CNN first reported the deployment, citing two Pentagon officials. Construction is reportedly underway to improve the airfield for possible F-22 operations and to build a Patriot battery at the location. Assets heading to the region include a B-52 bomber task force and F-22s at Al Udeid AB, Qatar, along with F-15s and F-35s at Al Dhafra AB, United Arab Emirates.
The Saudi base, southeast of Riyadh, was once a hub of US air operations in the Middle East during Operation Southern Watch and in the early days of Operation Iraqi Freedom.
This story has been updated to reflect that the drone was not shot down, but downed via electronic means, and to include additional comments from President Donald Trump.