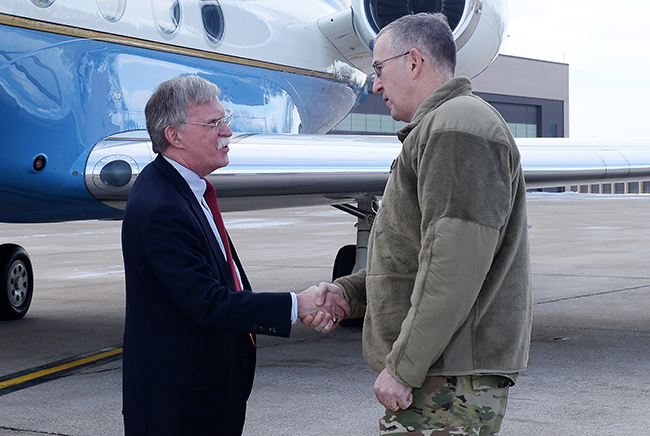 US Strategic Command boss Air Force Gen. John Hyten greets then-National Security Adviser Amb. John Bolton during his trip to USSTRATCOM at Offutt AFB, Neb., on Feb. 14, 2019. Air Force photo by Charles Haymond.
President Donald Trump announced Sept. 10 he will name a new national security adviser the week of Sept. 15 after John Bolton resigned earlier in the day.
"I informed John Bolton last night that his services are no longer needed at the White House. I disagreed strongly with many of his suggestions, as did others in the Administration, and therefore I asked John for his resignation," Trump said in two tweets.
In his own tweet, Bolton said he offered to resign on Sept. 9, but Trump suggested they discuss it the next day.
CBS News reportedDeputy National Security Adviser Charles Kupperman will serve in an acting capacity until a new adviser is named. The White House did not immediately respond to a request for comment.
Bolton was appointed as the assistant to the president for national security affairs in April 2018. His replacement will become the Trump administration's fourth national security adviser, after Bolton, now-retired Army Lt. Gen. H.R. McMaster, and retired Army Lt. Gen. Michael Flynn.
Bolton has held numerous federal positions at the State Department, Justice Department, and US Agency for International Development. He represented America at the United Nations from August 2005 to December 2006, and before that, served for four years as under secretary of state for arms control and international security.
The outgoing adviser is known as a defense hawk who has aided the president through tensions and talks with Iran and North Korea. Recent media reports indicate Bolton and Trump were clashing on issues including Afghanistan and that the national security adviser was left out of certain discussions.