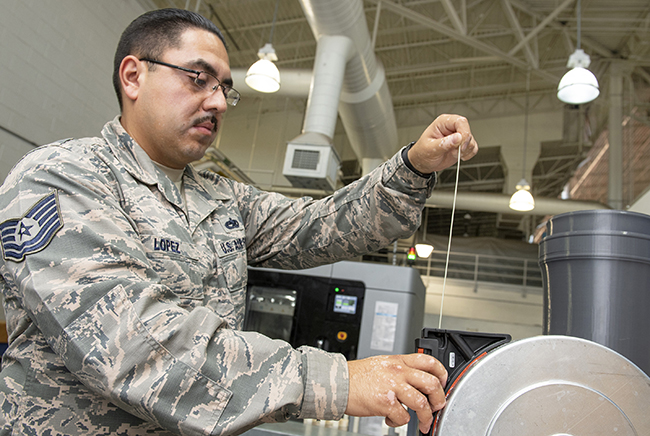 TSgt. Rogelio Lopez, 60th Maintenance Squadron assistant aircraft metals technology section chief, loads Ultem 9085 material into a canister for use in the Stratasys F900 3D printer, Aug. 15, 2019, Travis AFB, Calif. Air Force photo by Louis Briscese.
The 60th Maintenance Squadron at Travis AFB, Calif., is the Air Force's first-ever field unit to be equipped with a Federal Aviation Administration- and USAF-certified 3D printer capable of producing aircraft parts.
The industrial-sized machine, called the Stratasys F900, can print parts with dimensions up to 36 inches x 24 inches x 36 inches made of Ultem 9085, a specialized plastic known for its extra flexibility, density and strength, according to an Aug. 19 Travis release. Blueprints come from a web database known as the Joint Engineering Data Management Information Control System. The University of Dayton Research Institute pre-approves all of these blueprints, in addition to training and certifying individuals to use the printer.
"The first approved project was printed on the Stratasys F900 Aug. 12 and will replace latrine covers on the C-5M Super Galaxy," the release said. "Typically, parts that don't keep the aircraft from performing their mission don't have as high as a priority for replacement."
Printing two of the covers took about 73 hours, while it typically would take about one year for a similar part to be delivered after ordering, according to the release.
Between meeting facility requirements, installing the machine, completing the certification processes, and getting three airmen from the squadron trained and approved to operate the printer, the process of getting it totally operational took eight months, said MSgt. John Higgs, the squadron's metals technology section chief, in the release.
For now, the printer is focused on aircraft parts, but Higgs said the squadron maintenance shop's long-term aim is to be able to produce any product that any USAF organization might need. They're already fielding requests from outside of Travis, he said.
"We already have a list from the Air Force level to help them print and to backfill some supplies," Higgs said in the release. "This will ensure other bases can replace items sooner than expected with our help."