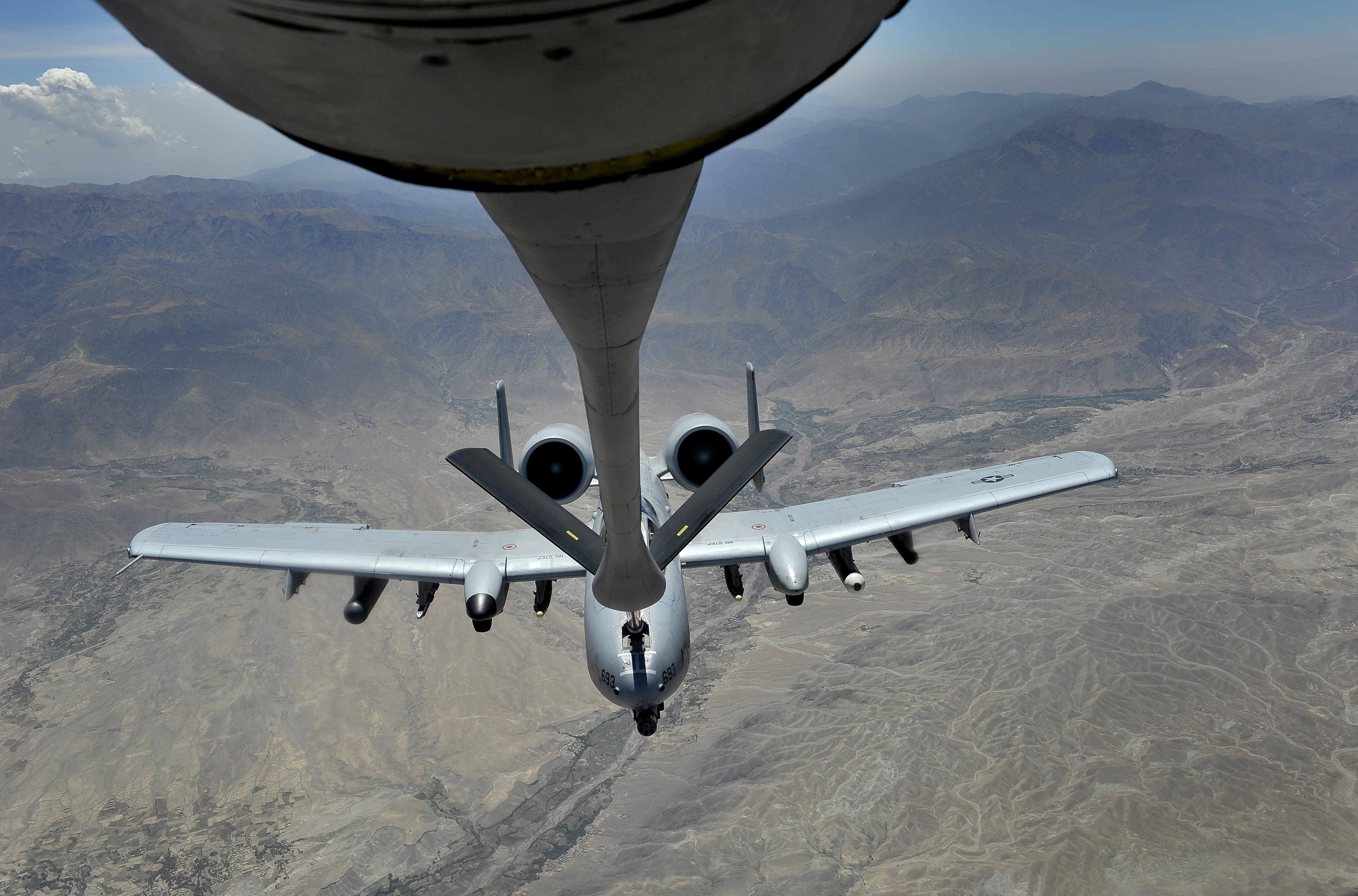 An A-10 Thunderbolt II is refueled over Afghanistan during overseas contingency operations. USAF file photo by SSgt. Clay Lancaster.
Air Force tankers have returned to Afghanistan as part of a build up of US forces in the country to help support an increasing air support role.
Within the past three weeks, an undisclosed number of tankers deployed to Kandahar Airfield from outside the Middle East in an effort to get fuel to aircraft faster, and have more fuel available, said Lt. Gen. Jeffrey Harrigian, commander of Air Forces Central Command.
AFCENT needed to "optimize our lay down" of aircraft throughout the region, Harrigian said at ASC17. For the past five years, tankers have been based elsewhere in the Middle East, such as Al Udeid AB, Qatar, and those jets were "burning a lot of gas getting over to Afghanistan." The command needed to get the aircraft "closer to the fight," and began working with 18th Air Force to find a way to do so, Harrigian said. This included a "fairly significant" force protection plan to keep the tankers safe.
The aircraft landed within the past few weeks, and immediately began putting gas up in the air, said Gen. Carlton Everhart, commander of Air Mobility Command. The last time refuelers were based inside the country was about five years when a contingent was based at Mazar-i-Sharif, Everhart said. It is the latest in an increasing air role in Afghanistan.
In late August, the 555th Fighter Squadron at Aviano AB, Italy, sent six additional F-16s to fly with a deployment of 12 Falcons already deployed to Bagram Airfield. Additionally, B-52s deployed to Al Udeid had been flying about once per day "over the horizon" to Afghanistan. Recently, B-52s have been flying more often based on operational decisions. Air Force Secretary Heather Wilson, who recently returned from a trip downrange, said B-52s are flying hundreds of "danger close" mission, noting that's a mission the were not designed to do. AFCENT has worked with Resolute Support headquarters in Afghanistan to understand their "scheme and maneuver" and be able to plan more Stratofortress flights to provide more air support, Harrigian said.