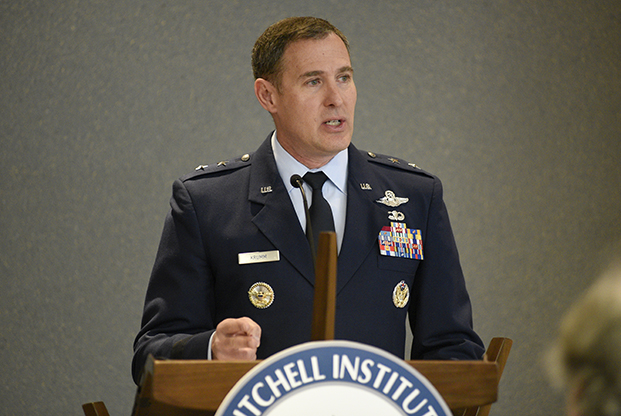 Maj. Gen. David Krumm, director of strategic plans, Office of the Deputy Chief of Staff for Strategic Plans and Requirements, delivers a talk about the fiscal 2020 Presidential Budget Request at an AFA Mitchell Institute event on March 14, 2019, in Arlington, Va. Staff photo by Mike Tsukamoto.
Buying F-15EXs could preserve years of readiness that might otherwise be lost if units transitioned to an all-new airplane, and the fighter could have application to new missions such as a hypersonic missile launch platform, Air Force Director of Strategic Plans and Requirements Maj. Gen. David Krumm told Air Force Magazine Thursday. These factors weighed against the fact that the F-15EX won't be able to penetrate enemy air defenses, he said.
In a sidebar following a speech at an AFA Mitchell Institute event, Krumm said "cost of ownership" is one of the pluses in favor of buying new F-15s.
"There's 80-90 percent commonality" between the F-15C and the F-15EX, Krumm said, adding the new aircraft can use all the aerospace ground equipment now used for the C-model of the Eagle.
"That's all already in the inventory," he said, but the similarity of aircraft also means "we're looking at a transition time of months—less than six months"—to transition units now flying the C-model to EX. "Typically, [with] an Active unit, that takes 18 months; with the Guard, it takes three years…If you average that out, Active and Guard, each time we do that we save about two years of readiness," meaning aircraft available for combat use that would otherwise be sidelined, "And that's important for us."
He insisted, though, that USAF is "committed to the F-35, and I think we've outlined that in the budget." In Q&A after his speech, Krumm said the F-35 "is a game-changer" and "we won't take one dime" out of 5th-gen capability, but the F-15C "won't make it to 2030" due to its age and structural fatigue. He also said the lead time for buying any new fighter is "about two years." Krumm denied the F-15EX will "take anything away from NGAD," or Next-Generation Air Dominance, the family of systems that will complement and/or replace the F-22 and F-35.
Brand-new F-15EXs will have strong bones and could last a long time—Krumm said 20,000 hours—meaning it could potentially serve well into the 2040s or 50s. The Air Force has said the F-15 won't be survivable against modern air defenses after 2028, so is it worth it to the service to spend the money to keep a non-stealthy, 1970s design into the 2040s
"I think what we know is that we're going to be fighting with 4th-gen [aircraft] in 2028, and in 2035, we're still going to have those," including the A-10 and F-16, he told Air Force Magazine. "The way to use these things is to collaborate on a network, and it's going to be, what can those things bring to the fight faster?"
The new Eagle could be a launch platform for "standoff weapons, hypersonics … They can go a long ways to assist the penetrating forces," Krumm noted.
Air Force leaders have said they are seeking an early, interim hypersonics capability, and having F-15s that are not speed-limited due to their age could be helpful in that pursuit. The F-15 design is technically capable of exceeding Mach 3, and so could accelerate a hypersonic missile close to its Mach 5-plus operating regime. That in turn would permit smaller booster rockets for the rest of the acceleration to Mach 5 for weapons such as the Tactical Boost Glide hypersonic concept. The F-35, which was not designed to be USAF's high-end dogfighter, has a top speed of Mach 1.6, and the first generation of hypersonic missiles is unlikely to fit inside its weapons bay.
The Pentagon's fiscal 2020 budget request includes about $1 billion for eight F-15EX "advanced Eagles," a decision that stemmed from former Defense Secretary Jim Mattis.
Gen. Joseph Dunford, Chairman of the Joint Chiefs, told members of the Senate Armed Services Committee on Thursday, the "framework" for that decision came from a study of the future needs of the military's tactical aircraft fleet, which showed the Air Force had a shortage in its number of aircraft and the amount of ordnance those aircraft could carry. When combined with the fact the F-15C will age out in the 2027-2028 timeframe, Dunford said "the best solution" was to go with the F-15EX to "backfill" the F-15 fleet.
The EX-variant initially would only be "slightly" cheaper to buy than a new F-35, but it will be more than 50 percent cheaper than the Joint Strike Fighter to operate over its life. Additionally, it has "twice as many hours" in terms of how long it lasts, he added.
The Air Force's five-year Future Years Defense Plan calls for buying 80 of the F-15EXs, though the ultimate buy could be as many as 144.
"This is all about making the best use of the resources we've been given and building the best Air Force that we can," Krumm said. The F-15EX is "what we came up with … We will find a way to make this the best we can. We have to, anyway, and this is a capacity we think we need."