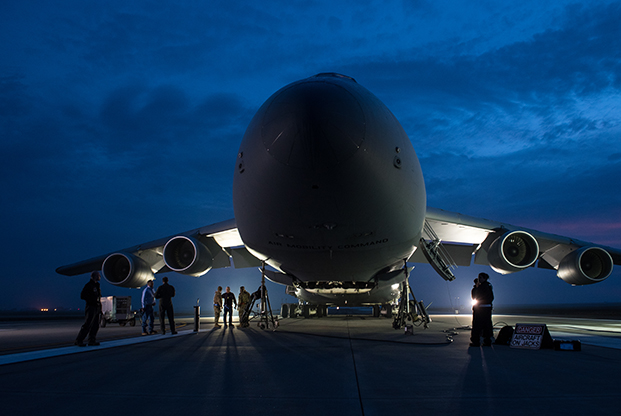 USAF maintainers assigned to the 60th Air Mobility Wing work to lower the nose landing gear on a C-5M Super Galaxy aircraft at Travis AFB, Calif., on Feb. 1, 2019. Air Force photo by MSgt. Joey Swafford.
Although the Air Force has said it needs to grow its airlift and mobility squadrons, and has repeatedly expressed a need for more tankers, a new US Transportation Command and Pentagon study claims there is not a need for more mobility aircraft in the next four years.
The Mobility Capabilities and Requirements Study, a joint report by US Transportation Command and the Pentagon's Cost Assessment and Program Evaluation office that was required by the Fiscal 2018 National Defense Authorization Act, looked at the ability of the joint mobility force to accomplish wartime missions in 2023 as outlined by the Defense Department's National Defense Strategy.
This construct "calls for a fully mobilized joint force to be shaped, sized, postured, and readied to simultaneously deter nuclear attack, defend the homeland, defeat a great power, deter in a second theater, and disrupt terror," according to the report.
The report calls for a fleet size of 275 strategic airlift aircraft—just one more than the current C-17 and C-5 fleets. It also notes a requirement for 300 C-130s, lower than the current Air Force fleet of 325 C-130J and C-130Hs. Additionally, the study calls for 479 refueling tankers, specifically KC-135s and KC-46s. Currently the Air Force has 398 KC-135s plus a planned fleet of 179 KC-46s.
The study also states there is a requirement of 257 commercial passenger and cargo aircraft, 15.3 million square feet of capacity on military sealift ships, and 3.9 million square feet of capacity on commercial sealift.
The executive summary of the report, dated Feb. 8, does not expand on these numbers and how they were met, but the total goes against statements USAF leaders have made about the need for more capacity.
In outlining the "Air Force We Need" of 386 total squadrons, Air Force Secretary Heather Wilson said in September the service needs to increase its aerial refueling squadrons by 14 and add one more airlift squadron. "Aerial refueling will be the biggest shortfall in our Mobility Forces," Wilson said, adding that the Air Force's study was also based on the National Defense Strategy and analysis of current threats.