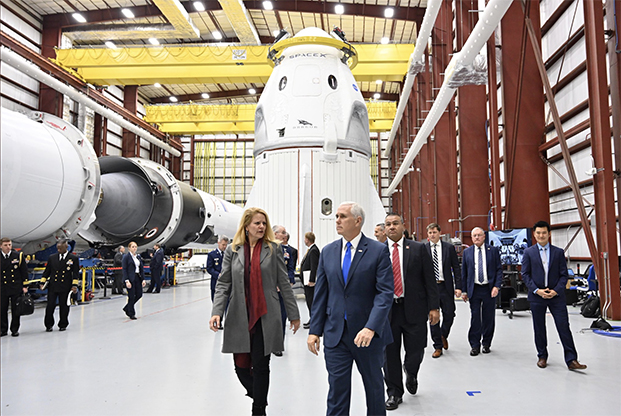 SpaceX President and Chief Operating Officer Gwynne Shotwell and Vice President Mike Pence visit the company's Dragon 2 capsule on Dec. 18. Pence was in town for the company's GPS III launch and his US Space Command announcement. Twitter photo via Vice President Mike Pence.
Vice President Mike Pence on Tuesday officially announced the recreation of US Space Command as the 11th combatant command in the US military, moving one step closer to the creation of a new separate service for space operations.
?During a visit to Cape Canaveral AFS, Fla., for the launch of the first GPS III satellite, Pence said the new directive from President Trump creates the command, which will "integrate space capabilities across all branches of the military."
SPACECOM will be tasked with developing doctrine, tactics, techniques, and procedures to operate in space and its establishment marks a "new era of American national security" in space, Pence added.
US Space Command was first created in 1985, but was realigned under US Strategic Command 17 years later. The timeline to re-establish the command was laid out in policy memos from the Pentagon, which stated that initially the commander of Air Force Space Command would be dual-hatted as the leader of SPACECOM. Pence has previously said the White House wants the new Space Force to be created by 2020.
"The Air Force has been a magnificent steward of our military space capabilities, and they prove that every single day. Each and every one of you do," Pence said. "And I want to promise you that we're going to build on that foundation. We're going to build on that foundation together with space professionals from every branch."
The Air Force Association believes the establishment of a US Space Command is the best way to address advancing threats to space.
"Re-establishing US Space Command is a logical and necessary step," AFA president, retired Gen. Larry Spencer, said. "AFA supports the creation of a new unified combatant command, the US Space Command, to lead the use of space assets in warfighting and accelerate integration of space capabilities into other warfighting forces."