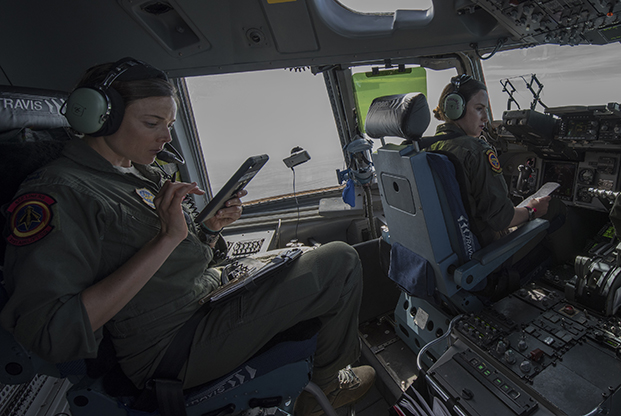 USAF Capt. Jamie Larivee, and Capt. Victoria Nicholson, pilots with the 21st Airlift Squadron, conduct in-flight operations during a Women's Heritage Flight, on March 19, 2018, over the Pacific Ocean. Air Force photo by Heide Couch.
An Air Force pilot program that helps Active Duty servicewomen transition to civilian life or into the Reserve or Guard should be expanded across the Defense Department, a new report from the Defense Advisory Committee on Women in the Services said Monday.
After recommending in 2016 that the defense secretary improve transition-assistance programs, the committee now finds a one-day, joint Air Force-Department of Veterans Affairs workshop is a "best practice … because it informs participants of the resources available to servicewomen through VA."
"Although there has been attention to these needs, more must be done to help ensure servicewomen are as successful in civilian, Reserve, or Guard life as they were on Active Duty," the report stated.
The Women's Health Transition Pilot Program, held at five locations across the Air Force, teaches participants to advocate for their own health care, to consider the Veterans Health Administration an asset, to understand and enroll in its services, and to better understand how leaving the military affects women differently than men.
The women-led program was developed in late 2017, then launched in two initial sessions at JB Andrews, Md. and the Pentagon. Last summer, the nine-month pilot spread to MacDill AFB, Fla., Hill AFB, Utah, and Scott AFB, Ill.
"Women are the fastest-growing subgroup of veterans, yet fewer female than male veterans seek services and support from the Department of Veterans Affairs," the advisory committee's 2018 report states. "Those who do seek care do not do so until almost three years after leaving the military or until health issues have worsened."
Administrators hope the course will help curb suicide rates, which grew by 85.2 percent among women from 2001 to 2018 compared to 30.5 percent among men, as well as address chronic pain, obesity, musculoskeletal problems, and depression.
"The biggest obstacle that the VA faces is simply awareness on what they provide to female veterans," said Maj. Alea Nadeem, deputy mission manager at Air Force headquarters and a member of the Women Initiatives Team. "That [suicide] statistic, it was heartbreaking to learn, and it really drove me to help in developing this program that could potentially save lives."
Navy and Marine Corps parental-leave policies should also match those adopted by the Air Force, Army, and Coast Guard, the committee argues. The Air Force, Army, and Coast Guard offer 21 days off for "secondary caregivers," while the Navy and Marine Corps grant 14 days, after the Fiscal 2017 National Defense Authorization Act increased the longest leave possible from 10 days to 21 days.
"The committee believes this policy should be consistent across the Armed Forces, and authorizing servicemembers the maximum allowable 21 days of nonchargeable secondary caregiver leave will afford equitable opportunities to all military members, enabling them to best care for their families and promote retention," according to the report.