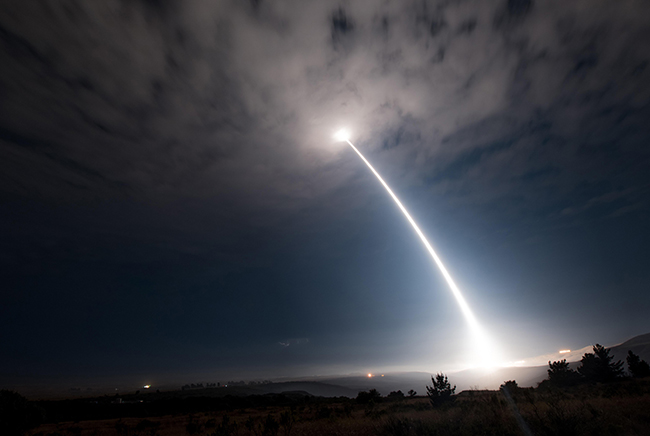 An unarmed Minuteman III intercontinental ballistic missile launches during an operational test at Vandenberg AFB, Calif. Air Force photo by SrA. Ian Dudley.
Northrop Grumman announced its industry team for the Ground-Based Strategic Deterrent program at Air Force Association's Air, Space & Cyber conference Sept. 16. The company said it has built a "nationwide" team of "small, medium, and large companies having extensive knowledge of the ICBM enterprise" for what it still considers a competition, even though rival Boeing professes it will not bid on the project estimated to cost at least $85 billion.
The Northrop lineup includes Aerojet Rocketdyne, BRPH, Clark Construction, Collins Aerospace, General Dynamics, Honeywell, L3Harris, Lockheed Martin, Parsons, and Textron Systems, as well as many small and midsize companies it did not name. It did not disclose workshare among the participants.
Aerojet Rocketdyne is the only other maker of solid rocket motors in the US besides Northrop Grumman Innovation Systems, formerly Orbital ATK. Lockheed Martin is the prime contractor on the Navy's Trident Submarine-Launched Ballistic Missile program.
"We are confident this GBSD team we have so carefully assembled over the past four years is positioned to deliver a safe, reliable and affordable GBSD system on schedule," said Greg Manuel, vice president and GBSD team leader for Northrop Grumman.
Asked if Northrop's bid will be as low as it might have been if Boeing had stayed in the contest, Manuel told Air Force Magazine "We are still in an ongoing competition and we are proposing a competitive solution at an affordable price."
Boeing wrote the Air Force in July to say that it cannot compete with Northrop on price, given the latter's vertical integration with Orbital ATK. Last week, Boeing issued a statement that it had failed to persuade Northrop to form a joint "national team" combining the expertise of both, and would therefore not be participating in GBSD.
Industry sources noted, however, that Boeing could still change its mind and submit a bid by the December deadline, and Manuel said that's what Northrop will assume in developing its bid.
Manuel declined to discuss whether Boeing and Northrop had in fact held discussions about a joint offering, and said Northrop Grumman's lineup is a "national team."
"We're not going to discuss our competitive strategies. What I can tell you is we have formed this nationwide team to bring deep expertise in the ICBM missile systems community from across the defense industry to serve the Air Force." He said Northrop's grouping of companies "leverages capabilities and capacity of industry to provide a best value propulsion solution to the Air Force."
The GBSD enterprise is the first major recapitalization of the Minuteman ICBM force since the 1970s, although the fleet has been updated several times. The sprawling GBSD program includes missile and guidance systems, refurbishment and hardening of missile silos, and the command and control network that goes with the system, among other elements.
Northrop Grumman, along with Boeing, won a three-year contract for Technology Maturation and Risk Reduction to develop GBSD options and technologies in 2017. Senior Air Force officials have stated their satisfaction with the progress of the program, noting that the digital designs put forward by both companies have allowed detailed comparisons and technical trade considerations.
"Many members of the nationwide team we announced today have been working together for years to develop concepts and technologies and is focused on delivering a GBSD missile system that meets the Air Force's priorities of schedule, safety, reliability, and affordability," Manuel said.
Northrop Grumman broke ground on a new facility near Hill AFB, Utah, last month, which will serve as the future headquarters for its GBSD enterprise and workforce. The company said the project will involve more than 10,000 workers.