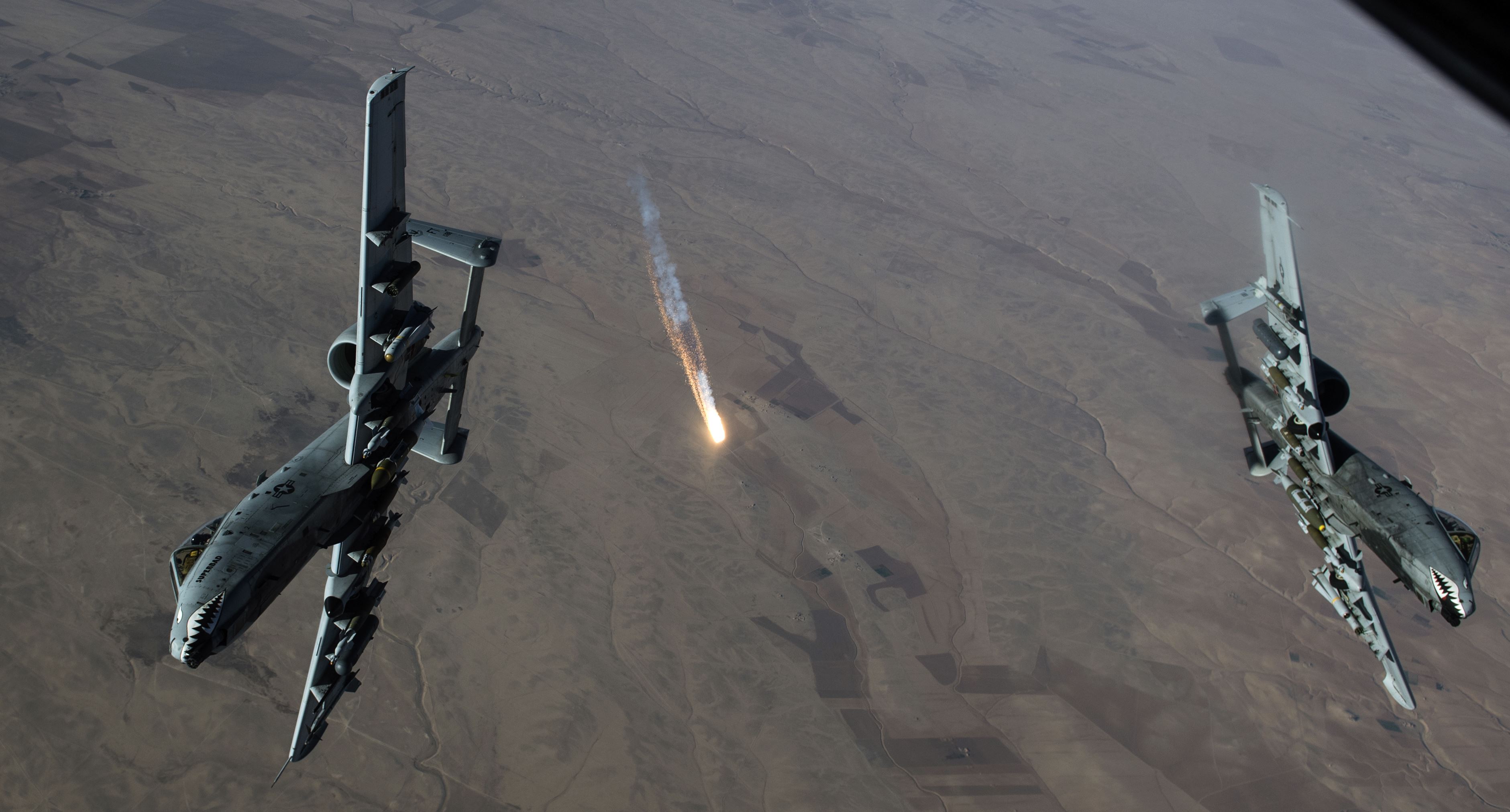 Two A-10s depart to continue a mission after receiving fuel from a KC-135 Stratotanker assigned to the 447th Air Expeditionary Group over Syria, Dec. 1, 2017. Air Force photo by SSgt. Paul Labbe.
More than 300 airmen and A-10s from the 74th Fighter Squadron are returning to Moody AFB, Ga, after a deployment that saw the Warthogs provide close air support for US-backed fighters in an intense urban fight against ISIS.
The A-10s and airmen deployed to Incirlik AB, Turkey, in July and immediately began flying air support missions in Iraq and Syria. For about three months of the deployment, the A-10s were focused on fighting in ISIS's self-proclaimed capital of Raqqa, Syria, where they faced a new challenge of flying close air support to help friendly forces in an urban center with large buildings.
"It was a difficult location to work in and we faced some situations that we have not dealt with before we arrived here," Maj. Matthew Cichowski, 74th Expeditionary Fighter Squadron director of operations, said in an Air Force release.
A-10 pilots had to "get creative to figure out ways to strike targets at the bottom of these five story buildings," 74th EFS Commander Lt. Col. Craig Morash said in the release.
In an interview with Air Force Magazine, Morash said that while A-10 pilots generally train for two-hour sorties, the squadron averaged 7.4 hour missions when they first arrived in theater.
"As A-10 guys, we train to non-linear battles as well as linear battles, but urban conflict, at least in this form, was kind of the first time anybody had ever seen it before," he said.
The squadron's A-10s dropped about 44 percent of the weapons in the Raqqa area for the first two and a half months of the battle, Morash said. During the deployment, US-backed Syrian Democratic Forces liberated the city with the help of thousands of US and coalition airstrikes.