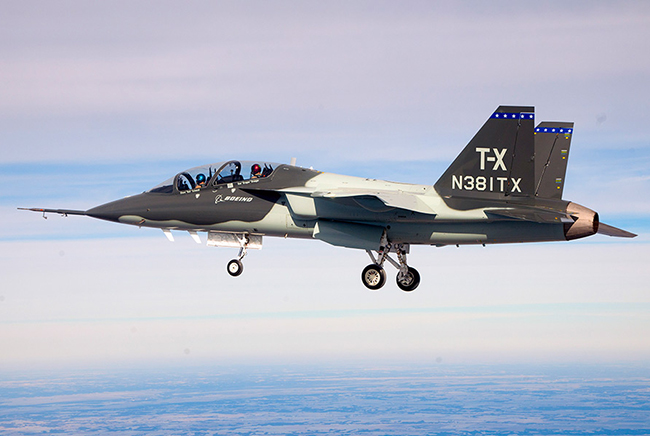 A recent, congressionally mandated MITRE Corp. report on the Air Force's future inventory recommends arming Boeing's new T-X trainer jet to fly homeland defense missions and to export overseas. Boeing photo.
A prominent Pentagon-funded research organization argues that the Air Force needs to rethink its procurement plans and spread its forces across more bases by 2030 to be a formidable opponent in the Pacific.
An unclassified summary of MITRE Corp.'s sweeping inventory study, which Air Force Magazine obtained Aug. 7, calls for buying additional long-range aircraft and "large magazines of long-range standoff weapons," expanding four bases in the Pacific region to host up to 24 bombers and 18 tankers, and making at least 80 percent of all aircraft mission-capable.
The report also says the Air Force should retire the A-10 and F-16 as the service brings on new F-35s, and arm Boeing's new training jet as an international "light fighter" platform.
"Air Force aircraft need to be significantly recapitalized, brought to a higher state of readiness, and provided with multiple new bases to operate from," states the report, which was mandated in the fiscal 2018 National Defense Authorization Act. "These changes will not be inexpensive, but in the aggregate their cost does not differ dramatically from existing defense plans. The change requires committed, sustained investment."
MITRE projects that buying new systems, revamping worldwide basing, and reaching 80 percent mission-capable rates will cost $673.2 billion through 2030, about 10 percent higher than the Air Force's own similar study, which requires $612.6 billion for aircraft acquisition alone.
Researchers endorsed the Air Force's plan to buy a new version of the F-15 to replace older models. They envision a future F-15 that doubles as an air-to-ground and air-to-air shooter with new sensors and the ability to talk to the F-35 and F-22. But they warned that "F-15NG"—or next-generation—procurement should not come at the expense of the F-35.
"F-35As cannot be delivered fast enough to replace geriatric fourth-generation fighters rapidly nearing the end of their service lives. New plans are needed," MITRE wrote. "USAF should purchase F-35As at least in the quantities laid out in the fiscal 2019 budget and up to 54 aircraft per year."
In the 2019 budget, the Air Force called for 48 Joint Strike Fighters in 2019 and 2020 before ramping up to 54 through 2023. The current budget request keeps F-35 procurement flat at 48 a year.
MITRE also wants the service to buy about 400 F/T-X "light fighter" aircraft for 15 homeland defense support squadrons. That plane, which mirrors the Air Force's effort to vet a light-attack aircraft for domestic and international customers, could be sold to countries that can't afford or maintain the F-15, F-16, or F-35, MITRE argued.
MITRE calls for speeding up the T-X trainer procurement from Boeing to retire the T-38C faster than planned. Doing so would "position the production line for F/T-X co-production," effectively endorsing the Air Force's fledgling idea that Boeing's next-generation trainer could double as a light-attack jet.
"As a modern aircraft with systems oriented towards fifth-generation training, the T-X and its armed relative, the F/T-X are ideally suited for economical adjacent missions such as adversary air and companion training for high cost fighters and bombers, not to mention rich collaboration with allies and partners," MITRE wrote.
The organization also says the service should ditch the T-1 mobility trainer without replacing it with a similar aircraft, and notes the need to update or buy new airlift and special-mission fleets.
In total, MITRE recommends a "slightly larger Air Force compared to the Air Force baseline" in 2030. The Air Force wants 386 operational squadrons in 2030, or 24 percent growth over its current 312 squadrons. MITRE urges the service to move away from buying small fleets that can drive up the cost of sustainment, and to focus on platforms that can still be useful in operations even if they have to fly farther and get past more advanced countermeasures.
While MITRE does not specify a number of squadrons the Air Force should reach, its recommendation to keep all current bombers in the inventory until at least 50 B-21s are operational makes its force structure vision larger than the service's.
"In terms of fighter, bomber, tanker, and trainer inventories, MITRE's recommended 2030 totals and the Air Force baseline are nearly identical, as is the ratio of [55 percent to] 45 percent fourth- to fifth-generation fighters," the report stated. "The Air Force baseline in 2030 is 50-50 percent legacy to recap, and MITRE's recommendation is [37 percent to] 63 percent, indicating a younger average age for the recommended fighter fleet."
MITRE added that keeping older aircraft in the inventory until their replacements are ready is the least risky course of action, and that industry should keep its production lines open so it can more easily build updated airframes.
The study squares with others that were commissioned for the same purpose.
Mark Gunzinger, an expert with AFA's Mitchell Institute for Aerospace Studies who authored another congressionally mandated USAF force structure report at the Center for Strategic and Budgetary Assessments, noted several similarities between the two analyses. Both back adapting T-X for homeland defense, the need to buy more than 100 B-21s, and the need to improve overseas base defenses against air and missile attacks, among other agreements.
"This emphasizes the value of seeking inputs from multiple studies on a critical issue," Gunzinger said.