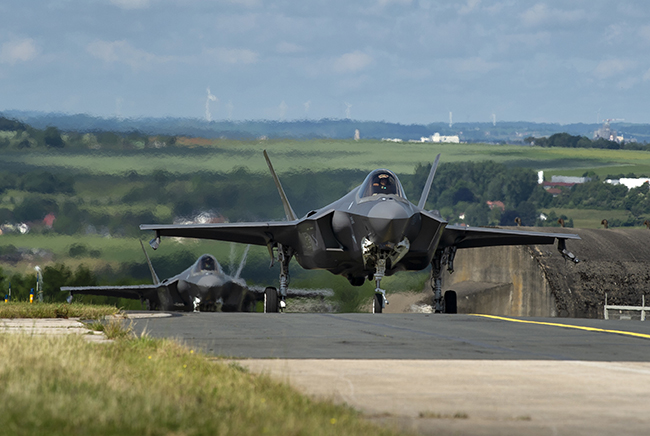 USAF F-35A Lightning II fighter aircraft, assigned to the 421st Fighter Squadron, Hill AFB, Utah, taxi on the flightline at Spangdahlem AB, Germany, on June 11, 2019. Air Force photo by A1C Valerie Seelye.
Lockheed Martin took the unusual step June 12 of issuing a point-by-point rebuttal of a press report describing deficiencies with the F-35 family of aircraft.
The company claimed that deficiency issues identified in reporting by Defense News on June 12 are each "well understood, already resolved or on a near-term path to resolution." The company said it has "worked collaboratively with our customers" on the issues and "are fully confident in the F-35's performance and the solutions in place to address each of the items identified."
The Defense News stories, timed to coincide with the F-35 CEO meeting in Arlington, Va., collected deficiency reports harvested from internal Joint Program Office and Pentagon documents, and combined these with reporting on other deficiencies identified by Pentagon test organizations. Some of the problems noted had been discussed publicly, and in Government Accountability Office audits, while others had not. The reports largely go back to late 2018 and ?early 2019, when the F-35 had just begun Initial Operational Test and Evaluation, the graduation exercise that will allow it to progress to the next program milestone.
"Taken together, these documents provide evidence that the F-35 program is still grappling with serious technical problems, even as it finds itself in a key transitional moment," Defense News said, asserting that some of those it described posed safety hazards. The "transitional moment" is the looming decision, expected this fall, to declare the development and initial test phase of the F-35 over and enter full-rate production. It also coincides with the launch of the Block 4 improvement program, which will regularly update the F-35 with new software, equipment and weapons into the mid-2020s. The GAO has weighed in against proceeding with the Block 4 update, saying the jet is not yet mature enough to proceed.
Lockheed said feedback from F-35 pilots is such that even with the problems—which it reiterated were being resolved—?"any pilot who has flown a legacy jet consistently relays back that if they are being sent into harm's way, they want the F-35, every time."
Defense News quoted outgoing F-35 Program Executive Officer Vice Adm. Mat Winter as saying there are "no discrepancies" in the F-35 program "that put at risk a decision of the Department to approve us to go into full-rate production." The F-35's IOT&E phase is also slated to wrap up in the fall.
Lockheed Martin addressed ten deficiencies in its rebuttal, the majority of which affect only the Marine Corps F-35B and Navy F-35C. One was that there's no way to prevent user data about foreign F-35s from migrating back to the US through the Autonomic Logistics Information System, or ALIS, which aggregates worldwide maintenance and parts information to detect trends and anticipate parts and service needs. Lockheed said "ALIS meets sovereignty requirement," but that some customers, late in 2019, asked for "more data control capability." It said it had deployed a new Sovereign Data Management Tool to control some of the data sent to the common database, "and early feedback from the fleet is positive."
Regarding a report that the automatic spares database lags behind the true availability of parts, Lockheed said it is working on "automation and enhanced supplier accountability" and this is improving performance. There's been a 50 percent reduction in false reports since 2017, and the company said it believes it's on "a path to resolution." ALIS has been a chronic bad actor on the F-35 enterprise and the Pentagon has considered breaking it out as a separate program.
Defense News reported that cabin overpressure can lead to severe pain in pilot ears and sinuses, known as "barotrauma." Lockheed said the existing system meets requirements, that there have been no reports of barotrauma, that the risk of the condition is "minimal," and that it is not an "imminent safety issue." The company said it's always looking for ways to improve the "pilot experience," that it has lab tested a change that will improve comfort, and will soon be flight tested.
At extremely low temperatures—negative 30 degrees and below—the F-35 will report a battery failure, which can lead to a mission abort, Defense News stated. Lockheed said this happened during 2018 cold weather testing at Eielson AFB, Alaska, but is a low-probability event, and a software fix regarding the battery heater should correct it. It's available today if any user is going to operate in extreme cold, but a production line cut-in will take place in 2021.
Defense News asserted that F-35B and C aircraft stealthy control surfaces can delaminate at supersonic speed above Mach 1.2, causing structural damage and affecting flight safety. Lockheed said "the potential" for such an event after prolonged supersonic flight was discovered during test conditions unlikely to be seen in normal operations. However, a "change to the coatings on the horizontal tails and tail boom beginning Lot 8 … increases durability and resolves this concern."
At high angle of attack, the newspaper reported, the B and C models become hard to control in pitch, yaw, and roll. The company responded that it has updated the flight control system and that the fix will be integrated on extant jets in the third quarter. "We expect this item will be resolved or downgraded," Lockheed said.
If an F-35 blows a tire on landing, it could break both hydraulic lines on the landing gear, resulting in a safety problem that could lead to loss of the airplane, the paper reported. But Lockheed insisted that there's never been a case where both lines broke. "Brake control safety updates and pilot training have alleviated this concern," the company said, and led to a "significant drop" in blown tire events. On the F-35C, the hydraulic lines were moved, which has "resolved" the potential for breaks.
The F-35 pilot's helmet relies on gathering ambient light to present the outside view during stealthy nighttime missions, but when starlight isn't available, the pilot can see either a "green glow" that washes out imagery, or striations that can affect the image. Lockheed said the Navy flies with the helmet despite these drawbacks, and has logged 50 night landings with it. A new Generation III helmet has been designed, tested, and is being qualified for use, and should "resolve both the green glow and night vision conditions identified." The company expects the helmet technology to advance rapidly.
Defense News noted that in attacking sea targets, the F-35 radar only illuminates a "small slice" of the ocean's surface. Lockheed responded that the current radar meets spec, but "as we modernize the F-35, we are bringing advanced search capabilities" that are more stringent than the requirement, and can plug this upgrade into the jet "based on customer priorities and direction." Lockheed didn't mention it, but sea attack is one of the new missions being added to the jet under the Block 4 modifications.
On very hot days, the F-35B can suffer a hard landing because older versions of the engine can't produce enough thrust, the newspaper said. Lockheed's limited response to this item was: Ask the Pentagon, the company gets the engine as government furnished equipment. Pratt & Whitney builds the jet's F135 engine.