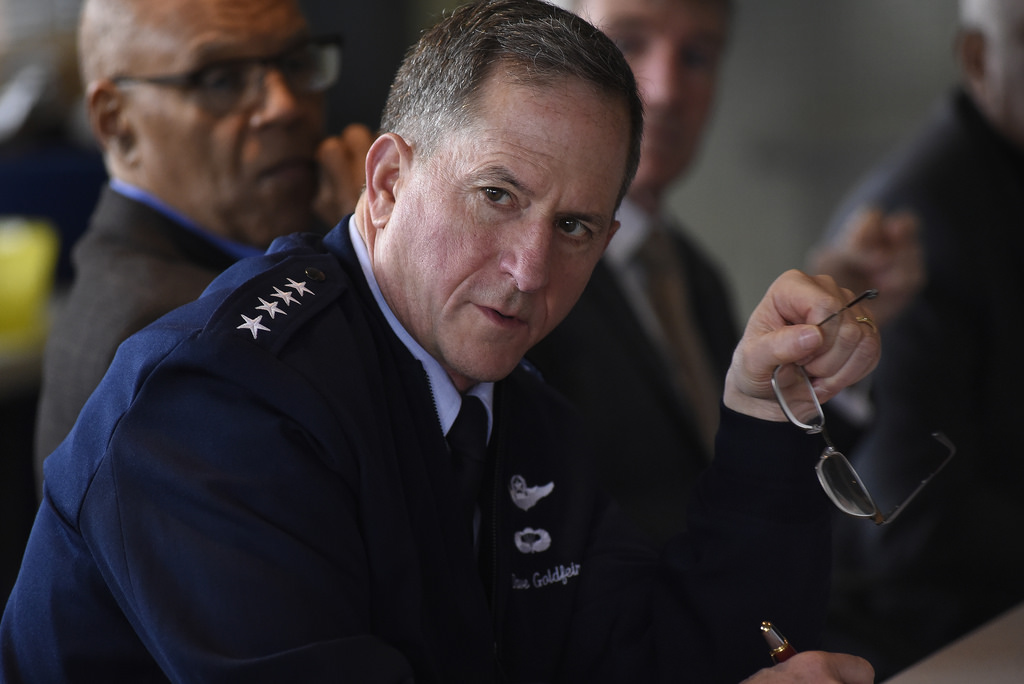 Air Force C?hief of Staff Gen. David Goldfein speaks Wednesday during a summit on the service's pilot shortage at AFA's headquarters in Arlington, Va. Staff photo by Mike Tsukamoto
The Air Force's pilot shortage crisis offers "an opportunity for bold moves" to build the service's diversity while correcting the growing deficit in aviators, Chief of Staff Gen. David Goldfein said Wednesday at the conclusion of a daylong summit on the problem.
Those moves might include grouping minority pilot trainees together at flight school in order to have a built-in support system, building tighter relationships with community groups that promote minorities and women in aviation, making better use of Civil Air Patrol community outreach, and having pilot trainees meet with local schoolchildren as they make stops on cross-country flights.
Participants in the summit, held at AFA's Arlington, Va., headquarters, included hand-picked Active Duty, Guard, and Reserve pilots from a wide variety of ethnic backgrounds, as well as representatives of the airlines, minority-oriented professional aviation groups, Air Education and Training Command, Junior ROTC, and aviation-oriented schools and colleges.
Working groups brainstormed ways to attract minorities to the USAF pilot community, which is overwhelmingly male and white, and far less diverse than USAF's enlisted force. Gen. Dick Cody, the retired former Vice Chief of Staff of the Army, pointed out that the overall cohort of youth eligible for military service is shrinking, and that USAF will have to tap the full cohort to fill its needs. Participants noted that most women and minorities are simply not aware of flying opportunities with the Air Force, or don't consider the career because they don't see people like themselves pursuing it.
USAF is about 1,800 pilots short already, and although it plans to increase pilot production in the coming years, it must widen the pool of potential pilots if it is to fill its cockpits.
After hearing working group reports, Goldfein said it was clear to him that "someone needs to be in charge, with the right level of accountability, authority, and resources" to oversee the outreach to minority youth, and that such initiatives need to begin at the grade- and middle-school level.
"There has to be involvement in the community, and it has to start early," Goldfein said.
He also concluded USAF does have such initiatives but they are not "scaled" to deliver the numbers needed. He was pleased to hear of the "untapped resources" such as pilots who could talk to school kids while on cross-country trips. A sleek trainer jet parked on a tarmac is "a great visual," for kids, Goldfein said, especially if a woman or pilot of color is standing with it. He pledged to better "use what we have" in the Air Force to conduct more outreach.
He also said it's clear that some "targeted investments can make a difference." Participants suggested offering orientation rides in CAP aircraft and some money for bus trips to take kids out to see static displays at airports.
Goldfein also heard from women pilots who asked that he make some administrative changes that would make it less punitive for them when they become pregnant, which is a typical time when women leave the pilot corps. They could still serve as simulator instructors and perform staff duties, for example, after reaching a point where they can no longer fly, they said, and airline representatives said some of them offer women the choice to decide when they will stop working. At least one woman pilot said their commanders had, inappropriately, asked about their "reproductive plans," and such treatment made them feel unwanted among their peers.
Several participants said USAF hurts itself by not allowing pilots to participate in "affinity organization" events where they could stimulate youth interest in becoming pilots. Goldfein acknowledged that this might be an easily overcome administrative roadblock.
The Air Force is taking steps to be more institutionally friendlier to women pilots, Golfein said, finally getting around to designing flying gear and equipment uniquely designed to fit women. "They've been using men's equipment for years," he said, and it's time to rectify that.
He also said there is some "good news" in the pilot shortage story. First, although there's an Air Force-wide shortage, "we're not that short in-theater," meaning in forward combat positions. "We've taken all the risk in staff and training" slots, he said, but those missing pilots are still leaving a big hole. Second, the service is quickly getting up to full manning among remotely piloted aircraft operators and that, as a group, they are relatively young, meaning they will be in the system for a long time to come.
Goldfein noted that the US has not faced an "existential threat" from another great power for many years, and it's essential that "we build … the deterrent Air Force" that will keep competitors at bay. He said diversity enhances the wealth of ideas that USAF draws on; that a monolithic ethnic background stunts innovative thinking.
"We have to get this right," Goldfein said, adding that he hopes the "gender, race, and faith diversity of the top three" service officials — himself, Secretary Heather Wilson, and CMSAF Kaleth Wright — helps set something of an example for the force.
Diversity is "part of the fabric of the Air Force," Goldfein said. "It is part of the fabric of who we are."