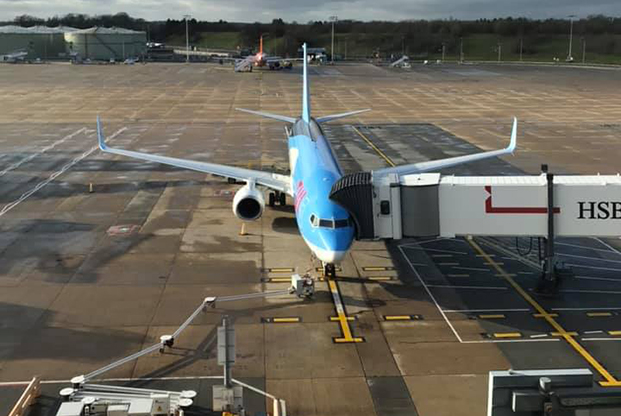 A plane sits at Gatwick Airport in London on Dec. 20. Over 100,000 passengers' flights out of the airport were cancelled Thursday after security detected multiple "industrial" drones flying over the facility, impeding regular flight operations. Photo by Ian Vincent Frain/Helian.
London's Gatwick airport closed Thursday night and more than 100,000 passengers saw their flights cancelled when airport security detected a number of "industrial" drones flying over the facility, making it impossible to conduct flight operations. The incident spotlights how an airfield — and potentially a military airbase — can be put out of action with a small investment in fairly low-tech equipment.
British Defense Minister Gavin Williamson said the UK military had been brought in to try to secure the airfield, but an MoD spokesman said the drones were proving elusive. British Prime Minister Theresa May called it "a serious incident" causing "widespread disruption" to the country and the European air travel enterprise.
The departures board at London's Gatwick Airport reflected the impact of the drone-induced chaos. Photo by Ian Vincent Frain/Helian.
Local police chief Justin Burtenshaw told t?he BBC that efforts to triangulate the source of the drone-control signals were being frustrated by the operator's tactics. "Each time we believe we get close to the operator, the drone disappears; when we look to reopen the airfield, the drone reappears," he said.
A week ago, an Aeromexico 737 landing in Tijuana, Mexico, struck what was believed to be a drone, causing extensive damage to the airliner's nose cone.
Air Combat Command boss Gen. Mike Holmes told an AFA audience in July 2017 that his command was struggling to get the authority to defend against small civilian drones, which he said were becoming more dangerous. He reported that an F-22 had recently nearly collided with a hobbyist drone while on final approach at JB Eustis-Langley, Va., and the same day, airmen tracked a drone that crossed base fencing and briefly overflew the flightline before departing. He also said that it's not so easy to track a drone signal to its source in a timely fashion. "They're hard to get at," he observed.
The only defense at the time, Holmes said, was a sign identifying the area as a "no-drone zone." Drones are covered under FAA rules and cannot simply be shot down.
Holmes reported at the time that USAF was seeking clearance to physically protect "nuclear sites" first and was reviewing equipment that could jam drones and force them to land. He also said, "We're looking for opportunities to shoot them down, too." He called the situation "a national problem."
He told the group that while he understands that drones are "a growing commercial enterprise," a line must be drawn. In a worst-case scenario, he observed, one could be flown "down the intake of an aircraft."
Air Combat Command could not immediately say if any steps have been taken since Holmes made his remarks to beef up base security against intruder drones.