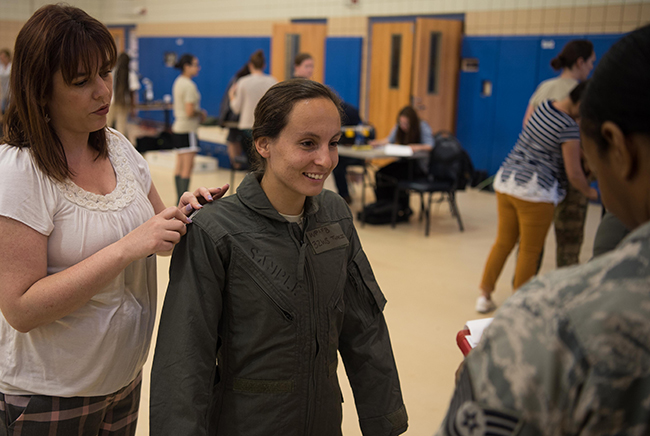 A female aviator has her measurements taken while in a flight suit during a Female Fitment Event at JB Langley-Eustis, Va., on June 4, 2019. Traditionally, many flight suits female aviators had to wear were made to the measurements and specifications of their male counterparts. Air Force photo by A1C Marcus M. Bullock.
The Defense Department is starting to design flight equipment with female aviators in mind.
Women pilots in the Air Force and Navy gathered at JB Langley-Eustis, Va., on June 4 for a female fitment event, where officials took their measurements for uniforms, helmets, and masks.
The data gathered will be used to design prototypes for female flight equipment, which has historically been based off of male measurements, according to a USAF release.
"When you go to a squadron to go to a fitment event, there's usually only a couple of women, so to get a full spectrum of what is going to work for women aviators, we needed to bring them all together in one place," said Lt. Col. Shelly Mendieta, plans and requirements officer.
Brig. Gen. Edward Vaughan, assistant to the director in the Air Force directorate of readiness and training, said the new equipment will improve pilots' combat effectiveness.
"Women have been flying in the Air Force for a very long time," Mendieta said. "We have made progress, but this is the first time in my 20-year career that we have had the kind of momentum that we have to get this right. We have the opportunity to get this right and we have to grab that and take it for all it's worth."